Datang dan Buktikan, Kiat Pusluhtan Pilih Figur Pertanian Berprestasi
Selection the Best Figures of Indonesian Agricultural Sector in Pictures 2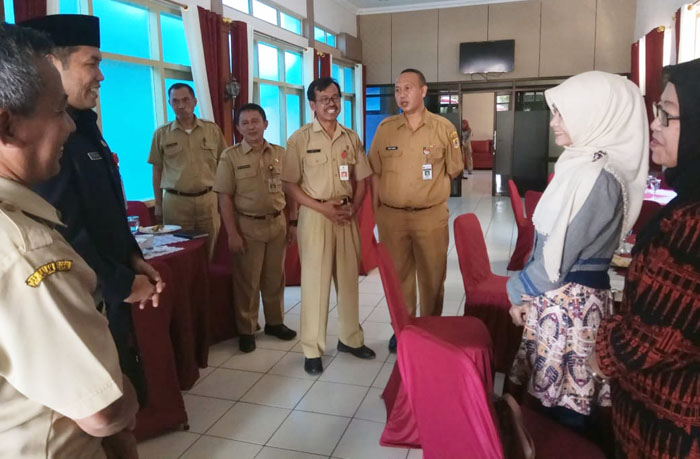 Bupati Wonogiri Joko Sutopo [kiri, safari hitam] menyambut tim Pusluhtan BPPSDM dipimpin Septalina Pradini [ke-2 kanan]
"VENI ET VIDE", datang dan buktikan menjadi kiat Pusat Penyuluhan Pertanian [Pusluhtan BPPSDMP Kementan] untuk mengetahui kelayakan Gapoktan berprestasi di seluruh RI, salah satunya berada di Kabupaten Wonogiri, Provinsi Jawa Tengah.
Ini foto-foto dari kegiatan verifikasi dan validasi [Verval] Tim Kategori Penilaian Gapoktan dipimpin Septalina Pradini, Kasubbid Informasi dan Materi Penyuluhan - Pusluhtan pada Gapoktan Rahayu Widodo di di Kelurahan Mojopuro, Kecamatan Wuryantoro, Senin [8/7]. [Foto2: Humas Pusluhtan/Liene & Cut]
"VENI ET VIDE", come and prove to be the strategy of Indonesian Agriculture Ministry to find out the best farmer groups across the country, one of them is in Wonogiri district of Central Java province.
These are photos of verification and validation activities of the Category Assessment Team led by Septalina Pradini, senior official of the ministry's Agricultural Extension Center in Mojopuro village of Wuryantoro subdistrict today [July 8].