Dr Rajiman Lantik BEM dan BPM Polbangtan YoMa, Ini Foto-fotonya
News in Pics of Senate Student of Indonesia`s Polbangtan YoMa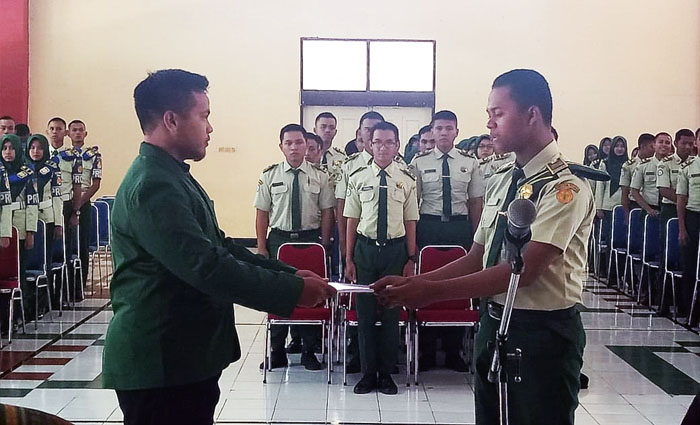 Penyematan tanda jabatan dan penandatanganan naskah ikrar
POLBANGTAN YoMa meneguhkan komitmennya untuk membina generasi muda pertanian melalui kegiatan dan pembinaan kemahasiswaan seperti dilakukan Direktur Dr Rajiman melantik Muhammad Zimam sebagai Presiden Badan Eksekutif Mahasiswa [BEM] dan Faiez Fajar Prasetyo, Ketua Badan Perwakilan Mahasiswa [BPM] periode 2019 - 2020.
Dr Rajiman juga mengukuhkan Provost Mahasiswa jurusan pertanian Yogyakarta, periode 2019 - 2021 sebagai 'ujung tombak' pengawasan disiplin mahasiswa Politeknik Pembangunan Pertanian Yogyakarta - Magelang [Polbangtan YoMa] sebagai unit pelaksana teknis [UPT] dari Badan Penyuluhan dan Pengembangan SDM Pertanian - Kementerian Pertanian RI [BPPSDMP] di bawah kendali Pusat Pendidikan Pertanian [Pusdiktan].
"Rektorat dan jajaran Polbangtan harus menjaga minat dan kemampuan mahasiswa agar tidak beralih minatnya ke luar sektor pertanian setelah lulus," kata Momon Rusmono dalam berbagai kesempatan. [IJS/Foto2: Hums Polbangtan YoMa]
SENATE student of Indonesia's Yogyakarta - Magelang Agricultural Development Polytechnic or the Polbangtan YoMa inaugurated by the Chancellor Dr Rajiman which reminds students to understand, interpret and implement who was while reminding students to understand, interpret and implement student statutes and bylaws.
"The student Senate is chosen by students to carry out the mandate and trust of the civitas academica," Dr Rajiman said here on Saturday [May 11].
He reminded that YoMa Polbangtan is a 'home' for students, so take advantage of campus facilities and assets according to their functions.