Berita Foto Kunker Kepala BPPSDMP Kementan di Polbangtan YoMa
News in Pics of Indonesian`s Senior Official in Polbangtan YoMa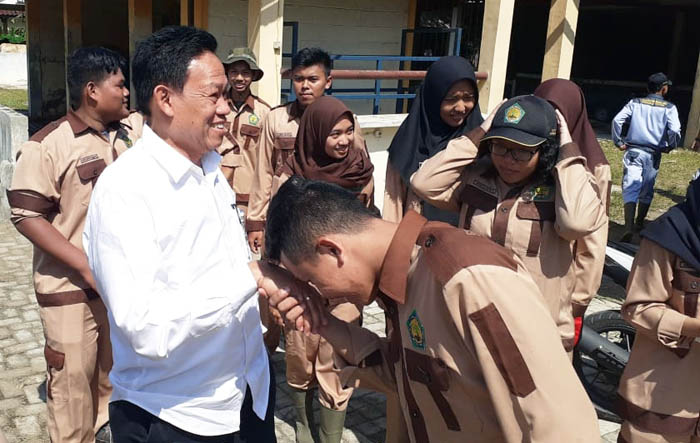 Sambutan hangat mahasiswa jurusan peternakan
HAMPIR setengah hari Kepala BPPSDMP Kementan, Momon Rusmono menyediakan waktunya di kampus jurusan peternakan Polbangtan YoMa di Kabupaten Magelang, Selasa [21/5].
Setelah rapat koordinasi dengan pimpinan, dosen dan karyawan, didampingi Direktur Dr Rajiman mengunjungi asrama mahasiswa, ruang kuliah, instalasi ternak dan laboratorium praktik dari sekolah dinas Kementerian Pertanian RI di Jawa Tengah tersebut.
Badan Penyuluhan dan Pengembangan SDM Pertanian - Kementerian Pertanian RI [BPPSDMP] mulai 2019 mengubah ikon 'Pemberdayaan SDM Pertanian' menjadi 'Pengembangan Job Creator dan Job Seeker' sesuai instruksi Presiden RI Joko Widodo berorientasi Pengembangan SDM di periode jabatan kedua. [Foto2: Sekretariat/Alief]
INDONESIAN'S Director General of Agricultural HR Development, Momon Rusmono visited the Yogyakarta - Magelang Agricultural Development Polytechnic [Polbangtan YoMa] in Magelang of Central Java province on Tuesday [May 21].
After a coordination meeting with officials, lecturers and employees, he was accompanied by Director Dr Rajiman visited the student dormitory, lecture hall, livestock installation and practical laboratory of the vocational university of Indonesian Agriculture Ministry.