Berita Foto Partisipasi BBPP Binuang di Kontes Kambing Kalsel
Indonesia Binuang`s Agricultural Training Center Support Borneo Food Estate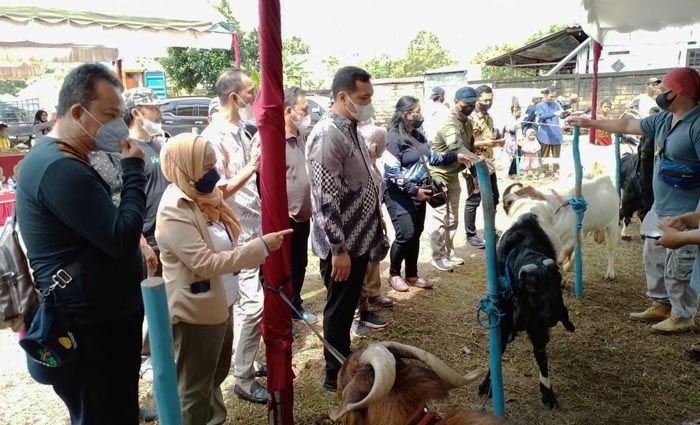 Walikota Banjarbaru, HM Aditya Mufti Arifin [batik abu-abu] bersama Kepala BBPP Binuang, Yulia Asni Kurniawati memeriksa kambing peserta kontes Koordinator Program dan Evaluasi BBPP Binuang, Joko Tri Harjanto [kiri].
KONTES Kambing Regional Kalimantan Selatan [Kalsel] mewarnai HUT ke-23 Kota Banjarbaru. Ratusan peternak kambing dari Banjarbaru, Kabupaten Tapin, Banjar, Tanah Laut dan Kapuas hadir di kawasan Loktabat Utara, Minggu [20/3].
Kepala BBPP Binuang, Yulia Asni Kurniawati didapuk menjadi juri kontes yang memperebutkan piala, sertifikat dan uang pembinaan dari Walikota Banjarbaru, HM Aditya Mufti Arifin.
Partisipasi Balai Besar Pelatihan Pertanian [BBPP] selaku unit pelaksana teknis [UPT] dari BBPPSDMP Kementerian Pertanian RI sejalan instruksi Menteri Pertanian RI Syahrul Yasin Limpo, bahwa jajaran Kementan diharap menjalin dan mendukung program pertanian daerah.
Program yang djalankan harus mengacu kepentingan rakyat. sehingga program Kementan dapat mendukung pemulihan ekonomi daerah dan nasional, katanya.
Dedi Nursyamsi selaku Kepala Badan Penyuluhan dan Pengembangan SDM Pertanian [BPPSDMP] mengingatkan tentang perlunya dukungan Kementan pada keterlibatan petani milenial adalah keniscayaan untuk regenerasi petani sebagai penopang pertanian.
"Kontribusi SDM pertanian terhadap produktivitas paling besar, yaitu 50%, barulah inovasi teknologi dan kebijakan," kata Dedi.
Harapan Kabadan, diupayakan oleh Yulia AK dengan hadirnya Forum Komunitas Petani Muda Tapin berpartisipasi aktif pada semua kelas kontes ternak.
"Semoga kontes ternak kambing akan mendorong usaha ternak di Kalimantan lebih maju, didukung petani milenial," kata Yulia AK yang hadir didampingi Koordinator Program dan Evaluasi BBPP Binuang, Joko Tri Harjanto. [Agus]
Banjarbaru of South Borneo [B2B] - The role of agricultural training in Indonesia such as the Agricultural Training Center of Indonesia Agriculture Ministry across the country or the BBPP so the ministry seeks to maximize its efforts to produce millennial entrepreneur.
Indonesian Agriculture Minister Syahrul Indonesia Yasin Limpo stated that the government's commitment to developing agriculture, especially in the development of advanced, independent and modern agricultural human resources.
The goal is to increase the income of farming families and ensure national food security. Farmer regeneration is a commitment that we must immediately realize," Minister Limpo said.
He reminded about the important role of agricultural training, to produce millennial farmers who have an entrepreneurial spirit.
"Through agricultural training, we connect farmers with technology and innovation so that BBPP meet their needs and are ready for new things," Limpo said.