Berita Foto BBPP Kementan Kawal SDM Kalimantan Ikuti PSPP 2022
Indonesia Binuang`s Agricultural Training Center in News Pictures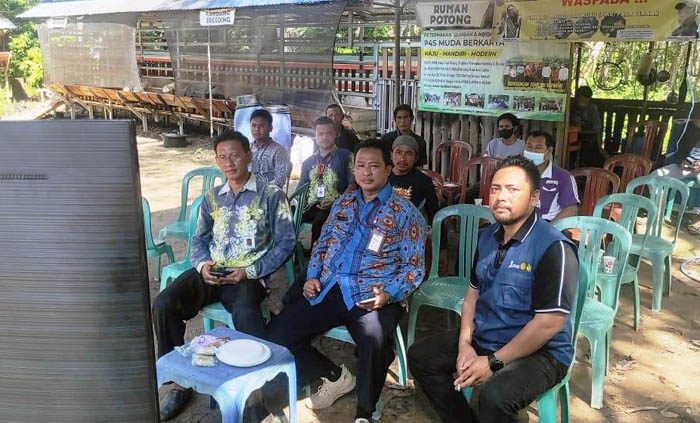 Petani milenial Kalsel, Maulana Akbar [kanan] bersama Koordinator Program dan Evaluasi BBPP Binuang, Joko Tri Harjanto [tengah] mengikuti pembukaan PSPP di P4S Muda Berkarya di Pulau Pinang, Kabupaten Tapin, Kalsel.
PELATIHAN Sejuta Petani dan Penyuluh Season III/2022 [PSPP] diikuti antusias lebih sejuta partisipan di seluruh Indonesia. SDM pertanian Kalimantan tak melewatkan kesempatan menyimak arahan Menteri Pertanian RI Syahrul Yasin Limpo.
"Petani harus makin maju, makin modern menghadapi era digital dan tantangan ke depan," kata Mentan Syahrul saat membuka PSPP 2022 dari Agriculture War Room [AWR] Kementan di Jakarta, Selasa [24/5].
Kepala Badan Penyuluhan dan Pengembangan SDM Pertanian Kementan [BPPSDMP] Dedi Nursyamsi mengatakan bahwa PSPP kali ini mengulas tentang akses modal Kredit Usaha Rakyat [KUR] dan peningkatan agenda intelektual SDM pertanian, sesuai arahan Mentan.
Kepala BBPP Binuang, Yulia Asni Kurniawati mengatakan terus mendorong petani di Kalimantan memanfaatkan KUR. Bunganya hanya 6% plus kemudahan mengakses pinjaman, skema KUR dinilai ramah bagi petani.
Petani milenial Kalsel, Maulana Akbar berharap Kementan mendukung petani untuk mengakomodir pengembalian KUR melalui 'Skema Bayar Panen' atau Yarnen.
Silakan dibicarakan dengan pihak bank, kalau petani di Jawa sudah biasa melakukan Yarnen, mestinya bisa juga di Kalimantan," kata Dedi Nursyamsi di AWR Kementan. [Agus Sumantri]
Tapin of South Borneo [B2B] - The role of agricultural training in Indonesia such as the Agricultural Training Center of Indonesia Agriculture Ministry across the country so the ministry seeks to maximize its efforts to produce millennial entrepreneur.
Indonesian Agriculture Minister Syahrul Indonesia Yasin Limpo stated that the government's commitment to developing agriculture, especially in the development of advanced, independent and modern agricultural human resources.
The goal is to increase the income of farming families and ensure national food security. Farmer regeneration is a commitment that we must immediately realize," Minister Limpo said.
He reminded about the important role of agricultural training, to produce millennial farmers who have an entrepreneurial spirit.
"Through agricultural training, we connect farmers with technology and innovation so that BBPP meet their needs and are ready for new things," Limpo said.