Berita Foto Petani Milenial Kalimantan di Young Ambassador 2022 Kementan
Indonesia Binuang`s Agricultural Training Center Support Millennial Farmers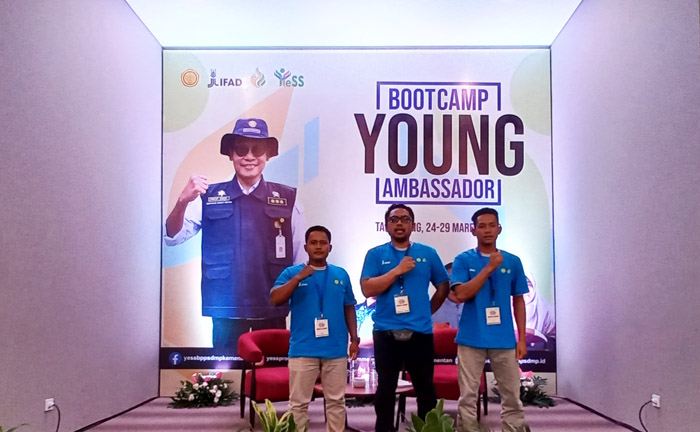 Kiri ke kanan: Maryoto dari Kabupaten Pulang Pisau, Kalbar; Maulana Akbar dari Kabupaten Tapin, Kalsel; dan Wahyudi dari Kabupaten Sambas, Kalbar.
EKSIBISI Young Ambassadors Bootcamp 2022 [YAB] berakhir hari ini, Selasa [29/3] sekaligus penentuan 25 peraih 'golden ticket' dari 49 wirausahawan pertanian milenial dari seluruh Indonesia.
Dag dig dug sudah pasti. Begitu pula tiga kandidat dari Kalimantan yakni Maulana Akbar dari Kabupaten Tapin, Kalsel; Maryoto dari Kabupaten Pulang Pisau, Kalbar dan Wahyudi dari Kabupaten Sambas, Kalbar yang hadir di Serpong, Tangerang menyongsong 'tiket emas' YAB 2022 yang digelar Kementerian Pertanian RI.
"Better came than never." Kepala BBPP Binuang, Yulia Asni Kurniawati menyambut gembira capaian ketiga petani milenial Kalimantan hadir di Serpong, Tangerang.
"Mereka layak menjadi young ambassadors Kalimantan, dan terus berupaya melakukan resonansi pada generasi milenial di daerah asalnya maupun Kalimantan secara keseluruhan," kata Yulia AK.
Sebiduk sehaluan arahan Menteri Pertanian RI Syahrul Yasin Limpo: Pertanian itu jelas janjinya, jelas untungnya. Kamu belum tahu aja. Kamu belum coba. Belum pernah saya lihat pertanian secara baik dan benar merugi, karena pertanian tidak pernah ingkar janji.
Pernyataan Mentan digarisbawahi Kepala BPPSDMP Dedi Nursyamsi bahwa tonggak pertanian Indonesia saat ini maupun ke depan berada di tangan generasi milenial.
"Ayo anak muda, tunggu apa lagi untuk bergabung di pertanian, inilah masanya kalian pimpin pembangunan pertanian," ajak Dedi. [Agus]
THE ROLE of agricultural training in Indonesia such as the Agricultural Training Center of Indonesia Agriculture Ministry across the country or the BBPP so the ministry seeks to maximize its efforts to produce millennial entrepreneur.
Indonesian Agriculture Minister Syahrul Indonesia Yasin Limpo stated that the government's commitment to developing agriculture, especially in the development of advanced, independent and modern agricultural human resources.
The goal is to increase the income of farming families and ensure national food security. Farmer regeneration is a commitment that we must immediately realize," Minister Limpo said.
He reminded about the important role of agricultural training, to produce millennial farmers who have an entrepreneurial spirit.
"Through agricultural training, we connect farmers with technology and innovation so that BBPP meet their needs and are ready for new things," Limpo said.