Antusias BBPP Binuang Hadiri Fornas P4S 2022 di Bali, dalam Berita Foto
Indonesia Binuang`s Agricultural Training Center Support Borneo Farmers in Pictures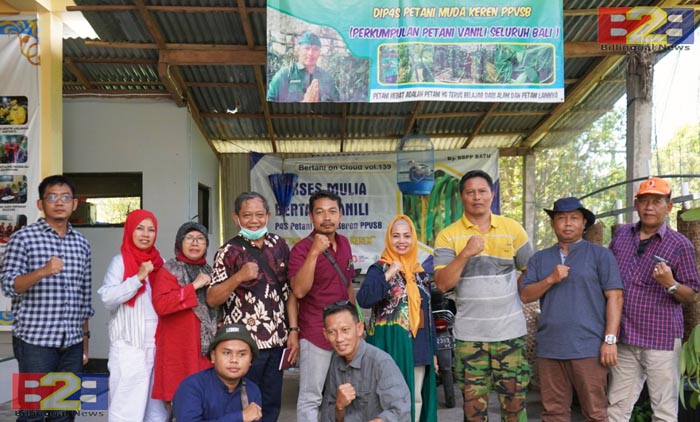 Kepala BBPP Binuang, Yulia Asni Kurniawati [ke-4 kanan] bersama pimpinan dan pengelola P4S wilayah Kalimantan kunjungi P4S PMK PPVSB Vanili Singaraja, Bali, Selasa [27/9].
FORUM Nasional Pusat Pelatihan Pertanian dan Pedesaan Swadaya [Fornas P4S] di Bali berakhir Senin [26/9]. Fornas P4S bagi Balai Besar Pelatihan Pertanian [BBPP] utamanya BBPP Binuang berkomitmen mengembangkan pertanian sebagai bisnis yang menguntungkan petani.
Menteri Pertanian RI Syahrul Yasin Limpo mengingatkan P4S untuk mendorong penerapan Smart Farming hingga ke pelosok desa, sebagai milestone bisnis petani.
"Kita bicara pertanian dalam konteks bisnis yang terus berputar," katanya pada puncak acara Forum Nasional P4S 2022 [Fornas] di Denpasar, Bali, Senin [26/9].
Kepala Badan Penyuluhan dan Pengembangan SDM Kementan [BPPSDMP] Dedi Nursyamsi mengajak P4S membangun Pertanian Presisi dan Pertanian Regeneratif.
Seruan tersebut, kata Kepala BBPP Binuang, Yulia Asni Kurniawati semakin mempertebal keyakinan membangun jejaring budidaya dan usaha bisnis dengan P4S lain.
"Target awal adalah P4S PMK PPVSB, yang merupakan kumpulan petani vanili seluruh Bali. Kami lakukan studi banding sekaligus studi tiru," kata Yulia AK didampingi pengeloa P4S dari Kalimantan yang akan menjadi mitra jejaring dari P4S Petani Muda Keren - Persatuan Petani Vanili Seluruh Bali [PMK PPVSB] di Singaraja, Bali. [agus/timhumasbbppbinuang]
Singaraja of Bali [B2B] - The role of agricultural training in Indonesia such as the Agricultural Training Center of Indonesia Agriculture Ministry across the country so the ministry seeks to maximize its efforts to produce millennial entrepreneur.
Indonesian Agriculture Minister Syahrul Indonesia Yasin Limpo stated that the government's commitment to developing agriculture, especially in the development of advanced, independent and modern agricultural human resources.
The goal is to increase the income of farming families and ensure national food security. Farmer regeneration is a commitment that we must immediately realize," Minister Limpo said.
He reminded about the important role of agricultural training, to produce millennial farmers who have an entrepreneurial spirit.
"Through agricultural training, we connect farmers with technology and innovation so that BBPP meet their needs and are ready for new things," Limpo said.