Berita Foto Family Gathering `Polbangtan YoMa Merapi Tour`
News in Pics of Indonesia`s Polbangtan Yoma Family Gathering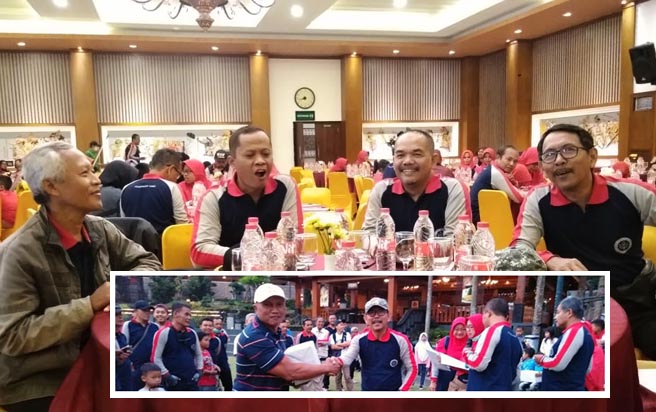 "Marilah kita memanfaatkan hari keakraban ini sebagai sarana refreshing," kata Dr Rajiman.
BERBAUR dalam keceriaan. Tanpa formalitas antara bawahan dan atasan melatari kegiatan Family Gathering civitas academica bertema Polbangtan YoMa Merapi Tour di kawasan Kaliurang, Minggu [7/7].
Tempik sorak dan suara tawa terbahak-bahak mewarnai fun games yang diikuti 14 Balita, 78 remaja dan 148 dewasa.
Meski kalah bersaing dengan sesama rekan kerja, apalagi kalau bisa mengalahkan bosnya bermain games. Tak ada yang kecewa apalagi 'baper' lantaran keakraban dan silaturahim mengemuka di antara mereka. [Foto2: Facebook/Irwan Johan Sumarno]
SUNDAY MORNING, July 7, 2019, at least 240 of the Polbangtan YoMa academic community gathered at a star hotel in the Kaliurang area, Yogyakarta. They participated in the Family Gathering led by Director Dr. Rajiman to take part in the Eid al-Fitr 2019 friendship and fun games.
These pictures of excitement on the slopes of Mount Merapi.