Norwegian Air, Maskapai Pertama di Dunia Terima Pengiriman Boeing 737 Max
Norwegian were Europe`s First Airline to Receive Brand New 737 Max Aircraft
Editor : Ismail Gani
Translator : Novita Cahyadi

PUBLISHED: Sabtu, 12 Agustus 2017 , 03:11:00 WIB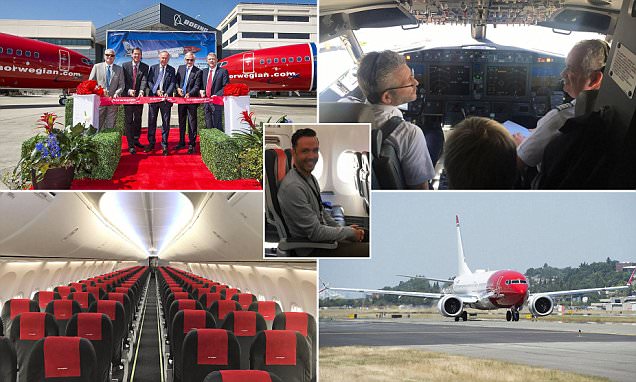 Foto2: MailOnline
ADA BEBERAPA hal yang lebih baik daripada terbang dengan kelas bisnis.

Namun perjalanan di pesawat pribadi Anda pasti ada di antara mereka - terutama, tampaknya, jika pesawat terbang tersebut juga kebetulan melakukan pelayaran perdananya, masih gres keluar dari pabrik pesawat.

Itulah yang ditemukan setelah mendapatkan akses menikmati pengiriman pesawat Boeing baru-baru ini, yang - bagi yang belum faham - biasanya begitu eksklusif sehingga mendapatkan undangan khusus.

Namun, berkat daya pikat MailOnline, sebuah kursi di samping CEO Norwegian Air, Bjørn Kjos, saat dia mengawasi pengiriman pembelian pesawat barunya dari Everett, Seattle, ke markas besar perusahaan di Oslo, Norwegia.

Dan, seperti yang bisa dibayangkan, ini adalah pengalaman yang agak istimewa - seperti yang ditunjukkan oleh kehadiran media perjalanan Norwegia, yang berkumpul berbondong-bondong melintasi aspal untuk menangkap momen besar itu.

Perjalanan ini, mereka meyakinkan saya, seperti membawa pulang bayi dari rumah sakit. Sebuah perbandingan yang membantu menjelaskan mengapa karpet merah dihamparkan.

Namun jangan dulu mengejek: orang Norwegia punya alasan bagus untuk bersemangat. Lihat, meski banyak yang mengira ini hanya perjalanan pesawat baru, itu malah melambangkan lebih banyak lagi.

Secara khusus, ini merupakan peningkatan profil Norwegian Air di pasar penerbangan, yang berkembang sebagai maskapai penerbangan yang lebih mapan untuk menjadi pilihan tepat untuk perjalanan jarak jauh yang murah dan berkualitas.

Pesawat baru ini, Boeing 737 Max, merupakan model pertama dari jenisnya yang akan diterima oleh sebuah maskapai penerbangan Eropa dan sejak saat itu disebarkan melalui penerbangan transatlantik Norwegia seperti dilansir MailOnline.
THERE ARE few things better than flying business class.

But travelling in your own personal plane is certainly among them - especially, it seems, if the said aircraft also happens to be on its maiden voyage, fresh from the production line.

That's what I discovered after securing access to one of Boeing's recent delivery flights, which - for the uninitiated - are usually so exclusive they're no-go areas for members of the public. Especially pesky journalists.

However, thanks to the pulling power of MailOnline, I managed to score a seat next to the CEO of Norwegian Air, Bjørn Kjos, as he oversaw the consignment of his new purchase from Everett, Seattle, to the company's HQ in Oslo, Norway.

And, as might be imagined, it was a raFotother special experience - as demonstrated by the presence of Norway's travel media, who'd gathered in droves across the tarmac to capture the big moment.

This journey, they assured me, was like bringing a newborn child home from the hospital. A comparison which helped explain why a red carpet had been rolled-out beneath our feet.

But don't scoff: the Norwegians have good reason to be excited. See, although many would mistake this as just another plane journey, it actually symbolises much more.

Specifically, it represents the rise of Norwegian Air's profile in the aviation market, which has seen them vault over more-established airlines to become the go-to choice for cheap, quality, long-haul travel.

This particular new aircraft, the Boeing 737 Max, is the very first model of its kind to be received by a European airline and has since been deployed across Norwegian's transatlantic flights.