Ali Rachman Ingatkan Jajaran Polbangtan Yogya - Magelang Capai Target Kementan
Indonesia`s Agricultural Education in Yogyakarta Support Ministry Program
Editor : M. Achsan Atjo
Translator : Dhelia Gani

PUBLISHED: Minggu, 23 September 2018 , 00:27:00 WIB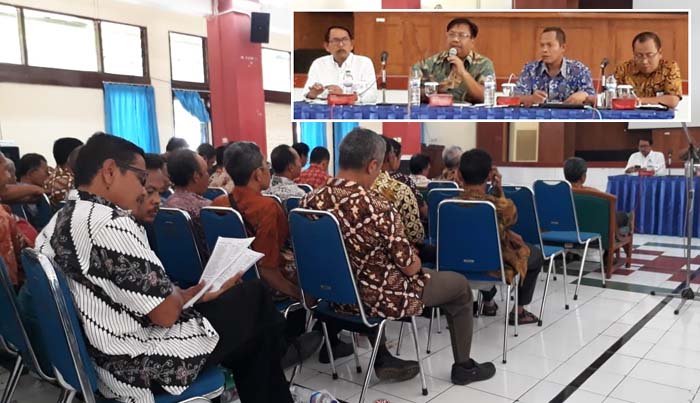 AGROPRENEUR MUDA: Direktur Polbangtan Yogyakarta - Magelang, Ali Rachman (ke-2 kiri) memimpin rapat didampingi Kabag Administrasi Umum, Irwan JS (kiri); Wakil Direktur Rajiman; dan Kepala BAAK, Endra (Foto: Humas Polbangtan)
Yogyakarta, DIY (B2B) - Transformasi Sekolah Tinggi Penyuluhan Pertanian (STPP) menjadi Politeknik Pembangunan Pertanian (Polbangtan) bukan sekadar mengubah nama, tapi bagaimana mengelola Polbangtan menghasilkan lulusan kompetensi di bidang pertanian sesuai profil lulusan program studi (Prodi), khususnya Polbangtan Yogyakarta - Magelang yang sebelumnya dikenal sebagai STPP Magelang.
Hal itu dikemukakan oleh Direktur Polbangtan Yogyakarta - Magelang, Ali Rachman dalam arahannya kepada seluruh jajarannya di Yogyakarta, Jumat (21/9). Didampingi Wakil Direktur Radjiman MM; Kabag Administrasi Umum, Irwan Johan Sumarno; dan Kepala Bagian Administrasi Akademik dan Kemahasiswaan, Endra.
"Mentan dan Kabadan SDM pada saat peluncuran Polbangtan di Bogor, Selasa lalu mengingatkan bahwa grand design Polbangtan telah disusun, dan para direktur Polbangtan harus terus mengawal, mengomunikasikan dan merealisasikannya," kata Ali Rachman.
Dia mengingatkan pengawalan tidak hanya pada membangun dan melengkapi sarana dan prasara pendidikan, namun lebih dari itu, bagaimana menyiapkan SDM baik dosen dan tenaga kependidikan secara bertahap, memperluas jaringan kerjasama dengan sesama perguruan tinggi, lembaga penelitian, dunia usaha dan industri.
Ali Rachman menambahkan tantangan utama mengembangkan Polbangtan adalah kecenderungan menurunnya minat generasi muda di sektor pertanian. Kita dapat melihat perubahan dunia begitu cepat, dan transformasi STPP menjadi Polbangtan hendaknya menjadi solusi untuk menggairahkan generasi muda untuk berkiprah di sektor pertanian dengan cara-cara modern.
Irwan JS mengatakan tentang inovasi pelayanan publik sebagaimana diamanatkan UU Pelayanan Publik No 25/2009 untuk terus berinovasi. Demikian pula tentang UU Keterbukaan Informasi No 14/2008, maka setiap PNS harus dapat memberikan informasi secara jelas dan luas kepada publik.
"Banyak pe-er yang harus dikerjakan dengan perubahan lembaga pendidikan ini. Mulai perubahan tata letak, sarana prasarana, administrasi, SDM, struktur organisasi dan lain-lain, dan itu menjadi tantangan kita bekerja lebih baik," kata Irwan JS.
Polbangtan Yogyakarta - Magelang mendapat amanat dari Kementerian Pertanian dan Kementerian Riset, Teknologi dan Pendidikan Tinggi untuk melaksanakan Prodi sarjana terapan: penyuluhan pertanian berkelanjutan, teknologi benih, agribisnis hortikultura, penyuluhan peternakan dan kesehatan hewan, teknologi pakan ternak, dan teknologi produksi ternak.
"Kita harus menyiapkan diri dalam perubahan penyelenggaraan pendidikan. Seluruh pegawai harus sigap dan cepat melaksanakan tugas. Kehadiran pegawai di instansi bukan sekedar pintar, lebih dari itu harus memiliki output kinerja yg semakin meningkat," kata Ali Rachman.
Dia juga memotivasi jajarannya untuk mensyukuri nikmat setelah diberi kesempatan mengabdi sebagai pegawai negeri sipil (PNS) di Kementan, dan tunjangan kinerja (Tukin) yang diterima adalah sesuai standar yang ditetapkan selain gaji sesuai aturan pemerintah.
Yogyakarta (B2B) - Transformation of the Agricultural Extension College or STPP into Agricultural Development Polytechnic or Polbangtan is manifestation of the commitment of Indonesian government to anticipate change and challenges of the agricultural sector going forward previously known as the STPP Magelang, according to Indonesia´s senior agriculture ministry official.
It was stated by the Director of Polbangtan Yogyakarta - Magelang, Ali Rachman in his direction to all his staff here on Friday (September 21). Accompanied by Deputy Director Radjiman MM; the Head of General Affairs, Irwan Johan Sumarno; and Head of Administration for Academic and Student Affairs, Endra.
"The agriculture minister and the director general of HR reminded that the grand design of Polbangtan had been prepared, and the directors of Polbangtan must carry out the task of realizing the government´s target," Mr Rachman said.
Mr Rachman said that the preparation of human resources for Polbangtan was carried out through the recruitment of lecturers, improve the ability of lecturers and education personnel through learning assignments and conduct apprenticeship for lecturers and education personnel in agricultural vocational education at home and abroad.
Rachman added that the main challenge in developing Polbangtan is the tendency of the younger generation to decline in the agricultural sector. We can see the world changing so fast, and the transformation of STPP into Polbangtan should be a solution to excite young people to take part in the agricultural sector in modern ways.
"A lot of work must be done with this change in educational institutions. Provision of infrastructure and facilities, administration, human resources, organizational structure and others," Mr Sumarno said.
Of the 13 study programs, nine of them with the applied bachelor degree abbreviated as S.Tr, among others Sustainable Agriculture Extensionist, Precision Planting Extensionist, Production Technology, Livestock and Animal Health Extensionist, Horticultural Agribusiness, Seed Technology, Animal Feed Technology, Animal Production, and Livestock Agribusiness.
"Four other study programs with three diploma levels abbreviated as D III include Animal Health, Agricultural Mechanization, Horticultural Cultivation, Livestock Cultivation," Mr Rusmono said.
He also motivated his staff to be grateful for the benefits of being a civil servant in the ministry, and salary and performance allowances received in accordance with government regulations.