PNS Tugas Belajar Imbangi Kemampuan Mahasiswa STPP Magelang - Jurluhtan Yogyakarta
Class Meeting into an event of Friendship in the Indonesia`s STPP Magelang
Editor : Ismail Gani
Translator : Novita Cahyadi

PUBLISHED: Senin, 19 Februari 2018 , 00:59:00 WIB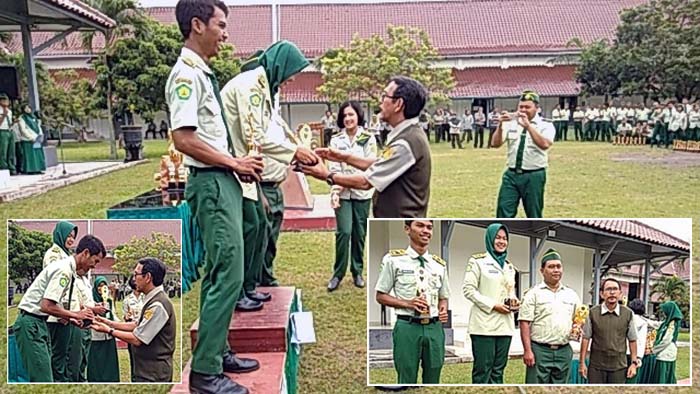 JUARA UMUM: Kabag Administrasi STPP STPP Magelang - Jurluhtan Yogyakarta, Irwan JS menyerahkan medali dan piala kepada juara umum class meeting (Foto: Humas STPP Magelang)
Yogyakarta (B2B) - Kegiatan class meeting yang diadakan Sekolah Tinggi Pertanian - STPP Magelang jurusan penyuluhan pertanian (Jurluhtan) Yogyakarta tahun ini menjadi luar biasa, atas keikutsertaan kontingen semester tujuh dari PNS tugas belajar yang rata-rata berusia di atas 30 tahun menghadapi mahasiswa berusia muda di bawah 20 tahun.

"Semangat kompetisi dan bersaing menjadi lebih tinggi setelah para PNS tugas belajar berupaya menundukkan lawan mereka yang berusia lebih muda. Mahasiswa senior ternyata mampu menjadi juara umum kedua dengan selisih dua medali dari juara umum," kata Kepala Bagian Administrasi STPP Magelang - Jurluhtan Yogyakarta, Irwan Johan Sumarno melalui pernyataan tertulis, Sabtu (17/2).

Kegiatan class meeting berlangsung selama 10 hari dan berakhir pada Senin (12/2) dan juara umum diraih oleh mahasiswa semester lima kelas D yang dijuluki kelas Bengkayang, dengan peroleh 11 medali dari 24 medali yang diperebutkan. Sementara cabang olahraga yang digelar antara lain bulu tangkis, voli, dan tenis meja sedangkan dari bidang keilmuan adalah lomba penyuluhan pertanian.

Irwan JS menambahkan bahwa tujuan class meting untuk meningkatkan kesehatan fisik, menyalurkan bakat dan minat siswa berolahraga, mempererat silaturahim, melatih mental bersaing sehat, dan mencari bibit berprestasi di bidang ekstrakurikuler.

"Manfaat tak kalah penting adalah mengendurkan urat syarat setelah para mahasiswa mengikuti perkuliahan dan ujian semester, sehingga syaraf dan otak akan rileks kembali," kata Irwan JS yang menyerahkan medali kepada para juara setelah upacara apel pagi.

Menurutnya, Kepala STPP Magelang, Ali Rahman mengingatkan bahwa selain meraih prestasi terbaik maka tujuan utama class meeting adalah meningkatkan silaturahim antar mahasiswa dalam suatu kegiatan bersama berupa pertandingan dan perlombaan.

"Ajang class meeting menjadi sarana untuk saling mengenal dan membina sikap sportivitas di antara mahasiswa meskipun berbeda kelas dan semester," kata Irwan JS mengutip Ali Rahman.
Yogyakarta (B2B) - Class meeting activity held by Magelang´s Agriculture College or STPP Magelang faculty of agricultural extension in Yogyakarta this year become extraordinary, after the seventh semester students as civil servants of study assignment, the average age is over 30 years facing students on average under 30 years.

"The spirit of competition is higher after student learning task trying to beat younger students. Senior students were able to become the second winner and only lost two medals of the winner," Head of General Affairs of STPP Magelang, Irwan Johan Sumarno through a written statement on Saturday (February 17).

The class meeting takes place 10 days and ends on Monday (February 12) and the winner is a fifth grader of class D students by winning 11 medals out of 24 medals were contested of badminton, volleyball, table tennis, and competition of agricultural extension.

Mr. Sumarno said, class meting aims to improve physical health, talents and interests of students to exercise, friendship, mental train competing, and talent seeking.

"Another benefit is to relax the vein after the study period and the semester exam," said Mr Sumarno who handed the medal to the winner after the morning ceremony.

According to him Rector of STPP Magelang, Ali Rahman cautioned that pursuing the best achievements and improving friendship among students through sporting events and agricultural extension competitions.

"Class meetings as a means to recognize and foster an attitude of sportsmanship among students although different classes and semesters," he said quoted Ali Rahman.