Target 2,2 Juta Ton Beras, Kementan Gagas Tim Serap Gabah Lintas K/L
Indonesian Govt Established a Farmers` Price Stabilization Team
Editor : M. Achsan Atjo
Translator : Dhelia Gani

PUBLISHED: Jum'at, 09 Februari 2018 , 01:11:00 WIB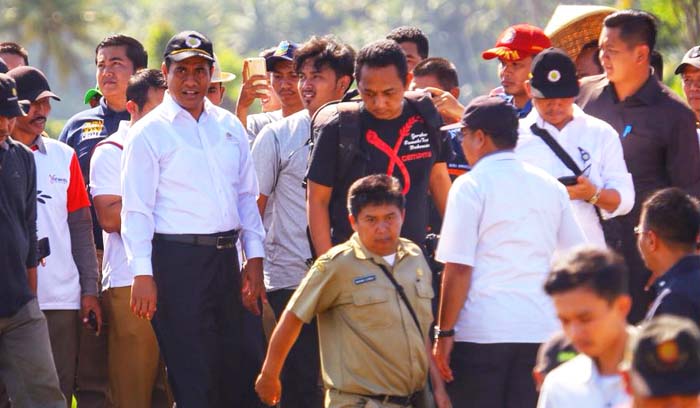 PANEN PATI: Mentan Andi Amran Sulaiman (kemeja putih bertopi) memantau luas panen di Kabupaten Pati (Foto: Humas Kementan)
Jakarta (B2B) - Kementerian Pertanian RI didukung kementerian dan lembaga terkait membentuk tim khusus lintas kementerian dan lembaga (K/L) untuk program serap gabah petani disingkat Sergap, dengan fleksibilitas harga pembelian pemerintah (HPP) dari Rp3.700 ke Rp4.070 bertujuan menyelamatkan petani, target serap 4,4 juta ton gabah setara 2,2 juta ton beras hingga Juni 2018.

Tim Sergap yang digagas Kementan didukung Kementerian BUMN, Kementerian Desa - Pembangunan Daerah Tertinggal dan Transmigrasi, Bank BRI, TNI AD, petugas penyuluh lapangan (PPL), dan Kontak Tani Nelayan Andalan (KTNA).

"Prinsip petani sangat sederhana. Kalau sudah untung, dia tanam padi lagi. Kesejahteraan petani harus kita perhatikan. Kalau harga di bawah HPP, petani rugi, akibatnya tidak mau tanam. Harusnya tanam dua kali, bisa jadi hanya tanam satu kali," kata Mentan Andi Amran Sulaiman saat panen padi di Desa Wotan, Kecamatan Sukolilo, Kabupaten Pati, Jawa Tengah (7/2).

Panen padi di Kabupaten Pati berlangsung di area seluas 1.753 hektar yang ditanami varietas Inpari 32 dan Ciherang, produktivitas 9,2 ton per hektar, dan Mentan ke Pati untuk memastikan harga gabah di Jawa Tengah tidak anjlok di bawah HPP setelah sempat turun hingga Rp1.000 per kg, dan setelah kunjungan Amran Sulaiman maka harga gabah merangkak naik ke Rp4.200 kg.

"Harga ini harus dijaga agar jangan sampai turun lagi, inilah gunanya tim Sergap bergerak langsung ke jantung produksi padi di Jateng," kata Mentan.
Jakarta (B2B) - The Indonesian government established a special team of cross-ministries and related institutions to support the program of purchasing grain from farmers or Sergap Team, with the government´s purchase price of 3,700 to 4,070 rupiah to save the production of paddy farmers, target of 4.4 million tons of grain or equivalent to 2.2 million tons of rice until June 2018.

The Sergap team initiated by agriculture ministry will be supported by SOEs ministry, ministry of village - underdeveloped region and transmigration, BRI Bank, Army, agricultural extension, and Indonesian farmers´ associations or the KTNA.

"The principle of farmers is very simple. If they get the profit will plant rice again. We must pay attention to the welfare of farmers. If the price of grain below the market price, they will sulk and only plant once a year," said Agriculture Minister Andi Amran Sulaiman after rice harvest in Pati district of Central Java province on Wednesday (February 7).

Rice harvest in Pati district of 1,753 hectares with varieties of Inpari 32 and Ciherang, productivity 9.2 tons per hectare, and Minister Sulaiman came to ensure grain prices in Central Java did not plummet after dropping 1,000 rupiah per kg, and after the agriculture minister visited the price of grain crawling up to 4200 rupiah per kg.

"The price of grain should be stable, this Sergap team function to the heart of rice production in Central Java," he said.