Resolusi Sawit UE, Mentan Minta Brasil Dukung RI Atasi Kampanye Negatif
Indonesian Govt Asks Brazilian Support over the EU Palm Oil Resolutions
Editor : Cahyani Harzi
Translator : Dhelia Gani

PUBLISHED: Selasa, 13 Februari 2018 , 01:27:00 WIB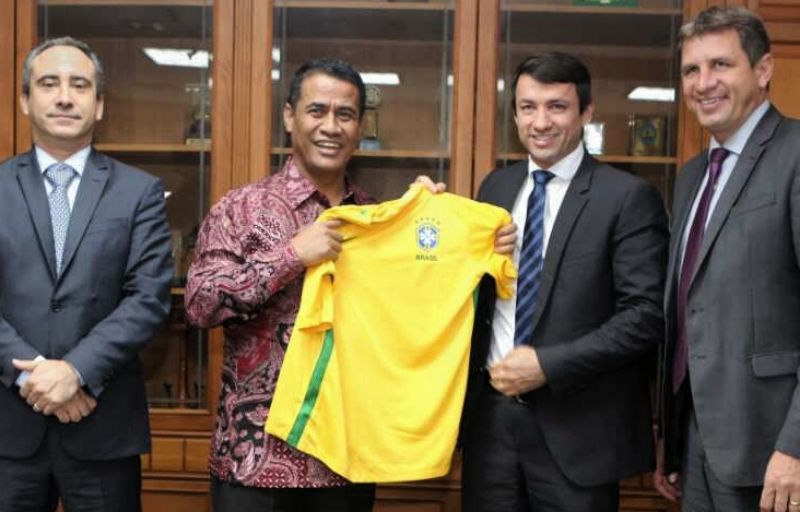 JERSEY TIMNAS BRASIL: Mentan Andi Amran Sulaiman (ke-2 kiri) mendapat cenderamata jersey timnas Brasil dari Wamentan Eumar Roberto Novacki usai pertemuan bilateral di Jakarta (Foto: Humas Kementan)
Jakarta (B2B) - Resolusi Uni Eropa (UE) terhadap keberlangsungan ekspor minyak kelapa sawit (CPO) mengancam sumber penghidupan 30 juta rakyat Indonesia yang bergantung pada sektor sawit, hal itu mendorong Pemerintah RI meminta dukungan Brasil untuk membantu mengantisipasi dan mengatasi kampanye negatif UE.
Harapan tersebut dikemukakan Menteri Pertanian Andi Amran Sulaiman kepada Wakil Menteri Pertanian Brasil, Eumar Roberto Novacki dalam pertemuan bilateral di Jakarta, Senin (12/2), sementara pemerintah Brasil menawarkan Indonesia untuk mengimpor daging sapi dan daging ayam dari ´negeri samba´ tersebut.
"Indonesia mengharapkan dukungan Brasil untuk meng-counter kampanye negatif UE terhadap CPO Indonesia, karena hal itu mengancam penghidupan rakyat yang menggantungkan hidup dan mata pencaharian di perkebunan kelapa sawit," kata Mentan Amran Sulaiman yang didampingi Staf Ahli Menteri Bidang Perdagangan dan Hubungan Internasional, Mat Syukur di ruang kerjanya.
Amran menambahkan hilangnya peluang ekspor CPO Indonesia ke UE akan memicu kerawanan sosial, sehingga mendorong masyarakat di perkebunan sawit dan sekitarnya merambah hutan untuk mencuri kayu (ilegal logging) dan memicu kerusakan lingkungan dan mengancam luas hutan hujan sebagai ´paru-paru´ dunia.
Wamentan Novacki menekankan pentingnya penguatan kerjasama bilateral bidang pertanian melalui pengaktifan kembali forum Consultative Committee on Agriculture (CCA).
"Melalui forum ini dapat dibahas berbagai isu penguatan kerjasama bidang pertanian antara kedua negara," kata Novacki yang didampingi Director of Non-Tariff Negotiation, Alexandre Pontes Pontes.
Kedua negara sepakat untuk penguatan kerja sama bidang riset dan teknologi serta fasilitasi akses pasar untuk komoditas buah, dan kerjasama ini akan dibahas melalui pertemuan level teknis.
Peluang Bisnis
Dalam pertemuan bilateral tersebut, Wamentan Novacki menyampaikan keinginan Brasil mengekspor ternak sapi indukan, untuk mendukung peningkatan populasi sapi di Indonesia dan kemandirian dalam pemenuhan kebutuhan konsumsi daging sebagai protein asal hewani. Mentan pun menawarkan peluang investasi di Indonesia, khususnya pada pengembangan ternak sapi.
Sebelumnya diberitakan, Kementan berniat menganggarkan Rp100 miliar untuk membeli sperma sapi dari Brasil tahun ini, karena sapi Brasil unggul pada bobotnya yang besar berkisar 1,5 sampai 2 ton sementara sapi Indonesia maksimal 400 kg.
"Bobot sapi Brasil maksimal 2 ton, sapi kita hanya 400 kg, kami minta izin Presiden Joko Widodo tahun depan dan dianggarkan Rp100 miliar untuk beli sperma," kata Amran di Jakarta pada akhir September 2017.
Terkait keinginan Brasil mengekspor daging ayam ke Indonesia, Amran mengingatkan bahwa Indonesia surplus daging ayam, bahkan ekspor ke enam negara. Impor daging ayam akan mengganggu sistem produksi dan pemasaran yang berjalan baik selama ini. Kendati begitu, Mentan mengundang Brasil untuk investasi pada industri pengolahan daging ayam dan pakan ternak.
Jakarta (B2B) - The European Union (EU) resolution to Indonesia´s palm oil exports threatens the livelihoods of 30 million Indonesians dependent on the palm oil sector, so that Indonesia government expects Brazilian government support Indonesia to address the EU negative campaign.
It was stated by Agriculture Minister Andi Amran Sulaiman to Brazil´s Deputy Agriculture Minister, Eumar Roberto Novacki during a bilateral meeting here on Monday (February 12) while the Brazilian government offered Indonesia to import beef and chicken meat from Brazil.
"Indonesia expects Brazil´s support to counter the EU´s negative campaign against Indonesia´s CPO, as it threatens the livelihoods of dependent people and livelihoods in oil palm plantations," said Minister Sulaiman who was accompanied by Expert Staff to the Minister, Mat Syukur.
Minister Sulaiman said the loss of Indonesia´s CPO export opportunity to the EU will trigger social vulnerability, prompting communities in palm oil plantations and surrounding areas to penetrate forests for illegal logging, threatening environmental conservation, and the second largest area of rainforest in the world.
Deputy Minister Novacki reminded the increase of bilateral agricultural cooperation through the Consultative Committee on Agriculture (CCA) forum.
"Through the CCA forum can be discussed various issues of strengthening cooperation in agriculture in Indonesia and Brazil," said Novacki who was accompanied by Director of Non-Tariff Negotiation, Alexandre Pontes Pontes.
Indonesia and Brazil government agreed to increase research and technology cooperation and facilitate market access for fruit commodities.
Business Opportunities
In the bilateral meeting, Mr. Novacki expressed Brazil´s intention to export cattle, to support the increase of the cattle population in Indonesia, and beef self-sufficiency. Minister Sulaiman also offers investment opportunities in Indonesia, especially the development of cattle.
Previously reported, the Indonesian government will provide 100 billion rupiah to buy cement cattle Brazil this year, Brazil´s cattle have excess weight of 1.5 to 2 tons while Indonesian cattle a maximum of 400 kg.
"The weight of Brazil´s cattle reaches two tons, while Indonesia´s cow is maximum of 400 kg, we ask President Joko Widodo´s permission next year and budgeted 100 billion rupiah to buy Brazil cow cement," said Minister Sulaiman here at the end of September 2017.
Related to Brazil´s interest in exporting chicken meat to Indonesia, Minister Sulaiman warned that Indonesia is a surplus of chicken meat, even exports to six countries.
The import of chicken meat will affect the production and marketing system that has been going well. Nevertheless, Indonesia invited Brazil to invest in the poultry processing industry and animal feed.