WFP Dukung BKP Kementan Kembangkan Peta Ketahanan FSVA dan Diversifikasi Pangan
The United Nations´s WFP Support Development of FSVA Development in Indonesia
Editor : Cahyani Harzi
Translator : Dhelia Gani

PUBLISHED: Jum'at, 08 September 2017 , 00:13:00 WIB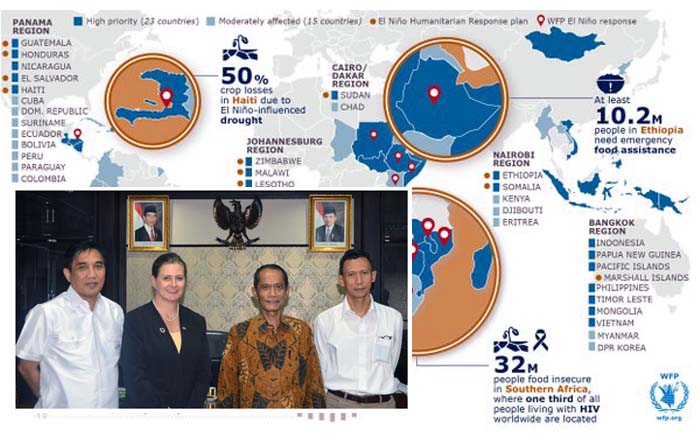 Inset kiri ke kanan: Sekretaris BKP Mulyadi Hendiawan, Direktur WFP untuk Indonesia, Anthea Webb; Kepala BKP Agung Hendriadi dan Kapus Ketersediaan dan Kerawanan Pangan, Benny Rachman dan kinerja WFP (Infografis: Twitter)
Jakarta (B2B) - Lembaga bantuan kemanusiaan PBB, World Food Program (WFP) mengapresiasi dan mendukung komitmen Kementerian Pertanian RI mengembangkan Peta Ketahanan dan Kerawanan Pangan (Food Security and Vulnerability Atlas/FSVA) dan Gerakan Diversifikasi Konsumsi Pangan yang menjadi mandat Badan Ketahanan Pangan (BKP).

Hal itu dikemukakan oleh Direktur WFP untuk Indonesia, Anthea Webb usai pertemuan dengan Kepala BKP Kementan, Agung Hendriadi yang didampingi oleh Sekretaris BKP Mulyadi Hendiawan dan Kepala Pusat Ketersediaan dan Kerawanan Pangan, Benny Rachman terkait rencana strategis ke depan untuk kerjasama RI - WFP periode 2017 - 2020, sehingga WFP dapat lebih intensif melaksanakan capacity building yang melibatkan para pakar nasional dan internasional mendukung pencapaian ketahanan pangan nasional.

Anthea Webb mengatakan WFP telah membangun kerjasama dengan Pemerintah RI khususnya Kementerian Pertanian sejak 2002 dan berupaya memantapkan langkah ke depan, khususnya mendukung pengembangan FSVA yang saat ini menjadi dasar bagi Kementerian Desa, Pembangunan Daerah Tertinggal dan Transmigrasi (Kemendes), Kementerian Sosial (Kemensos), Kementerian Kesehatan (Kemenkes), Kementerian Pendidikan dan Kebudayaan (Kemendikbud) untuk menentukan lokasi program dan kegiatan pemberdayaan masyarakat untuk pengentasan kemiskinan, dan rawan pangan.

"Secara global, FSVA Indonesia telah menjadi best practices dalam pengembangan FSVA bagi negara lain, seperti Kamboja dan Srilanka, sementara negara lain yang pernah ke Indonesia untuk mendalami FSVA adalah Filipina dan Afganistan," kata Webb.

Agung Hendriadi menambahkan, hasil survei FSVA juga akan menjadi basis penyusunan program BKP khususnya dalam pengentasan daerah rawan rentan pangan oleh Kementan sesuai semangat tahun ketiga dari Pemerintahan Joko Widodo - Jusuf Kalla untuk mendukung pemerataan pertumbuhan ekonomi.

Anthea Webb menyatakan WFP mendukung Gerakan Diversifikasi Konsumsi Pangan yang menjadi mandat BKP Kementan, karena hal itu sejalan dengan komitmen WFP untuk mendukung promosi konsumsi pangan beragam, bergizi seimbang dan aman (balanced diet).

Sebagaimana diketahui WFP didirikan oleh Organisasi Pangan Dunia PBB (FAO) pada 1960, yang bermarkas di New York, AS dan mengemban misi memberikan bantuan kemanusiaan dan perkembangan jangka panjang untuk program pangan di negara-negara berkembang.

Agung Hendriadi menambahkan, kerjasama intensif BKP Kementan dan WFP mencakup pengembangan Sistem Kewaspadaan Pangan dan Gizi (SKP) dan penyusunan Buletin Pemantauan Ketahanan Pangan. Buletin tersebut khususnya dilakukan melalui kerjasama intensif antara BKP dengan Badan Meteorologi, Klimatologi, dan Geofisika (BMKG), WFP, Organisasi Pangan Dunia PBB (FAO), Badan Nasional Penanggulangan Bencana (BNPB), Lembaga Penerbangan dan Antariksa Nasional (Lapan), dan Badan Pusat Statistik (BPS).
Jakarta (B2B) - The United Nations's World Food Program (WFP) appreciates and supports the commitment of Indonesian Agriculture Ministry developing the Food Security and Vulnerability Atlas (FSVA) the Food Consumption Diversification Movement of Indonesian's Food Security Agency known as the BKP Kementan, according to the WPF director.

It was said by the WFP Director for Indonesia, Anthea Webb after meeting with Director General of the BKP Agung Hendriadi who was accompanied by BKP Secretary Mulyadi Hendiawan and Director of Food Availability and Insecurity Center, Benny Rachman related to the future strategic plan for Indonesia and WFP cooperation for 2017-2020 in capacity building development involving national and international experts.

Webb said the WFP collaboration with Indonesian government, especially the agriculture ministry since 2002 and increased cooperation in the future, in particular the FSVA currently used by several ministries in Indonesia such as the Ministry of Village, Development of Underdeveloped Regions and Transmigration, Social Ministry, Health Ministry, Education and Culture Ministry for community empowerment activities, poverty alleviation, and food insecurity.

"Globally, FSVA Indonesia has become the best practices in developing FSVA for other countries, such as Cambodia and Sri Lanka, while foreign delegations to Indonesia to explore the FSVA are the Philippines and Afghanistan," Webb said.

Mr Hendriadi said the FSVA survey results will be the basis of BKP program development, especially the alleviation of food insecurity by agriculture ministry that is targeted by Joko Widodo administration for the equitable economic growth.

Webb said WFP supports the Food Consumption Diversification Movement which is the vision and mission of BKP in line with WFP's commitment support the promotion of diverse food consumption and balanced diet.

As known, WFP was established by the United Nations's World Food Organization (FAO) in 1960, based in New York, USA and is on a mission to provide humanitarian assistance and long-term development for food programs in developing countries.

Hendriadi added that BKP and WFP's intensive cooperation includes development of food and nutrition vigilance system, and development of food security monitoring bulletin. The Bulletin was developed through intensive cooperation with Meteorology, Climatology and Geophysics Agency (BMKG), WFP, FAO, National Disaster Management Agency (BNPB), National Aeronautics and Space Agency (Lapan), and Central Bureau of Statistics (BPS).