Duka Cita Warnai Pelantikan Pejabat Eselon II Kementerian Pertanian
The Inauguration Senior Officials of Indonesian Agriculture Ministry
Reporter : Gusmiati Waris
Editor : Cahyani Harzi
Translator : Dhelia Gani

PUBLISHED: Selasa, 20 Maret 2018 , 01:41:00 WIB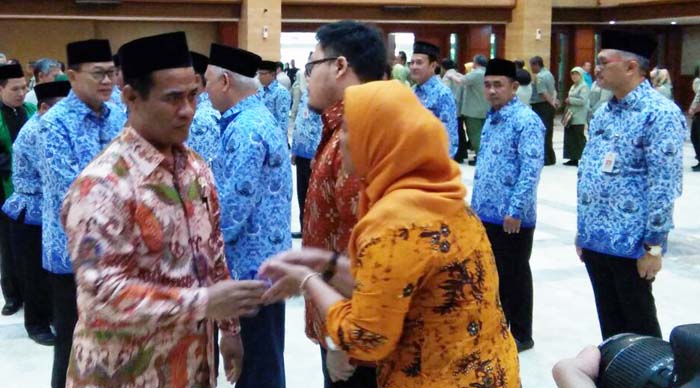 KELUARGA MENDIANG: Mentan Andi Amran Sulaiman (batik merah) menyalami istri dan putra mendiang Agus Sunarya yang seharusnya dilantik sebagai Karo Keuangan dan Perlengkapan Sekjen Kementan (Foto: B2B/Gusmiati Waris)
Jakarta (B2B) - Pelantikan 13 pejabat eselon II di Kementerian Pertanian RI oleh Menteri Pertanian Andi Amran Sulaiman di Jakarta, Senin (19/3) diselimuti suasana duka atas wafatnya salah seorang pejabat yang akan dilantik, Agus Sunarya sebagai Kepala Biro Keuangan dan Perlengkapan di Sekretariat Jenderal, yang wafat pada Minggu (18/3).
"Salah satu putra terbaik kita Agus Sunarya seharusnya kami lantik hari ini, tapi kemarin beliau lebih disayang Allah SWT. Beliau berpulang ke Rahmatullah," kata Mentan di awal sambutannya.
Mentan Amran Sulaiman menyalami istri dan anak mendiang Agus Sunarya, mantan Kepala Tata Usaha (TU) Pusat Data dan Informasi (Pusdatin) seraya mengingatkan bahwa pemerintah tetap memberikan penghargaan eselon II, dengan tetap pensiun sebagai pejabat eselon II.
"Kalau hal itu tidak sesuai regulasi, maka selisih dari hak pensiun untuk keluarga almarhum akan ditanggung dari uang pribadi kami sebagai menteri pertanian," kata Amran Sulaiman di kantor pusat Kementan, kawasan Ragunan, Jakarta Selatan.
Mentan mengingatkan ke-12 pejabat eselon II untuk menjalankan tugas dan amanah dari negara dan rakyat.
"Tujuan hidup kita hanya beriman dan bermanfaat. Kita semua setiap saat bisa dilantik. Bisa turun atau naik. Bisa diganti. Bisa dipecat. Jangan menganggapnya sebagai tujuan. Ini bagian dari pelayanan. Mohon saya diingatkan. Jangan diingatkan setelah keputusan dibuat," kata Amran Sulaiman.
Keenam pejabat eselon IIa yang dilantik antara lain Kuntoro Boga Andri menjadi Pj Kepala Biro Humas dan Informasi, Sekjen Kementan; Liliek Srie Utami (Sekretaris Ditjen Hortikultura); Sri Wijayanti Yusuf (Direktur Perlindungan Hortikultura Ditjen Hortikultura); Andriko Noto Susanto (Pj Sekretaris Badan Penyuluhan dan Pengembangan SDM Pertanian (BPPSDMP), Surachman Suwardi (Ketua Sekolah Tinggi Penyuluhan Pertanian Malang - STPP Malang, BPPSDMP; Chandra Indrawanto (Ketua STPP Medan, BPPSDMP); Agus Sunanto (Kepala Pusat Karantina Hewan dan Keamanan Hayati Hewani, Badan Karantina Pertanian/Barantan).
Enam pejabat eselon IIb yang dilantik adalah Sintong Haposan menjadi Kepala Balai Besar Pembibitan Ternak Unggul dan Hijauan Pakan Ternak Baturraden - Ditjen Peternakan dan Kesehatan Hewan; Wisnu Wasisa Putra (Pj Kepala Balai Besar Pelatihan Kesehatan Hewan - BBPP Cinagara, BPPSDMP); Sriyanto (Kepala Balai Besar Uji Standar Karantina Pertanian - Barantan); Imam Djajadi (Kepala Balai Besar Karantina Pertanian Soekarno - Hatta - Barantan) dan Hasrul (Pj Kepala Balai Besar Karantina Pertanian Makassar - Barantan).
Jakarta (B2B) - Inaugural 2nd echelon officials in the Indonesian Agriculture Ministry by Minister Andi Amran Sulaiman on Monday (March 19) tinged atmosphere of grief because of of one official who will be inaugurate, Agus Sunarya died on Sunday (March 18) as the Head of Finance and Supplies in the secretariat general.
"One of our best official, Agus Sunarya should be inaugurated today, but yesterday he died," Minister Sulaiman said in his speech.
Minister Sulaiman shook the wife and son of the late Agus Sunarya, former head of administration at the ministry´s Data and Information Center or Pusdatin. H cautioned that the government keeps giving pensions as second echelon official to the family of the deceased.
"If it is not in line to regulations, the difference of deceased´s pension fund will be borne out of my personal money," said Minister Sulaiman at the ministry´s headquarter in Ragunan area of South Jakarta.
Mr. Sulaiman reminds senior officials who are inaugurated for the duty and mandate of the government.
"The purpose of our lives is only faithful and useful. We can be inaugurate at any moment. Can be replaced. Can be fired. Do not think of it as a goal. Please remind me. Do not be reminded after the decision," he said.
12 senior ministerial officials inaugurated among others Kuntoro Boga Andri, Liliek Srie Utami, Sri Wijayanti Yusuf, Andriko Noto Susanto, Surachman Suwardi, Chandra Indrawanto, Agus Sunanto, Sintong Haposan, Wisnu Wasisa Putra, Sriyanto, Imam Djajadi, and Hasrul.
They were placed as senior officials of ministry´s secretariat general, the directorate general of horticulture, directorate general of agricultural extension and agricultural human resources development or BPPSDMP, directorate general of livestocks and animal health, and directorate general of agricultural quarantine.