ASEAN Berupaya Tekan Kehilangan Pasca Panen di Bawah 30%
ASEAN Member States Seeks to Reduce of Post-harvest Food Losses below 30%
Editor : M. Achsan Atjo
Translator : Dhelia Gani

PUBLISHED: Rabu, 25 Juli 2018 , 01:48:00 WIB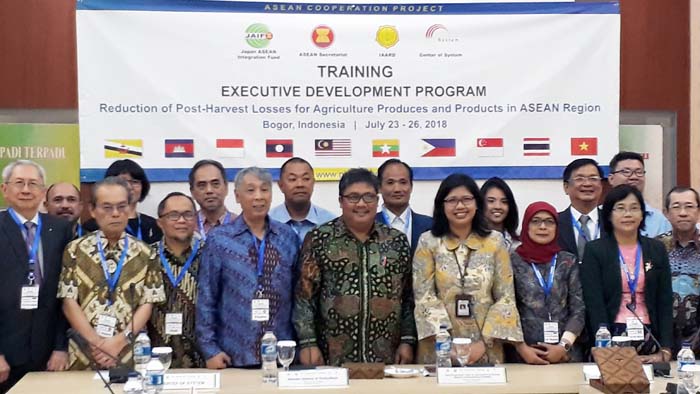 Kabid Kerjasama dan Pendayagunaan Hasil Penelitian - BB Pasca Panen, Evi Savitri Iriani (depan ke-3 kanan) dan Regional Expert the ASEAN PHL-Project, Prof Dr Eriyatno (batik biru) Foto: B2B/Mac)
Bogor, Jabar (B2B) - Indonesia menawarkan teknologi ozonisasi untuk menekan tingkat kehilangan pasca panen komoditas cabai hingga di bawah 15%, dari sebelumnya 30% sampai 40%, hal itu disampaikan Indonesia pada proyek kerjasama ASEAN, the ASEAN PHL-Project, untuk berbagi pengetahuan dan pengalaman dalam aplikasi teknologi pascapanen, sehingga dapat menurunkan kehilangan hasil panen di tingkat petani, dan jaminan bagi konsumen mendapat komoditas pertanian dalam keadaan segar dan aman dikonsumsi.
"Hasil dari proyek percontohan Indonesia pada sentra produksi cabai di Magelang, Jawa Tengah akan dirumuskan bersama pada pertemuan berikutnya di Bali pada Agustus mendatang, dan hasil perumusan akan menjadi rekomendasi bagi 10 negara ASEAN," kata Evi Savitri Iriani, Kepala Bidang Kerja Sama dan Pendayagunaan Hasil Penelitian - Balai Besar Litbang Pasca Panen Kementerian Pertanian di Bogor, Selasa (24/7).
Teknologi ozonisasi diawali dengan penggunaan bagan warna cabai sebagai panduan bagi petani saat panen raya. Memanfaatkan krat sebagai wadah cabai dalam pengangkutan ke pengepul atau pengepakan, sistem ozon sebagai antimikroba, pengemasan kardus perforasi, dan penggunaan transportasi berpendingin untuk distribusi jarak jauh.
"Sistem ozonisasi kombinasi dengan pendingin bisa bertahan sampai 28 hari hingga tiga bulan, kalau tanpa ozonisasi cabai hanya bertahan paling lama dua minggu," kata Evi Savitri pada sesi pelatihan sebagai program pengembangan eksekutif the ASEAN PHL Project.
Menurutnya, kehilangan hasil produksi pada kegiatan pasca panen dan penyimpanan di tingkat global diperkirakan di atas 40%. Sementara di tingkat pengolahan, distribusi, dan konsumsi di atas 30% dan Indonesia dalam proyek percontohan the ASEAN PHL-Project berhasil menekan losses hingga 15%.
Indonesia tidak bekerja sendiri, dua negara ASEAN lainnya setelah disepakati dalam konsultasi regional, Thailand menangani proyek percontohan untuk buah-buahan yakni nenas, dan Vietnam terkait biji-bijian khususnya padi.
Bogor of West Java (B2B) - Indonesia offers ozone technology to reduction of post harvest losses of chili under 15%, chili losses on average 30% to 40%, it was presented by Indonesia in ASEAN cooperation projects, the ASEAN PHL-Project, to share knowledge and experience in postharvest technology applications, the goal is to reduce PHL at the farm level, and guarantees for consumers to get fresh chili and safe to eat.
"The results of the Indonesian pilot project at the chilli production center in Magelang district of Central Java province will be formulated at the next meeting in Bali in August, and will be a recommendation for 10 ASEAN member states," said Evi Savitri Iriani, senior researcher at the Indonesian Ministry of Agriculture´s R & D Agency here on Tuesday (July 24).
Ozone technology begins with the use of chili color chart as a guide for farmers during the harvest. Utilizing crates as chili containers in transport to collectors or packing, the ozone system as antimicrobials, packaging of perforated cardboard boxes, and the use of refrigerated transport for long distance distribution.
"The combined ozone-cooling system with the coolant lasts 28 days to three months, without ozone chili only lasting two weeks," said Evi Savitri.
According to her, Production loss in post-harvest and storage activities at the global level is estimated to be above 40%. While at the processing, distribution and consumption levels above 30%, and Indonesia in the pilot project of the ASEAN PHL-Project succeeded in reducing losses by 15%.
Indonesia did not work alone, two other ASEAN countries after it was agreed in a regional consultation, Thailand handles pilot projects for fruits namely pineapple, and Vietnam related grain, especially rice.