Badan SDM Kementan Koordinasikan Lahan Kedelai 500.000 Hektar Non APBN-P
Indonesia is Preparing a Million Land for Soybean Crops Across the Country
Editor : M. Achsan Atjo
Translator : Dhelia Gani

PUBLISHED: Rabu, 08 November 2017 , 02:12:00 WIB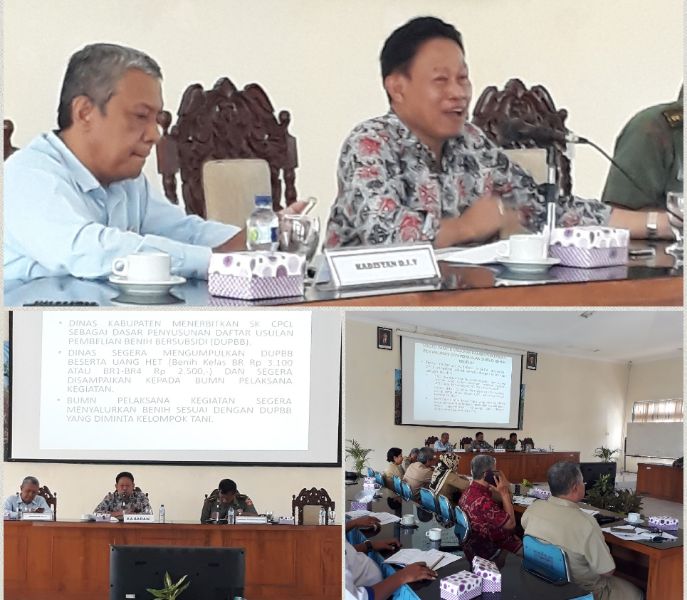 Kepala BPPSDMP Kementan, Momon Rusmono (atas kanan) memimpin rapat koordinasi di STPP Yogyakarta (Foto2: B2B/Mac)
Yogyakarta, DIY (B2B) - Pemerintah RI menyiapkan benih kedelai bersubsidi yang dibiayai APBN-Perubahan 2017 untuk program penanaman kedelai seluas 500.000 hektar di 20 provinsi, dan Kementerian Pertanian saat ini menyiapkan lahan 500.000 hektar di 14 provinsi untuk ditanami benih kedelai bersubsidi namun anggarannya tidak masuk APBN-P 2017, dan langkah tersebut ditempuh untuk mendukung pencapaian target sejuta lahan kedelai di seluruh Indonesia dalam menyongsong swasembada kedelai 2018.
"Mentan Andi Amran Sulaiman menginstruksikan Badan SDM Kementan mendukung pencapaian swasembada kedelai 2018, dengan mengoordinasikan penyiapan 500.000 hektar lahan untuk kedelai di 14 provinsi, dan anggaran untuk benih kedelai bersubsidi 14 provinsi ini bukan dari APBN - Perubahan 2017," kata Kepala Badan Penyuluhan dan Pengembangan SDM Pertanian (BPPSDMP) Momon Rusmono di Yogyakarta, Selasa siang (7/11) usai memimpin Rakor ´percepatan pelaksanaan kegiatan subsidi benih kedelai´ tahun anggaran 2017 dan APBN - P 2017.
Dia menambahkan, target tanam serentak di 14 provinsi dijadwalkan pada akhir Desember 2017, dan saat ini Badan SDM Kementan diminta Mentan mendukung penyiapan lahan yang akan dikawal dan didampingi oleh penyuluh pertanian dan gabungan kelompok tani (Gapoktan) di 14 provinsi tersebut, sementara pemerintah daerah melibatkan mantri tani dan petugas dari Badan Penyuluhan Pertanian (BPP) di setiap kecamatan.
"Badan SDM dan Badan Litbang yang mendukung kinerja penanaman 500.000 hektar di 14 provinsi akan melakukan sinkronisasi dengan Ditjen Tanaman Pangan yang mengendalikan penanaman lahan 500.000 hektar di 20 provinsi," kata Momon Rusmono.
Rapat yang berlangsung di ruang pertemuan Sekolah Tinggi Penyuluh Pertanian (STPP) Yogyakarta dihadiri oleh Kepala Pusat Pendidikan Pertanian (Kapusdiktan) Gunawan Yulianto sebagai koordinator program di Provinsi Yogyakarta (DIY), Kepala Dinas Pertanian DIY, Letkol Inf Agus M mewakili Aster Kodam IV Diponegoro Kolonel Inf Amrin Ibrahim, para kepala dinas pertanian di Provinsi DIY dan para Dandim di wilayah Korem 072 Pamungkas/Yogyakarta.
Momon menambahkan, target tanam serentak kedelai ini bagian dari program upaya khusus padi, jagung, dan kedelai disingkat Pajale. Program memanfaatkan lahan bekas pertambangan, lahan hutan, lahan perkebunan, lahan kering, lahan bera, lahan tidur, lahan pasang surut, lahan sawah tadah hujan, dan lahan bekas perluasan areal tanaman jagung.
"Sukses swasembada beras di 2016 hingga triwulan ketiga 2017, tidak ada rekomendasi impor jagung, selanjutnya Kementan menargetkan swasembada kedelai pada 2018. Badan SDM dan Badan Litbang Pertanian bekerja mendukung Ditjen Tanaman Pangan di bawah kendali dan koordinasi Mentan Amran Sulaiman," kata Momon Rusmono.
Yogyakarta, DIY (B2B) - The Indonesian government prepares subsidized soybean seeds financed by 2017 Revised State Budget of 500,000 hectares of soybean planting program in 20 provinces, and the agriculture ministry is preparing 500,000 hectares of land in 14 provinces for subsidized soybean seeds but the budget is not included in state budget, and the program to support achievement of a million land of soybean crop across the countrysoybean for self-sufficiency of soybean in 2018.
"Agriculture Minister Amran Sulaiman has instructed ministry´s human resources agency to support the achievement of soybean self-sufficiency in 2018 by coordinating the preparation of 500,000 hectares of land in 14 provinces, and budget for subsidized soybean seeds is not from 2017 revised state budget," said Director General of the Agricultural Extension and Development Agency, called the BPPSDMP, Momon Rusmono here on Tuesday (November 11).
He said the target of simultaneous soybean cultivation in 14 provinces is scheduled by the end of December 2017, and currently the minister is supporting the preparation of land that will be accompanied by agricultural extension workers and a combination of farmer groups in the 14 provinces, while the local government involves farmers and officers from agricultural extension workers in each sub-district.
"The human resource and R&D agency of the ministry support the planting of 500,000 hectares of soybeans in 14 provinces will synchronize with the Directorate General of Food Crops which controls the planting of 500,000 hectares in 20 provinces," he said.
The meeting which was held in Yogyakarta´s Agricultural Extension College was attended by Director of Agricultural Education Center, Gunawan Yulianto as program coordinator in Yogyakarta province, director of Yogyakarta agriculture office, Lieutenant Colonel Agus M representing Territorial Affair Assistent of Central Java´s Diponegoro Regonal Military Command Colonel Inf Amrin Ibrahim and his subordinates in Yogyakarta province.
He added that the target of simultaneous cultivation of soybean is part of special effort program of rice, corn, and soybean, called the Pajale. The program utilizes ex-mining land, forest land, plantation land, dry land, fallow land, sleeping land, tidal land, rainfed paddy field, and ex of land expansion of corn crop area.
" The success of rice self-sufficiency in 2016 to third quarter 2017, no recommendation of corn import, then the ministry targets soybean self-sufficiency in 2018. We work to support the directorate general of food crops under the control and coordination of Minister Amran Sulaiman," Mr Rusmono said.