Kementan Instruksikan Bulog Kedu Penuhi CSHP, Sergab 150 Ton per Hari
Indonesia Seeks to Maintain Rice Self-sufficiency
Editor : M. Achsan Atjo
Translator : Dhelia Gani

PUBLISHED: Jum'at, 20 Oktober 2017 , 04:05:00 WIB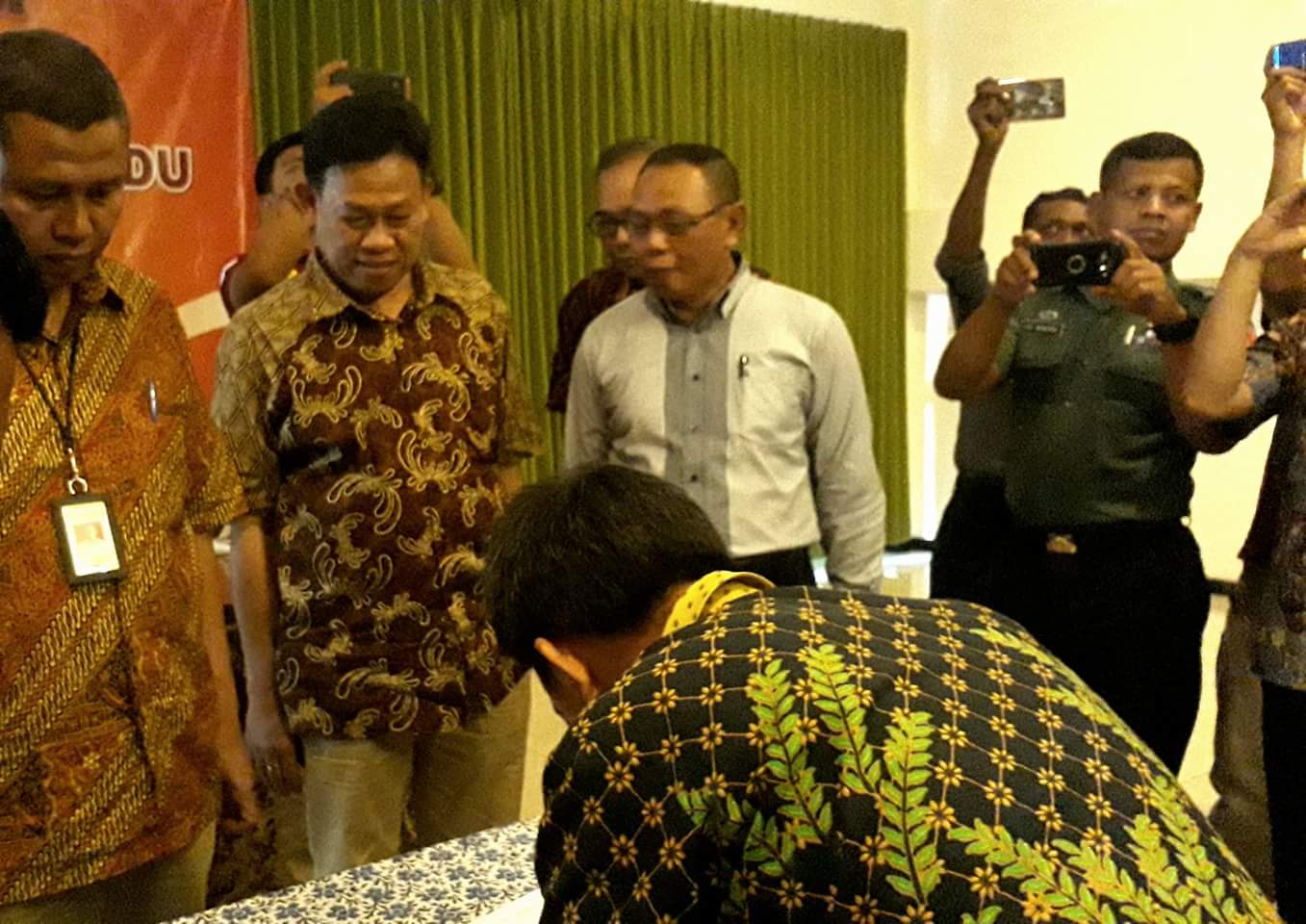 KESEPAKATAN SERGAP BULOG KEDU: Penanggung Jawab Sergab Kementan, Momon Rusmono (ke-2 kiri) dan Kepala Bulog Divre Jateng, Djoni Nur Ashari (kiri) Foto: B2B/Mac
Magelang, Jawa Tengah (B2B) - Pemerintah RI menyesalkan kinerja serap gabah Bulog Subdivre Kedu di Provinsi Jawa Tengah baru mencapai 23.174 ton atau 35% dari target 7.575 ton. Kementerian Pertanian meminta Bulog Kedu memenuhi target cadangan stabilitas harga pangan (CSHP), kemudian lima gudang Bulog Kedu sepakat menyerap gabah minimal 150 ton per hari dari mitra kerja.
"Saya yakin Bulog Kedu akan stres berat kalau saya ngitungnya dari target ini. Bayangkan sampai hari ini baru 23 ribuan, berarti masih kurang 44 ribuan. Waktunya tinggal 2,5 bulan lagi. Saya tidak akan menghitung hal itu, karena bos Bulog Kedu akan keluar ruangan, saya coba dengan pendekatan target CSHP atau masih kurang 12 ribu ton," kata Momon Rusmono sebagai Penanggung Jawab Sergab wilayah Jawa Barat - Jawa Tengah - Jawa Timur dalam arahannya pada Rakor percepatan serap gabah di Magelang, Jateng pada Kamis siang (19/10).
Momon Rusmono kemudian memaparkan ´rumus CSHP´ kepada Bulog Kedu dengan mengungkap kalkulasi yang masuk akal untuk dipenuhi oleh Bulog dan mitra-mitra kerjanya. "Nah mari kita diskusikan bersama untuk mencari solusi."
Rakor yang berlangsung dua jam berlangsung dalam suasana kondusif, akhirnya melahirkan kesepakatan antara Kementan dengan Bulog dan mitra kerjanya disaksikan oleh pihak-pihak terkait.
Kesepakatan Sergab gudang beras Bulog ditandatangani oleh lima kepala gudang beras Bulog (GBB) dan mitra kerja dipatok target memasok 150 ton gabah per hari kerja di wilayah eks Karesidenan Kedu, Jateng.
"Alhamdulillah akhirnya kita sepakat dan commit untuk kepentingan bangsa dan negara. Kita semua bertanggung jawab dan akan saling membantu mencapai target mulia ini," kata Momon Rusmono yang juga ikut meneken PKS tersebut sebagai pihak yang mengetahui.
PKS Sergab diteken oleh Ketua Perpadi Jateng, Rusdi Citro Wirono yang mewakili mitra kerja Bulog; Kompol Sulkhan dari Satgas Pangan Polda Jateng; Pasiter Kodam IV Diponegoro, Letkol Inf Agus Musriyanto; Kepala Bulog Divre Jateng, Djoni Nur Ashari; dan Kepala Bulog Subdivre Kedu, Sonny Supriyadi; pimpinan Dinas Ketahanan Pangan Jateng, Dina Diana Rahmawati; dan Tim Pengawal Penanggung Jawab dari Pusdiktan Kementan wilayah Semarang dan Surakarta, Teddy Rachmat Mulyadi.
Kesepakatan tersebut menyatakan Sergab per hari 40 ton ke gudang Danurejo di Magelang, masing-masing 30 ton ke Selang (Kebumen), Sawangan (Wonosobo), Butuh (Purworejo) dan 20 ton ke Bengkal (Temanggung) atau total 150 ton per hari.
"Kementan apresiasi komitmen yang berbuah kesepakatan hari ini sesuai instruksi Mentan Andi Amran Sulaiman untuk mendukung pencapaian target ketahanan pangan yang dicanangkan Presiden Joko Widodo," kata Momon Rusmono yang menjabat Kepala Badan Penyuluhan dan Pengembangan SDM Pertanian (BPPSDMP) Kementan.
Magelang of Central Java (B2B) - Indonesian government regrets the purchasing performance of rice grain farmers by Central Java´s Kedu Logistics Agency (Bulog Kedu) only reached 23,174 tons or 35% of the target of 7,575 tons. The Agriculture Ministry asked Bulog Kedu to meet the stabilization target of food prices (CSHP), then five Bulog Kedu warehouses agreed to buy at least 150 tons of rice per day from its partners.
"I´m sure it will be stressful if I count from this target. Until the day only 23 thousand tons, it is still less 44 thousand tons, the deadline is only 2.5 months. I will not count it, because the boss of Bulog Kedu will leave this room, I try to approach the CSHP or still less 12 thousand tons," said Head of Special Team of the ministry, Momon Rusmono here on Thursday (October 19).
Mr. Rusmono then described the ´CSHP formula´ by uncovering reasonable calculations to be met by Bulog and his partners. "Well let´s discuss it together to find a solution."
Coordination which lasted two hours running in a conducive atmosphere, finally reached an agreement between the ministry with Bulog and its partners witnessed by related parties.
The agreement was signed by five heads of Bulog rice warehouse who are required to buy 150 tons of rice grain per working day.
"Thank God we finally agreed and committed to the nation and country. We are all responsible and will help each other achieve this target," said Mr Rusmono who also signed the agreement.
The agreement was signed by the Chairman of the Central Java Rice Milling Association, Rusdi Citro Wirono, representing Bulog´s partners; Head of Police´s Food Task Force, Commisioner Iswanto; Territorial Assistant Kodam IV Diponegoro, Liutenant Colonel Agus Musriyanto; Deputy Director of Bulog´s Central Java, Djoni Nur Ashari; Head of the Central Java Food Security Agency, Dina Diana Rahmawati; and the head of ministry´s supervisory team, Teddy Rachmat Mulyadi.
The agreement states the purchase of 40 tons of grain per day to Danurejo warehouse in Magelang, each 30 tons to Selang (Kebumen), Sawangan (Wonosobo), Butuh (Purworejo) and 20 tons to Bengkal (Temanggung) or a total of 150 tons per day.
The ministry appreciates today´s commitment in line with the instruction of Minister Andi Amran Sulaiman to support the achievement of food security targets launched by President Joko Widodo," said Mr Rusmono who served the Director General of Agency for Agricultural Extension and Human Resource Development (BPPSDMP).