Atasi OPT Pisang, 80 Penyuluh Pertanian Wonogiri Studi Banding ke BBPP Ketindan
Banana Thematic Training for Indonesian Agricultural Extension Workers
Editor : M. Achsan Atjo
Translator : Dhelia Gani

PUBLISHED: Rabu, 15 November 2017 , 00:57:00 WIB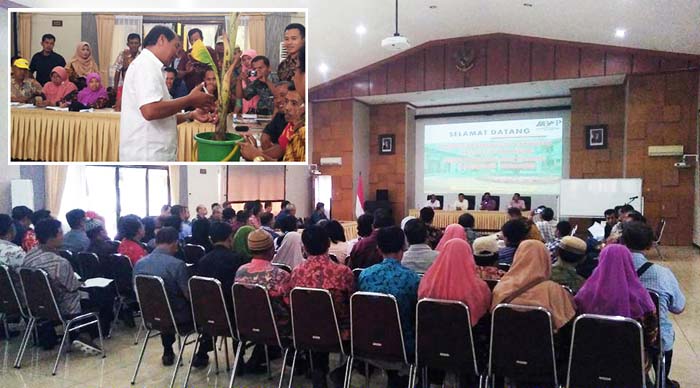 STUDI BANDING: 80 penyuluh pertanian Wonogiri mengikuti studi banding penanganan dan pengendalian OPT pisang di BBPP Ketindan (Foto2: Humas BBPP Ketindan)
Malang, Jatim (B2B) - Sedikitnya 80 penyuluh pertanian dari Kabupaten Wonogiri, Provinsi Jawa Tengah dipimpin kepala dinas kabupaten, Safuan, Selasa, (14/11) melakukan studi banding di Balai Besar Pelatihan Pertanian (BBPP) Ketindan - Malang di Provinsi Jawa Timur dan disambut hangat oleh Kepala BBPP Ketindan, Djajadi Gunawan, untuk mempelajari penanganan dan pengendalian organisme penyakit tanaman (OPT) pada pisang.

Djajadi Gunawan menyambut hangat kedatangan 80 penyuluh pertanian dari Wonogiri, yang dinilai sebagai implementasi dari filosofi dan prinsip penyuluhan bahwa 'setiap usaha tani mesti dengan ilmunya', begitu pula dengan bercocok tanam pisang.

"BBPP Ketindan untuk kedua kalinya dikunjungi oleh pemerintah kabupaten Wonogiri, yang juga dipimpin oleh kepala dinas Bapak Safuan pada awal November 2016, terkait proses alih teknologi olahan pisang menjadi produk bernilai tambah," kata Djajadi Gunawan.

Sebagaimana diketahui, pada 6 - 11 November 2016 sekitar 40 orang dari kelompok wanita tani (KWT) 35 orang dan lima orang pendamping KWT mengikuti pelatihan 40 jam, yang memperdalam pengolahan pisang bernilai tambah tepung pisang, brownis, ice cream , sale, nata de banana, sirup serta bagaimana teknik pemasarannya agar tingkat kesejahteraan KWT dapat meningkat.

Safuan mengatakan Pemkab Wonogiri mengutus 80 penyuluh pertanian mengikuti studi banding di BBPP Ketindan tentang penanganan dan pengendalian OPT pada tanaman pisang, yang menjadi vital lantaran menjadi komoditas hortikultura unggulan Wonogiri.

"Kami harapkan para penyuluh pertanian Wonogiri dapat memanfaatkan waktu sebaik-baiknya untuk mendapat ilmu yang dapat diaplikasikan setelah kembali ke Wonogiri," kata Safuan.

Safuan mengingatkan penyuluh pertanian harus memahami kondisi sasaran, penyuluh harus memberikan informasi dan teladan, kemudian menumbuhkan kemampuan inovatif dan kreatif, dan memberi peluang untuk berkembang sesuai kepentingan dan minat, "karena itulah peran vital penyuluh pertanian sebagai motivator, fasilitator dan mitra petani."
Malang of East Java (B2B) - At least 80 agricultural extension workers from Wonogiri district of Central Java province led by agriculture office head, Safuan on Tuesday (November 14) conducted the comparative study in Malang's Ketindan Agricultural Training Center of East Java Province, or BBPP Ketindan, who was warmly welcomed by the Director of BBPP Ketindan, Djajadi Gunawan for handling and controlling plant disease organism on banana.

Mr Gunawan warmly welcomed 80 agricultural extension workers from Wonogiri as an implementation of the counseling principle 'farmers efforts must be with their knowledge', as well as cultivating of banana.

"The BBPP Ketindan for the second time visited by the Wonogiri district government, which is also headed by Mr Safuan in early November 2016, related to the transfer of banana technology into value-added products," he said.

As is known on 6-11 November 2016 about 40 people from the women farmer group called the KWT attended the 40-hour training, to know the processing of value added bananas such as banana flour, brownis, ice cream, sale, nata de banana, syrup, and marketing to improve the welfare of women farmers.

Safuan said that the district government invited 80 agricultural extension workers to follow the comparative study at BBPP Ketindan, which became important for being a superior horticulture commodity district.

"We expect agricultural extension workers to gain useful knowledge for Wonogiri," said Safuan, Rikwanto, who uses a single name.

Safuan cautioned that agricultural extension workers should understand the problem, be a source of information and role models, then cultivate innovative and creative abilities, and provide opportunities to develop as interests, "agricultural extensionists function as motivators, facilitators and farmer partners.