Panen 1.500 Hektar, Pangdam XII Tanjung Pura Langsung Terbang ke Sambas
Indonesian Army General Applauds the Commitment of Rice Farmers
Editor : M. Achsan Atjo
Translator : Dhelia Gani

PUBLISHED: Rabu, 14 Februari 2018 , 12:17:00 WIB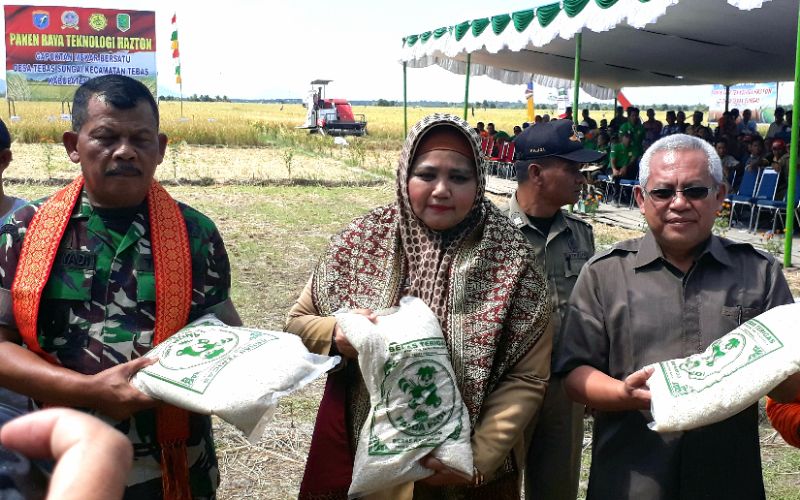 BERAS SERGAP BULOG: Pangdam XII/TPR Mayjen TNI Achmad Supriyadi dan Wabup H Hairiah dan Sesba BPPSDMP Surachman Suwardi memperlihatkan beras petani Gapoktan Mekar Bersatu yang diborong Bulog (Foto: B2B/M.Achsan Atjo)
Sambas, Kalbar (B2B) - Hamparan sawah menguning siap panen 1.500 hektar di tengah masa paceklik menarik perhatian Pangdam XII/TPR Mayjen TNI Achmad Supriyadi menyambangi Kabupaten Sambas, setelah mendengar kabar bahwa Sekretaris Badan SDM Pertanian (BPPSDMP) Kementan, Surachman Suwardi akan panen di Kecamatan Tebas, Selasa (13/2) memenuhi undangan Bupati Atbah Romin Suhaili.
"Biarpun tidak diundang oleh bupati dan kementerian pertanian, saya tetap ingin ke sini. Saya koordinasi Danrem sebelum ke sini. Biar cepat ya pakai helikopter TNI AD."
"Saya ingin berterima kasih kepada petani dan prajurit saya, para Babinsa, juga penyuluh pertanian yang membuat kita bisa makan nasi sendiri tanpa harus impor hingga hari ini," kata Pangdam XII/TPR dalam arahannya.
Kepada Sesbadan SDM Kementan, Surachman dan Wakil Bupati H Hairiah, Pangdam Tanjung Pura menegaskan komitmen TNI AD mendukung Kementan dan pemerintah daerah termasuk Kabupaten Sambas meningkatkan produksi pertanian, khususnya padi.
"Jangan segan laporkan kalau ada Babinsa yang ndableg," kata Pangdam XII/TPR yang hadir didampingi Danrem 121/ABW Brigjen TNI Bambang Ismawan.
Regenerasi Petani
Wakil Bupati H Hairiah mengapresiasi dukungan pemerintah pusat dan TNI khususnya angkatan darat, mulai dari persiapan tanam, cetak sawah baru, distribusi pupuk, masa panen hingga pascapanen.
Kendati begitu, dia mengaku miris atas meningkatnya alih fungsi lahan pertanian menjadi pemukiman sehingga dukungan Alsintan dari Kementan sangat membantu kinerja petani, dan ketertarikan pemuda untuk kembali ke sawah.
"Alhamdulillah dukungan Kementan berdampak positif pada pemuda, untuk kembali menggarap sawah milik keluarga dan kerabatnya sebagai mata pencaharian," kata H Hairiah.
Sesba SDM Pertanian Kementan, Surachman Suwardi mengelaborasi komitmen Mentan Andi Amran Sulaiman sejak 2015 menyalurkan 524 traktor tangan, 486 power trasher, ratusan rice transplanter, tiga lantai jemur, 289 RMU, gudang dan combine harvester untuk Sambas.
"Momen kegiatan panen hari ini membuktikan bahwa komoditas padi tak lekang oleh panas dan tak lapuk oleh hujan," kata Surachman.
Sambas of West Borneo (B2B) - The rice fields ready for harvest of 1,500 hectares outside the rice season of Indonesia pushed the West Borneo´s Tanjung Pura Military Commander visited Sambas district after being informed the Secretary of Directorate General of HR Agricultural at the Agriculture Ministry, Surachman Suwardi will go to Sambas for rice harvest in Tebas subdistrict on Tuesday (January 13).
"Alhough not invited, I still want to come here, I was coordinate with the military resort commander, and use the army helicopter to make it faster."
"I would like to thank the farmers and my soldiers, the village counselors, and agricultural extension workers, because they are then we can keep eating until today without having to import rice, "said Maj. Gen. Supriyadi.
To Mr Surachman of the agriculture ministry and deputy regent, he emphasized the commitment of Indonesian army support the central and regional governments including Sambas district to increase agricultural production, especially rice.
"Report to me, if any of my men are not working," said Supriyadi who was accompanied by his deputy, Brig. Gen. Bambang Ismawan.
Youth Farmers
Deputy Regent, Hairiah appreciated support of central government and the army especially for planting preparations, new paddy fields, fertilizer distribution, and harvesting to post-harvest.
Nevertheless, she admitted sadly over the increasing conversion of agricultural land into a settlement so that agricultural machinery assistance of the agriculture ministry is very helpful for farmers, and interest of youth to re-farm.
"Thank God, the central government support has a positive impact on youth to re-work the rice fields owned by family and relatives as a livelihood," she said.
Mr Suwardi from the agriculture ministry elaborated commitment of Minister Andi Amran Sulaiman since 2015 to deliver 524 hand tractors, 486 power trasher, hundreds of rice transplants, three drying floors, 289 RMU, warehouse and combine harvester for Sambas.
"The moment of rice harvest activity proves that the rice commodity is not cracked by heat and not decayed by rain," he said.