Wamentan: Kerja Sama Regional Tingkatkan Daya Saing Indonesia
Deputy Minister of Agriculture: Regional Cooperation Increase Competitiveness Indonesia
Reporter : Gusmiati Waris
Editor : Cahyani Harzi
Translator : Dhelia Gani

PUBLISHED: Kamis, 18 April 2013 , 12:29:00 WIB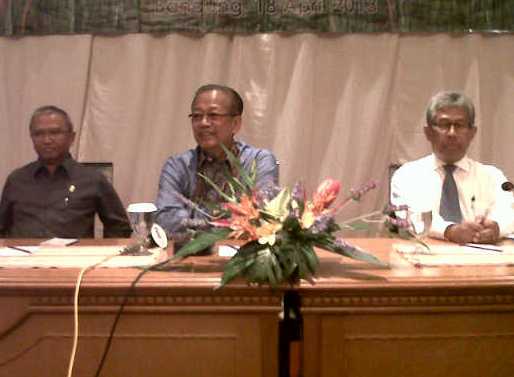 Wakil Mentan Rusman Heriawan (tengah) didampingi Wagub Sulsel H Agus Arifin Nu����&
Jakarta (B2B) - Kerja sama internasional dalam lingkup multilateral, regional maupun bilateral merupakan bagian integritas dari kebijakan pembangunan pertanian. Pasalnya melalui kerja sama tersebut, Indonesia dapat memanfaatkan berbagai peluang untuk meningkatkan kegiatan perdagangan, investasi, kerja sama teknis dan peningkatan kapasitas sumber daya manusia.

"Dalam forum regional Asia Tenggara, kerja sama ASEAN menempati posisi strategis bagi Indonesia, karena merupakan lingkaran konsentris terdekat di kawasan Asia dan menjadi pilar utama pelaksanaan politik luar negeri Indonesia," kata Wakil Menteri Pertanian, Rusman Heriawan dalam Workshop Nasional "Kesiapan Sektor Pertanian Menghadapai Asian Economic Community di Bandung, Jawa Barat, Kamis (18/4).

Menurut Rusman, saat ini daya saing ekonomi Indonesia masih lebih rendah dibandingkan negara-negara ASEAN lainnya. Mengacu pada Laporan Forum Ekonomi Dunia dalam Global Competitiveness Indeks 2011-2012.

"Peringkat Indonesia turun ke 46 dari sebelumnya di peringkat 44 pada 2010. Hal ini harus menjadi perhatian semua pihak untuk meningkatkan daya saing Indonesia di antara negara-negara anggota ASEAN," kata Rusman.

Dia menambahkan, sektor pertanian harus menjadi perhatian penting, dengan menyamakan pandangan mengenai AEC 2015 sebagai tantangan dan bukan ancaman.

"Kita harus melihat hal - hal apa saja yang perlu ditingkatkan agar Indonesia mampu bersaing dengan negara ASEAN lainnya," ungkap Rusman.
Jakarta (B2B) - International cooperation within the scope of multilateral, regional or bilateral, is part of the integrity of agricultural development policies. Because through such cooperation, Indonesia can take advantage of various opportunities to increase trading activities, investment, technical cooperation and capacity building of human resources.

"In Southeast Asia regional forum, ASEAN cooperation in a strategic position for Indonesia, because it is the closest concentric circles in Asia and become a major pillar of the implementation of Indonesia´s foreign policy," said Deputy Minister of Agriculture, Rusman Heriawan the National Workshop "Facing the Agricultural Sector Readiness Asian Economic Community "in Bandung, West Java, on Thursday (18/4).

According to Rusman, currently Indonesia´s economic competitiveness is still lower than other ASEAN countries. Referring to the Report of the World Economic Forum in its Global Competitiveness Index 2011-2012.

"Indonesia´s rank dropped to 46 from 44 in the previous ranking in 2010. This should be of concern to all parties to improve Indonesia´s competitiveness among ASEAN member countries," said Rusman.

He added that the agricultural sector should be an important concern, with a view of the AEC 2015 equating it as a challenge and not a threat.

"We have to see what needs to be improved so that Indonesia can compete with other ASEAN countries," said Rusman.