Stok Pangan Toko Tani di Depok Satu Jam Ludas Diburu Konsumen
Indonesian Ministries Held Farmer`s Kiosk Provides Cheap Staple Goods
Reporter : Gusmiati Waris
Editor : Cahyani Harzi
Translator : Dhelia Gani

PUBLISHED: Kamis, 15 Juni 2017 , 13:03:00 WIB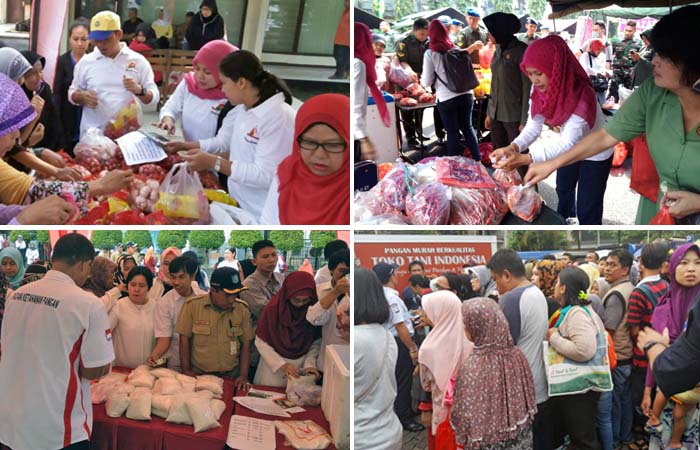 Foto: Humas BKP Kementan
Jakarta (B2B) - Stok sembako di Bazar Ramadan Toko Tani Indonesia (TTI) di kantor Kecamatan Sukmajaya Depok ludas dalam satu jam, namun sayangnya konsumen TTI di Jakarta kali ini sebagian besar PNS kementerian dan prajurit TNI AD yang bergaji tetap bulanan. Ke depan, selayaknya TTI oleh Badan Ketahanan Pangan (BKP) diadakan di pemukiman warga kelas menengah ke bawah.

Bazar Ramadan TTI BKP memasok sembako murah seperti beras, daging sapi, bawang merah, bawang putih, cabai, daging ayam telur. Untuk wilayah Jakarta digelar kantor Kementerian Dalam Negeri di kawasan Merdeka Utara dan kantor Pusat Polisi Militer TNI AD (Puspomad) dekat Stasiun KA Gambir dan kantor Kementerian Agraria dan Tata Ruang di Jl Sisingamangaraja Jakarta Selatan.

Ketua Dharma Wanita Kementerian Dalam Negeri, Ervina Yuswandi menyambut baik langkah BKP Kementan menggelar Bazar Ramadan. Pendapat serupa dikemukakan Ketua Persit Kartika Chandra Kirana (KCK) Puspomad Ana Dedi.

Camat Sukmaya Taufan Abdulfatah mengapresiasi inisiatif BKP Kementan menggelar TTI di halaman kantor kecamatan sehingga warga sekitarnya dapat berbelanja sembako berkualitas dengan harga terjangkau.
Jakarta (B2B) - Indonesian Agriculture Ministry held a Ramadan cheap market ahead of Eid by Indonesian Farmer´s Kiosk, the staple goods sold out within an hour in office of Depok´s Sukmajaya subdistrict Depok of West Java Province, but most consumers are civil servants in the ministries and soldiers with monthly salary, bazaars should be held in slums that require cheap food.

Bazaar provides cheap food such as rice, beef, onion, garlic, chili, chicken egg meat, and sugar. For Jakarta, the bazaar were held in interior ministry office in Merdeka Utara region and the army´s military police headquarters near the Gambir Railway station, and the agrarian and spatial ministry office in Sisingamangaraj street of South Jakarta.

Chairman of Union of Civil Servant´s Wife in interior ministry Ervina Yuswandi welcomed the bazaar. Similar opinion was said by the Chairman of Union of Soldiers Wife, Ana Dedi.

Depok´s Sukmajaya sub-district Head Taufan Abdul Fatah appreciated the bazaar in in the sub-district office yard so that local residents can buy groceries at affordable prices.