Direktur Rajiman Lepas 243 Mahasiswa Polbangtan Yoma untuk PKL
Indonesia`s Polbangtan YoMa Students Follow the Job Training
Editor : M. Achsan Atjo
Translator : Dhelia Gani

PUBLISHED: Jum'at, 14 Juni 2019 , 13:30:00 WIB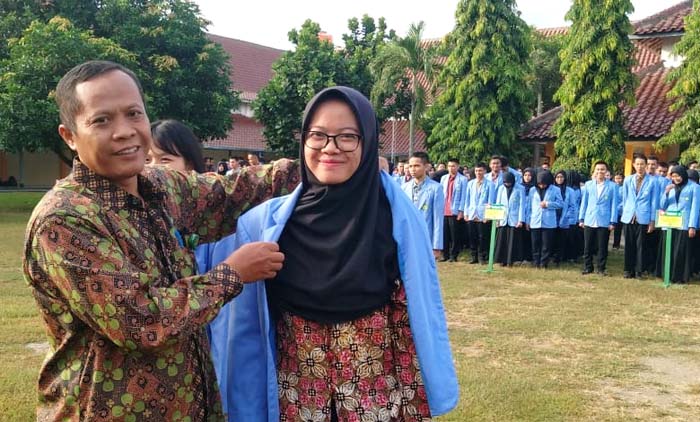 JAKET MAHASISWA PKL: Direktur Polbangtan YoMa Dr Rajiman mengenakan simbolis jaket seragam PKL kepada mahasiswi mewakili 243 mahasiswa/i PKL pada lima kabupaten di Jateng selama dua bulan [Foto: Humas/Asnuri]
Yogyakarta, DIY [B2B] - Sekitar 243 mahasiswa Polbangtan YoMa jurusan pertanian mengikuti praktek kerja lapangan [PKL] di Provinsi Jawa Tengah mulai Selasa pekan depan [18/6]. Mereka adalah mahasiswa semester empat, 139 orang untuk PKL I di Kabupaten Cilacap dan Kebumen selama dua bulan, sementara PKL II diikuti 104 mahasiswa semester enam untuk PKL di tiga kabupaten yakni Klaten, Sukoharjo, Karanganyar selama satu bulan.
Seluruh mahasiswa PKL dari Politeknik Pembangunan Pertanian Yogyakarta - Magelang [Polbangtan YoMa] dilepas oleh Direktur Dr Rajiman di lapangan tengah kampus, Jumat pagi [14/6] yang secara simbolis mengenakan jaket PKL kepada dua mahasiswi di hadapan civitas academica Polbangtan YoMa.
"Seluruh mahasiswa Polbangtan YoMa di Yogyakarta dan Magelang, khususnya yang akan mengikuti PKL di lima kabupaten di Jawa Tengah mulai pekan depan harus berkontribusi dalam mendukung target Kementan yakni percepatan luas tambah tanam atau LTT, optimalisasi Alsintan, dan pemanfaatan galengan atau pematang untuk komoditas sayuran," kata Dr Rajiman dalam arahannya saat melepas 243 mahasiswa PKL.
Dia menambahkan PKL merupakan aktivitas pembelajaran yang dilaksanakan di luar kampus (out campus) yang bertujuan membangkitkan minat dan bakat para mahasiswa mejadi para wirausahawan muda di bidang agribisnis.
Tampak hadir Wakil Direktur I Dr Ananti Yekti; Wakil Direktur II Drh Yudiani Rina Kusuma MP; Wakil Direktur III Teguh Susilo Spt MSi; Asisten Lektor Kepala Ir Ali Rahman MSi; dan Kabag Umum Irwan Johan Sumarno.
Sebagaimana diketahui, sebelum mengikuti PKL di luar kampus maka seluruh mahasiswa peserta PKL wajib mengikuti pembekalan meliputi teknik pengenalan organisasi agribisnis, penumbuhan jiwa wirausaha yang kreatif, analisis masalah, teknik pemecahan masalah, dan perencanaan agribisnis.
"Kegiatan pembekalan sebelum PKL diharapkan dapat menyamakan persepsi mahasiswa untuk mendapatkan pengalaman dalam agribisnis secara nyata di lapangan," kata Dr Rajiman.
Direktur Polbangtan YoMa mengingatkan bahwa tujuan PKL adalah menambah wawasan dan pengalaman kerja, meningkatkan kerjasama dengan pihak terkait, dapat mempraktikkan teori-teori yang didapat di kampus, meningkatkan pemahaman mahasiswa mengenai praktik dalam dunia kerja sehingga dapat memberikan bekal kepada mahasiswa untuk terjun langsung ke lapangan.
"Sementara manfaat bagi Polbangtan YoMa untuk bahan evaluasi kurikulum yang diterapkan, serta menemukan penyesuaiannya dengan kebutuhan tenaga kerja yang kompeten dalam bidangnya," kata Dr Rajiman. [Asnuri]
Yogyakarta [B2B] - At least 243 students of the Polbangtan YoMa majoring in agriculture and livestocks follow the practice of field work in Central Java province starting Tuesday next week [June 18]. Fourth semester students, 139 in Cilacap and Kebumen districts for two months, while 104 sixth semester students in three districts namely Klaten, Sukoharjo, Karanganyar for one month.