AEC 2015 Lebih `Menakutkan` daripada ACFTZ, ASEAN-China
AEC 2015 `Daunting` More than ACFTZ, ASEAN-China
Reporter : Gusmiati Waris
Editor : Cahyani Harzi
Translator : Dhelia Gani

PUBLISHED: Kamis, 18 April 2013 , 15:39:00 WIB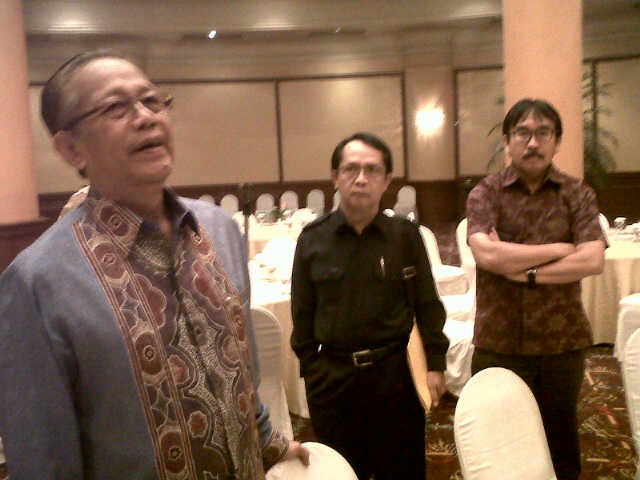 Wakil Menteri Pertanian Rusman Heriawan saat menjawab pertanyaan pers didampingi Staf Ahli Kementan Tahlim Sudarjanto dan Garjita Budi (Foto: B2B/Mya)
Bandung (B2B) - Masyarakat Ekonomi ASEAN atau ASEAN Economic Community (AEC) 2015 bakal lebih menakutkan daripada Perdagangan Bebas Asean China (ACFTZ) karena orang maupun barang dari negara-negara anggota Asean bebas keluar masuk di kawasan tersebut.

"Penyuluh pertanian dari Thailand boleh masuk ke Indonesia. Jangan sampai Indonesia sebagai negara besar tapi tidak dapat mengambil manfaat apapun dari AEC 2015," kata Wakil Menteri Pertanian (Wamentan) Rusman Heriawan di Bandung ketika membuka Workshop Nasional ´Persiapan Sektor Pertanian Menghadapi AEC 2015, Kamis (18/4).

Workshop pertama yang digelar Kementerian Pertanian dihadiri Gubernur Jawa Barat, Ahmad Heryawan; Direktur Jenderal Kerja Sama ASEAN di Kementerian Luar Negeri, I Gusti Agung Wesaka Puja; Wakil Gubernur Sulawesi Selatan, H Agus Arifin Nu´mang dan Bupati Temanggung Hasyim Affandi.

Menyikapi hal itu, kata Rusman, ada beberapa hal yang harus diperhatikan sektor pertanian dalam menghadapi AEC. Pertama, menyamakan pandangan mengenai AEC sebagai tantangan bukan sebagai ancaman dengan melihat potensi nasional yang harus ditingkatkan agar produk pertanian Indonesia mampu bersaing.

"Kedua, meningkatkan kesiapan petani lokal bersaing menghadapi AEC khususnya kualitas produksi pertanian," tambah Rusman.

Ketiga, kata Wamentan, harus dilakukan sosialisasi kepada para petani untuk mengetahui tantangan ke depan menghadapi AEC 2015.
Bandung (B2B) - ASEAN Economic Community (AEC) 2015 would be more daunting than the Asean China Free Trade Area (ACFTZ), because people and goods from Asean member countries freely in and out of the region.

"Agriculture extension from Thailand may enter into Indonesian. Do not let Indonesia as a big country, but can not take any benefit from the AEC 2015," said Deputy Minister of Agriculture Rusman Heriawan in Bandung when opening the National Workshop on ´Preparing Agriculture Sector Facing AEC 2015 , Thursday (18/4).

The first workshop held by the Ministry of Agriculture attended West Java Governor Ahmad Heryawan; Director General for ASEAN Cooperation at the Foreign Ministry, I Gusti Agung Wesaka Puja; Vice Governor of South Sulawesi, H Agus Arifin Nu´mang and Regent Temanggung, Hasyim Affandi.

In response, Rusman said, there are some things to consider agriculture in the face of AEC 2015. First, equating the views of the AEC as a challenge rather than a threat, to look national potential of agricultural products should improve so that Indonesia can compete.

"Secondly, increase the readiness of local farmers compete face AEC, especially the quality of agricultural production," added Rusman.

Third, said Vice Minister of Agriculture, should be disseminated to the farmers to know the future challenges facing the AEC 2015.