Kisah Heroik Sri Sultan HB IX jadi Inspirasi Mahasiswa STPP Yogyakarta, Ini Maksudnya .....
The Heroic Story of the King of Yogyakarta Inspired Indonesian Students
Reporter : Adipati Edonizar
Editor : Cahyani Harzi
Translator : Dhelia Gani

PUBLISHED: Sabtu, 18 Agustus 2018 , 16:15:00 WIB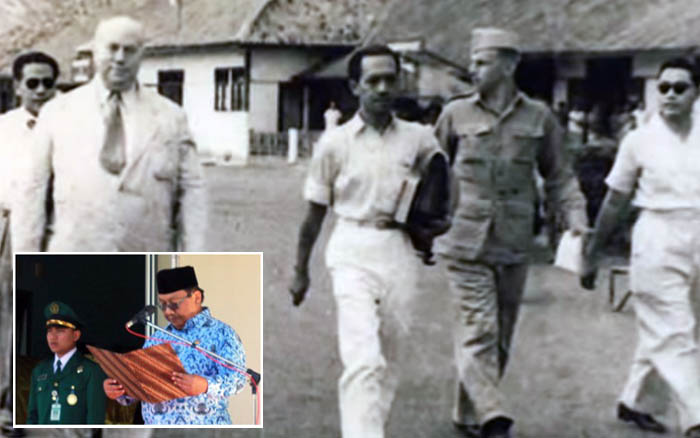 DIKEPUNG BELANDA: Mendiang Sri Sultan HB IX (tengah) tak gentar menghadapi Belanda meskipun Keraton dikepung Belanda (inset kiri) Ketua STPP Ali Rachman (inset) Foto2: YouTube & Humas STPP Yogya
YOGYAKARTA menjadi sasaran utama Belanda yang berniat mendirikan pemerintahan federal dengan ´pemimpin boneka´ adalah Sri Sultan Hamengkubuwono IX (HB IX). Namun niat Belanda gagal total menjadikan HB IX sebagai Raja Ngayogyakarta Hadiningrat menjadi pemimpin baru di bawah ketiak Belanda.

"Penolakan Sultan HB IX tersebut mendorong lahirnya serangan besar pada 1 Maret 1949, Yogyakarta berhasil diduduki selama enam jam oleh tentara Republik yang didukung Sri Sultan HB IX," kata Sri Sultan HB X dalam arahannya pada upacara bendera di Sekolah Tinggi Penyuluhan Pertanian - STPP Yogyakarta yang disampaikan oleh Ketua Ali Rachman.

Hal itu disampaikan Ali Rachman pada upacara bendera memperingati HUT Kemerdekaan RI ke-73 yang berlangsung khidmat di lapangan tengah STPP Yogyakarta dipimpin oleh Ketua Ali Rachman sebagai inspektur upacara, dan dihadiri oleh segenap civitas academica di kampus jurusan penyuluhan pertanian (Jurluhtan).

Ali Rachman menegaskan bahwa pesan moral dari arahan Sultan HB X tersebut merujuk pada kisah heroik mendiang HB IX menghadapi situasi kritis ketika Keraton Yogyakarta dikepung tentara Belanda yang didukung tank lapis baja dan lima pesawat tempur dipimpin oleh Kolonel Dirk Reinhard Adalbert van Langen, komandan Tijger Brigade (T-Brigade).

"Negarawan teruji kualitas kepemimpinannya saat menghadapi situasi kritis seperti ditunjukkan Sri Sultan HB IX mengadang todongan meriam Kolonel van Langen di gerbang utama keraton," kata Sultan HB X yang dikutip Ali Rachman.

Sultan HB X juga mengingatkan tentang Serat Wulangreh adalah karya sastra berupa tembang macapat karya Sri Susuhunan Pakubuwana IV, Raja Surakarta. Wulang Reh dapat dimaknai ajaran untuk mencapai sesuatu. Sesuatu yang dimaksud dalam karya ini adalah laku menuju hidup harmoni atau sempurna.

"Makna tembang tersebut, laku adalah langkah atau cara mencapai karakter mulia bukan ilmu dalam arti ilmu pengetahuan semata, seperti yang banyak kita jumpai pada saat ini. Lembaga pendidikan lebih memfokuskan pengkajian ilmu pengetahuan dan mengesampingkan ajaran moral dan budipekerti," kata Ali Rachman mengutip arahan Sultan HB X.

Upacara Bendera
Upacara bendera merupakan agenda wajib yang dilaksanakan STPP Magelang setiap kali merayakan dirgahayu kemerdekaan RI seperti halnya di Istana Negara Jakarta, kantor-kantor instansi pemerintah, sekolah dan kampus di seluruh Indonesia.

"Upacara bendera merupakan momen sakral yang hendaknya mengingatkan kita tentang perjuangan para pahlawan untuk memperoleh kemerdekaan Indonesia," kata Ali Rachman dalam arahannya usai membacakan naskah Proklamasi Kemerdekaan RI 17 Agustus 1945.

Kabag Administrasi Umum STPP Yogyakarta, Irwan Johan Sumarno mengatakan kampus di selatan kota Yogyakarta mengharapkan melalui upacara bendera 17 Agustus maka para mahasiswa dapat mengenang jasa dan perjuangan para pahlawan untuk memperoleh kemerdekaan.

"Mahasiswa juga diharapkan meneladani kecintaan para pahlawan untuk bangsanya, sehingga dapat menjadi motivasi bagi mahasiswa untuk meneruskan perjuangan mereka, dengan mendukung pembangunan pertanian nasional," kata Irwan JS melalui pesan tertulis.
YOGYAKARTA becomes the main target of the Dutch to re-colonize Indonesia by establishing a federal government and appointing the King of Yogyakarta, Sri Sultan Hamengkubuwono IX or the HB IX as the ´puppet leader´ however the Dutch intention was rejected by the HB IX in March 1949.

"The rejection of HB IX prompted the March 1, 1949 military attack by the Indonesian army, Yogyakarta was occupied for six hours by Indonesian soldiers supported by HB IX," said Sultan HB X, son of the late HB IX in his direction at the flag ceremony in Yogyakarta´s Agricultural Extension College or STPP Yogyakarta, who was delivered by Rector Ali Rachman.

It was stated by Rector Ali Rachman at the ceremony commemorates the 73rd Indonesia´s Independence Day in the central field of the STPP Yogyakarta. The flag ceremony was led by Rector Ali Rachman as the ceremony inspector and attended by the civitas academica.

Mr Rachman said that the moral message of the Sultan HB X direction referred to heroic story of the late HB IX facing a critical situation when Yogyakarta was besieged by the Dutch army supported by armored tanks and five combat aircraft under the control of Colonel Dirk Reinhard Adalbert van Langen, commander of the Tijger Brigade.
"The leader tested his leadership when facing a critical situation like HB IX facing Dutch military aggression in front of the royal complex," said Sultan HB X, quoted by Mr Rachman.
HB X also reminded of Serat Wulangreh, a literary work from the King of Surakarta, Sri Susuhunan Pakubuwana IV, Wulang Reh can be interpreted as a teaching to live life in harmony with the universe.
"The meaning of the song is about how to achieve noble characters not in the sense of science, as we find it today. Educational institutions focus more on scientific studies but exclude moral and cultural teachings," said Mr Rachman quoted HB X's directions.

The Flag Ceremony
The flag ceremony is main agenda of the STPP Magelang in commemoration of Indonesia´s independence day as in the Jakarta State Palace, government offices, schools and campuses across the country.

"The flag ceremony is a sacred moment that reminds us of the struggle to win and defend Indonesia´s independence," said Mr Rachman in his direction after reading the declaration of independence August 17, 1945.

The Head of General Affairs of STPP Magelang, Irwan Johan Sumarno said the Flag ceremony activities are expected to inspire students to remember and carry on the fighting spirit of Indonesian independence heroes.

"Students must imitate the sacrifice of independence heroes for the nation and state, as motivation to continue their struggle, by supporting national agricultural development," Mr Sumarno said through the written statement.