Momon Rusmono: Program READSI 2018 Harus Fokus dan Terukur
The 2018 IFAD`s READSI Program in Indonesia should be Focused and Scalable
Editor : M. Achsan Atjo
Translator : Dhelia Gani

PUBLISHED: Jum'at, 29 September 2017 , 16:33:00 WIB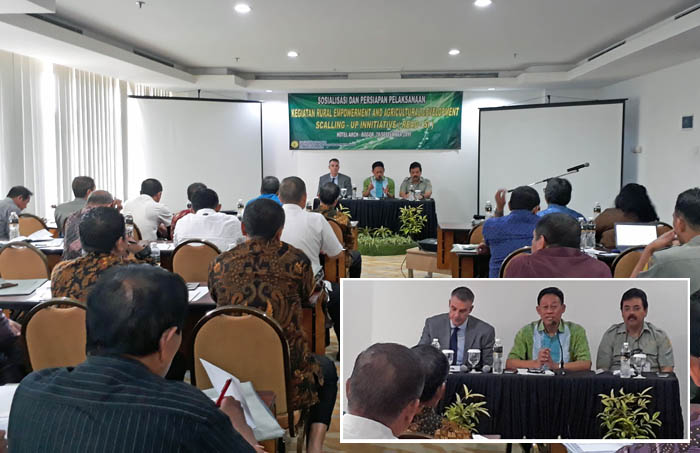 Sosialisasi program READSI dari IFAD, (inset) kiri ke kanan Country Director IFAD, Ron Hartman; Kepala BPPSDMP Kementan, Momon Rusmono; dan Kepala Pusat Pelatihan Pertanian BPPSDMP Kementan, Widi Hardjono (Foto: B2B/Mac)
Bogor, Jawa Barat (B2B) - Kementerian Pertanian RI berupaya menyiapkan secara detail program Rural Empowerment and Agricultural Development Scalling - Up Innitiative (READSI) sehingga pemanfaatan bantuan dana dan hibah dari International Fund for Agricultural Development (IFAD) oleh pemerintah provinsi/kabupaten/kota lebih fokus dan terukur hasilnya bagi kepentingan dan kemajuan masyarakat pedesaan khususnya petani.

"Sosialisasi dan persiapan ini penting, dan saya harapkan lebih berorientasi pada perencanaan dan persiapan. Seperti pesan pembimbing desertasi saya bahwa kesuksesan ditentukan oleh perencanaan, maka kita harus siapkan dengan baik agar tercapai tujuan yang diinginkan," kata Kepala Badan Penyuluhan dan Pengembangan Sumber Daya Manusia Pertanian (BPPSDMP) Kementan, Momon Rusmono kepada B2B di Kota Bogor pada Kamis (28/9).

Hal itu dia kemukakan usai membuka sosialisasi proyek Rural Empowerment and Agricultural Development Scalling - Up Innitiative (READSI) yang didukung IFAD untuk memberdayakan rumah tangga pedesaan dengan keterampilan, kepercayaan dan sumber daya untuk meningkatkan pendapatan dan penghidupan secara berkelanjutan melalui pendekatan program yang terukur.

"Saya kepingin kabupaten penyelenggara sudah clear. Dinas yang menangani adalah dinas yang menangani kelembagaan penyuluhan pertanian, identifikasi pengelola dana program, penentuan komoditas pertanian, siapa petaninya, dan dimana lokasinya. Program perencanaan dan persiapan ini harus rampung hingga akhir 2017 sehingga pada 2018 dapat terlaksana lebih baik dari tahun sebelumnya," katanya.

Momon mengakui meskipun pimpinan IFAD di Indonesia mengaku puas dengan pemanfaatan dana pinjaman dan hibah IFAD, BPPSDMP Kementan tetap menargetkan peningkatan kualitas pelaksanaan program READSI.

"Meskipun tadi menurut IFAD sudah baik, seperti tadi dikatakan oleh Ron Hartman. Saya ingin lebih baik dan berhasil lagi," kata Momon Rusmono.

Tampak hadir Kepala Pusat Pelatihan Pertanian BPPSDMP Kementan, Widi Hardjono; Country Director IFAD Sub-Regional Office for South East Asia and the Pacific, Ron Hartman; Kepala Bidang Program dan Kerjasama Pelatihan, Dewi Darmayanti; Kepala Balai Besar Pelatihan Peternakan (BBPP) Kupang, Adang Warya; perwakilan dari Badan Perencanaan Pembangunan Nasional (Bappenas); Kementerian Keuangan (Kemenkeu); Kementerian Dalam Negeri (Kemendagri); Bappeda provinsi; dan para kepala dinas pertanian provinsi/kabupaten/kota dari seluruh Indonesia.

Fokus Utama READSI
BPPSDMP Kementan mengharapkan kegiatan READSI fokus pada dua kegiatan pokok yakni pemberdayaan petani dan regenerasi petani, karena keduanya merupakan fokus dari pemerintahan Joko Widodo - Jusuf Kalla yang diamanatkan kepada Menteri Pertanian RI Andi Amran Sulaiman untuk mencapai target ketahanan pangan nasional.

"Pemberdayaan petani menjadi fokus dari Presiden Jokowi untuk meningkatkan kapasitas petani melalui penguatan kelembagaan petani yang didukung upaya peningkatan kemitraan petani dengan sumber-sumber permodalan, sumber-sumber sarana produksi pertanian, sumber informasi pasar dan akses ke pasar sehingga pendapatan keluarga petani meningkat," kata Momon Rusmono.

Menurutnya, hal itu selaras dengan pengembangan korporasi pertanian yang dikembangkan oleh BPPSDMP Kementan sejak tiga tahun lalu dengan pendekatan pada kelembagaan petani melalui koperasi, kelompok usaha bersama dan penguatan kelompok tani (Poktan) maupun gabungan kelompok tani (Gapoktan).

"Fokus kedua adalah regenerasi petani untuk meningkatkan minat generasi muda kembali ke pertanian, dan bangga menjadi petani. Kalau kedua hal ini berjalan selaras maka pertanian nasional akan menjadi penopang utama kehidupan bangsa dan negara," katanya.
Bogor, West Java (B2B) - The Indonesian Agrivulture Ministry seeks to prepare in detail of the Rural Empowerment and Agricultural Development Scaling - Up Innitiative (READSI) so that the use of funding and grants from the International Fund for Agricultural Development (IFAD) by provincial/districts/municipality governments more focused and scalable to improve the living standards of rural communities, especially farmers.

"Socialization and preparation are important, and I expect more oriented on planning and preparation. As my dissertation adviser said that success is determined by planning," said Director General of Agency for Agricultural Extension and Human Resource Development (BPPSDMP) Momon Rusmono to the B2B here on Thursday (September 28).

He said that after opened the IFAD´s READSI project to empower rural households with skills, beliefs and resources to increase income and livelihoods sustainably.

"I want the local government appointed is clear. Regional government offices are responsible for agricultural extension institution, identification of program fund managers, determination of agricultural commodities, who are farmers, and where they are located. The planning and preparation program should be completed until the end of 2017 so that in 2018 it will be done better than the previous year," he said.

Mr Rusmono admits although IFAD director in Indonesia are satisfied, the BPPSDMP still targets improving the quality of READSI implementation.

"Although the IFAD says it´s good, as Ron Hartman said, I want to be better and more successful," Mr Rusmono said.

It was attended by the Director of Agricultural Training Center of the BPPSDMP Widi Hardjono; Country Director IFAD Sub-Regional Office for South East Asia and the Pacific, Ron Hartman; the Head of Program and Training Cooperation, Dewi Darmayanti; Director of East Nusa Tenggara´s Kupang Livestock Training Center, Adang Warya; representatives of the National Development Planning Agency (Bappenas); Finance Ministry; Home Affairs Ministry; Development Planning Agency at Sub-National Level and and the heads of provinces/districts/municipalities agricultural offices from all over Indonesia.

The Main Focus
The BPPSDMP expects READSI activities to focus on two main activities namely farmer empowerment and regeneration of farmers, because it is the focus of Joko Widodo administration mandated to Agriculture Minister Indonesia Andi Amran Sulaiman to achieve the target of national food security.

"The empowerment of farmers to be the focus of President Widodo to improve the capacity of farmers through strengthening of farmer institutions, which is supported by the improvement of farmers ´partnership with capital sources, agricultural production input sources, market information sources and access to markets so that the income of the farmers´ families increases," Mr Rusmono said.

According to him, it is in line with the development of agricultural corporations developed by BPPSDMP since three years ago with an approach on farmer institutions through cooperatives, groups of joint ventures and strengthening of farmer groups and the combined farmer groups.

"The second focus is on regenerating farmers to increase the interest of young people to return to agriculture, and be proud to be farmers, and if these two things are aligned then national agriculture will be the main pillar of the nation´s life," he said.