Gertam Padi Gogo, PJ Upsus Gorontalo Koordinasi Potensi Lahan dan Alsintan
Indonesia`s Gorontalo Provincial Government Uses Dry Land for Agriculture
Editor : M. Achsan Atjo
Translator : Dhelia Gani

PUBLISHED: Kamis, 23 Agustus 2018 , 01:08:00 WIB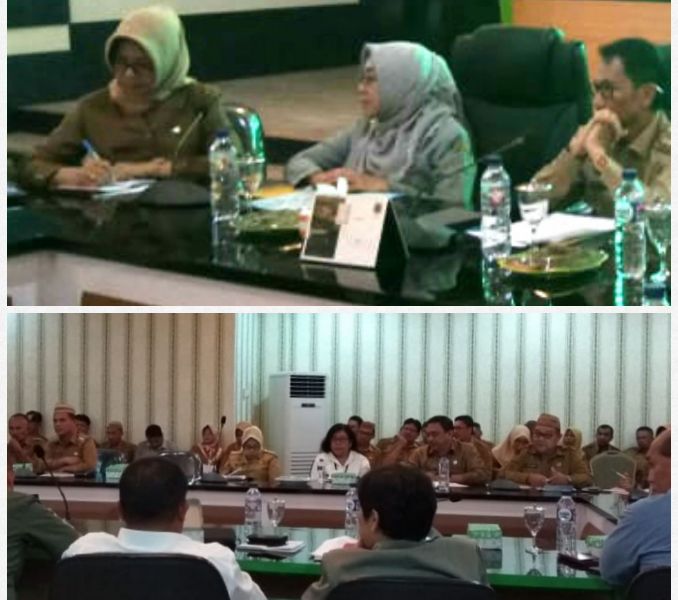 RAKOR GERTAM: PJ Upsus Gorontalo, Siti Munifah (tengah) memimpin Rakor Gertam dengan Bupati Gorontalo, Nelson Pomalingo (foto atas) membahas pemetaan potensi wilayah irigasi dan tadah hujan (Foto2: Humas Pusluhtan)
Gorontalo (B2B) - Kementerian Pertanian RI mendorong pengembangan padi gogo dan optimalisasi pemanfaatan mesin pertanian (Opsin) periode April - September di Kabupaten Gorontalo. Fokus pemetaan potensi wilayah irigasi dan tadah hujan hingga ke tingkat kecamatan, dan ketersediaan alat mesin pertanian (Alsintan) terutama pompa air untuk mengantisipasi musim kemarau.
Hal itu mengemuka dari rapat koordinasi (Rakor) ´gerakan tanam padi gogo´ di Kabupaten Gorontalo yang dipimpin Penanggung Jawab Upaya Khusus (PJ Upsus) Provinsi Gorontalo, Siti Munifah dan Bupati Nelson Pomalingo yang dihadiri para pemangku kepentingan di Kementerian Pertanian RI dan pemerintah kabupaten di Gorontalo, Senin (20/8).
"Memetakan potensi wilayah irigasi dan tadah hujan sampai kecamatan, memetakan wilayah kebun kelapa yang masih bisa ditanami padi ladang atau dikenal dengan Program Palapa," kata Siti Munifah yang juga menjabat Kepala Pusat Penyuluhan Pertanian (Kapusluhtan).
Dia juga menekankan pada pemetaan potensi lahan/areal tanam jagung, pemetaan titik kritis kekeringan di musim kemarau tetapi punya potensi panen air dengan sumber air dangkal atau sumur bor.
"Cek pula jumlah Alsintan masing-masing kabupaten atau kota khususnya pompa air termasuk ukurannya untuk mengatasi musim kemarau," kata Siti Munifah.
PJ Upsus Gorontalo juga menekankan pada pencarian solusi air untuk percepatan tanam. Pengumpulan data potensi, target, dan realisasi tanam serta ketersediaan Alsintan di kabupaten.
"Libatkan camat, Danramil, kepala desa, koordinator penyuluh, mantri tani, Babinsa, panggoba, dan tokoh masyarakat untuk mendukung gerakan tanam," kata Siti Munifah.
Gorontalo (B2B) - Indonesian Agriculture Ministry encourages upland rice cultivation supported by agricultural machinery for tillage in Gorontalo district of Gorontalo province. The initial step is through mapping the potential of irrigation and rainfed areas in sub-districts.
It was revealed of coordination meeting of rice cultivation on dry land led by Person in Charge of Gorontalo´ Increase Rice Production or the Upsus Pajale Gorontalo, Siti Munifah dan Regent Nelson Pomalingo here on Monday (August 20) which was attended by stakeholders in the ministry and the district government.
"Mapping potential irrigation and rainfed areas in each district, map the coconut plantation area that can be planted with upland rice," said Mrs Munifah who was also served as the Director of Agricultural Extensionist Center in the ministry.
She also stressed on mapping the potential of cornfields, mapping of drought critical points in the dry season, but having the potential to harvest water with shallow water sources or boreholes.
"Also check the number of Alsintan in each district and city, especially water pumps including the size to overcome the dry season," Mrs Munifah said.
The PJ Upsus Gorontalo also emphasized the search of water sources for planting acceleration. Collecting data on potential, targets and realization of planting and availability of Alsintan in the district.
"Invite the sub-district heads, village heads, extension coordinators, village midwives, and community leaders to support increased strategic food production," Mrs Munifah said.