Pertanian jadi Andalan Pembangunan Kabupaten Kupang
Indonesia`s Kupang subdistrict Relies on Agriculture as Regional Income
Editor : M. Achsan Atjo
Translator : Dhelia Gani

PUBLISHED: Senin, 30 Oktober 2017 , 22:32:00 WIB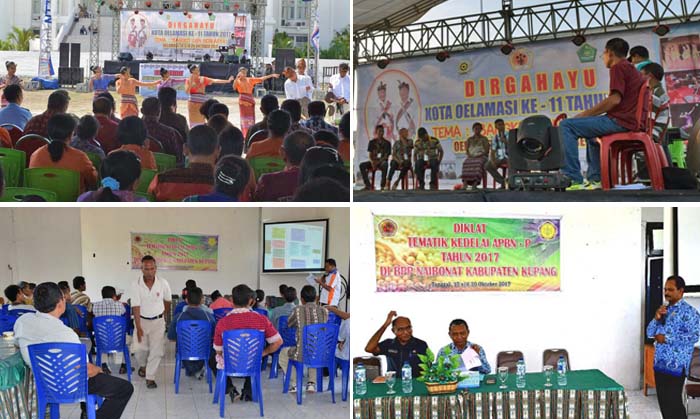 Foto: Humas BBPP Ketindan/Nurlela
Jakarta (B2B) - Potensi sektor pertanian dan subsektor peternakan menjadi andalan Kabupaten Kupang, Provinsi Nusa Tenggara Timur dalam menyelenggarakan pameran pembangunan yang berlangsung delapan hari di halaman kantor Bupati Ayub Titu Eki, belum lama ini. Pameran diikuti oleh peserta dari 24 kecamatan, satuan kerja pemerintahan daerah (SKPD), pihak swasta dan masyarakat dalam kaitan memperingati ulang tahun ibukota kabupaten, dengan mengusung tema Oelamasi ke-11.

Wakil Bupati Korinus Masneno mengharapkan kegiatan pameran dapat meningkatkan peran serta warga setempat untuk mendukung pembangunan daerah, khususnya di sektor pertanian dan peternakan yang menjadi andalan dari kabupaten tersebut dalam menatap masa depan.

Komitmen tersebut dibuktikan oleh Bupati Ayub dengan melibatkan Persatuan Olahraga Berkuda Indonesia (Pordasi) dalam kegiatan pameran, dengan menggelar pacuan kuda yang berlangsung di Desa Oeafi, Kecamatan Kupang Timur untuk memperebutkan piala bupati.

Pemerintah kabupaten juga melibatkan Persatuan Tinju Amatir Indonesia (Pertina) untuk menyalurkan bakat-bakat pemuda setempat yang menyukai olahraga tinju sebagai ajang pencarian atlet-atlet muda berprestasi dari warga setempat.

Kegiatan pameran juga menjadi kesempatan bagus bagi peserta pelatihan tematik kedelai yang diselenggarakan oleh Balai Besar Pelatihan Pertanian Ketindan, Malang di Jawa Timur (BBPP Ketindan) didukung oleh Balai Penyuluhan Pertanian (BPP) Naibonat yang berlangsung selama empat hari.

Kepala Bidang Produksi Tanaman Pangan Kabupaten Kupang, Robertus Ongo dan Kepala Badan Pelaksana Penyuluhan Pertanian, Perikanan dan Kehutanan (BP4K) Kabupaten Kupang Marthen A Rahakbauw menyambut baik kegiatan pameran bagi peserta pelatihan tematik, untuk mengenali kendala dan potensi pengembangan sektor pertanian di Kabupaten Kupang.

"Kesempatan baik bagi peserta pelatihan tematik yang saat ini berada di BPP Naibonat. karena jaraknya hanya empat kilometer dari lokasi pelatihan, sehingga dapat terjadi pertukaran pemikiran sesama peserta pelatihan dan peserta pameran maupun masyarakat setempat," kata Robertus Onggo.

Menurutnya, peserta pelatihan tematik adalah petani penerima manfaat program perluasan areal tanam kedelai, yang merupakan bagian dari target Indonesia menjadi Lumbung Pangan Dunia 2045, khususnya swasembada kedelai 2018.
Jakarta (B2B) - Indonesia's Kupang district of East Nusa Tenggara Province relies on agricultural potential at the eight-day development exhibition in regent's office, recently. The exhibition was attended by participants from 24 sub-districts, local government work units, private parties and communities to commemorate the anniversary of the district called the Oelamasi .

The Deputy Regent Korinus Masneno expects the exhibition activities can increase participation of local residents to support regional development, especially in the agricultural sector.

Regent Ayub Titu Eki involves Indonesian Equestrian Association (Pordasi) exhibition activities by holding a horse race in Oeafi village of East Kupang subdistrict.

The district government also involves the Indonesian Amateur Boxing Association (Pertina) to find talented athletes in the boxing ring.

The exhibition was attended by participants of the soybean thematic training by Ketindan Agricultural Training Center in Malang of East Java province is supported by Naibonat Agricultural Counseling Center.

The Head of Food Crops Division of Kupang district, Robertus Ongo accompanied by Head of the Agricultural Extension Agency, Fisheries and Forestry (BP4K) Kupang district, Marthen A Rahakbauw appreciate activities for the interest of thematic trainees, to identify constraints and potentials of the agricultural sector in Kupang District.

"A good opportunity for thematic training participants at BPP Naibonat because it is only four kilometers away from the training site," Mr Onggo said.

According to him, thematic trainees are farmers involved in extensification program of soybean planting area, which is part of Indonesia's target become a world food barrier of 2045, especially the soybean self-sufficiency of 2018.