Sejuta Petani Milenial, Kementan Siapkan Penyuluh Dampingi 40 Ribu KUB
Indonesian Govt Prepares Modern Farmers Supported by Agricultural Extensionist
Editor : M. Achsan Atjo
Translator : Dhelia Gani

PUBLISHED: Minggu, 17 Maret 2019 , 02:24:00 WIB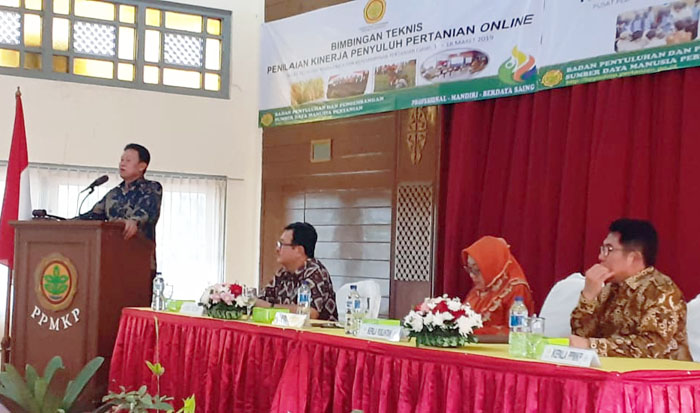 PETANI MILENIAL & PENYULUH VISIONER: Kepala BPPSDMP Kementan, Momon Rusmono (berdiri) pada Bimtek Ciawi didampingi Kepala Pusluhtan, Siti Munifah (hijab merah) Foto: Humas Pusluhtan BPPSDMP
Bogor, Jabar [B2B] - Kementerian Pertanian RI menargetkan sejuta petani milenial yang tergabung dalam 40 ribu kelompok usaha bersama [KUB] terdiri atas 20 hingga 30 petani milenial di tiap KUB. Badan Penyuluhan & Pengembangan SDM Pertanian [BPPSDMP] bertugas mempersiapkan penyuluh mendampingi dan menumbuhkembangkan KUB berdasarkan kondisi geografis lahan dan lingkungan sosial.
"BPPSDMP Kementan bertugas mempersiapkan penyuluh mendampingi dan mendukung penumbuhkembangan KUB," kata Kepala BPPSDMP Kementan, Momon Rusmono pada bimbingan teknis [Bimtek] bertajuk ´Penilaian Kinerja Penyuluh Pertanian Online´ di PPMKP Ciawi, Sabtu [16/3].
Menurutnya, pendekatan kelompok untuk petani milenial yang akan dibentuk adalah KUB, di mana setiap KUB terdiri dari 20 hingga 30 orang petani yang adaptif terhadap teknologi informasi dan teknologi pertanian masa depan.
Momon mengingatkan penyuluh pertanian harus ´visioner´ mengembangkan potensi pertanian di wilayah pengembangan KUB petani milenial agar ´sebiduk sehaluan´ dengan program-program Kementan yakni "harus bisa bergerak bersama mewujudkan kemandirian petani berbasis informasi teknologi."
"Apabila penyuluh dan petani Indonesia tidak dapat mengikuti perubahan-perubahan global, karena perkembangan teknologi informasi begitu pesat maka pertanian Indonesia akan tertinggal dari negara lain," kata Momon yang pernah menjabat sebagai Kepala Pusat Penyuluhan Pertanian [Pusluhtan] pada 2014.
Penyuluh pertanian harus menyusun kegiatan berdasarkan misi dan kawasan melalui teamwork dengan memanfaatkan aplikasi Android smartphone untuk menjalin komunikasi dengan KUB petani milenial sebagai ´sahabat dumay´ di dunia maya.
Langkah tersebut harus didukung sinkronisasi program diimplementasikan berdasarkan kawasan pertanian dan pemasaran hasil produksi pertanian yang telah ditetapkan dalam programa penyuluhan pertanian. Khusus implementasi ini, harus dilakukan rekayasa teknologi spesifik lokalita berbasis kedekatan faktor input agar mudah diterapkan oleh petani.
Manfaatkan teknologi informasi melalui website dan media sosial untuk komunikasi dengan sesama petani, silaturahim dengan sesama penyuluh pertanian, dan koordinasi dengan pemerintah pusat melalui Cyber Extention [Cybex].
Bimtek di PPMKP Ciawi dihadiri sedikitnya 269 penyuluh dari 34 provinsi. Turut hadir Kepala Pusat Penyuluhan Pertanian [Pusluhtan] Siti Munifah; Kepala Pusat Pelatihan Pertanian [Puslatan] Bustanul Arifin Caya; dan Kepala PPMKMP Ciawi, Heri Suliyanto. [Liene]
Bogor of West Java [B2B] - Indonesian Agriculture Ministry targets the development of a million millennial farmers who join 40 thousand joint business groups [KUB] consists of 20 to 30 millennial farmers in each KUB. The Directorate General of Extension and Agricultural HR Development [BPPSDMP] tasked with preparing agricultural extensionist to assist and develop the potential of KUB based on geographical conditions of land and social environment, according to the ministry´s senior official.
"The task of BPPSDMP is to prepare agricultural extensionist to assist and support KUB development," said Director General of BPPSDMP Momon Rusmono here on Saturday [March 16].
According to him, the group approach to millennial farmers is through joint business groups, each group consists of 20 to 30 farmers who are adaptive to future information technology and agricultural technology.
Rusmono reminded the agricultural extensionist to be ´visionary´ to developing agricultural potential in the area of millennial farmers´ KUB development to be in line with ministry programs to "move together to realize the independence of information technology-based farmers."
"If Indonesian agricultural extensionist and farmers cannot keep up with global changes, because the development of information technology is so rapid that Indonesian agriculture will lag behind other countries," he said.
Agricultural extension must arrange activities based on missions and regions through the teamwork, use the Android smartphone application, to establish communication with KUB millennial farmers as ´friends in cyberspace.´
These efforts must be supported by synchronization of programs carried out based on agricultural areas and marketing of agricultural products that have been determined in agricultural extension programs. Specifically for this implementation, localita specific technology engineering must be based on the proximity of input factors to be easily implemented by farmers.
"Take advantage of information technology through websites and social media for communication with farmers, friendship with fellow agricultural extensionist, and coordination with the central government through Cyber Extention or Cybex," Rusmono said.