Kepala BKP Kementan Targetkan Peningkatan Etos Kerja SDM Capai Target Toko Tani
Indonesian`s Kiosk Farmers as Solution Overcome Volatility in Food Prices
Reporter : Gusmiati Waris
Editor : Cahyani Harzi
Translator : Dhelia Gani

PUBLISHED: Rabu, 19 Juli 2017 , 06:37:00 WIB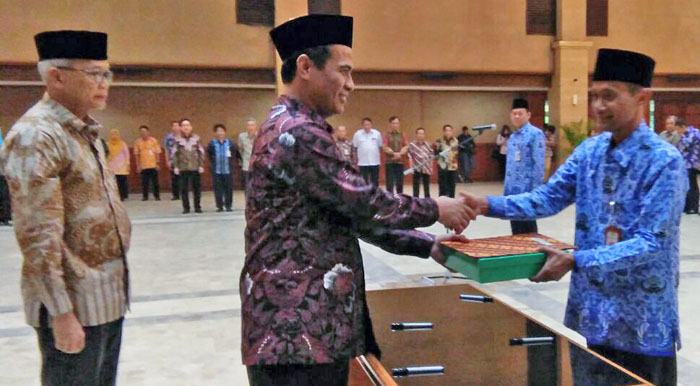 Mentan Andi Amran Sulaiman didampingi Sekjen Kementan Hari Priono mengucapkan selamat pada Kepala BKP terpilih, Agung Hendriadi usai meneken SK pengangkatan pejabat eselon satu Kementan (Foto: B2B/Gusmiati Waris)
Jakarta (B2B) - Kepala Badan Ketahanan Pangan (BKP) Kementerian Pertanian RI, Agung Hendriadi menegaskan langkah awalnya dengan meningkatkan etos kerja SDM di BKP untuk mendukung distribusi dan ketersediaan pangan di daerah rawan, pencapaian target 3.000 toko tani Indonesia (TTI) dan pengembangan kawasan rumah pangan lestari (KRPL) sesuai arahan Menteri Pertanian Andi Amran Sulaiman saat pelantikan pada Selasa (18/7).

"Langkah awal saya memimpin BKP Kementan adalah membenahi dan meningkatkan etos kerja SDM, harus ada percepatan sesuai instruksi menteri pertanian," kata Agung usai dilantik menggantikan posisi Gardjita Budi.

Dalam arahannya usai pelantikan, Mentan memberi apresiasi atas komitmen dan kinerja Agung Hendriadi pada jabatan sebelumnya, Kepala Biro Humas dan Informasi Publik Kementan, dan Amran Sulaiman berharap lebih meningkat setelah Agung memimpin BKP Kementan.

"Pak Agung tahan banting, saat tengah malam pun selalu siap melaksanakan pekerjaan yang saya berikan," kata Amran Sulaiman.

Dia mengakui apresiasi Mentan Amran Sulaiman atas kinerjanya di jabatan sebelumnya sebagai tantangan untuk meningkatkan kinerja pada jabatan baru yang diembannya saat ini.

Menurut Agung, setelah meningkatkan etos kerja SDM BKP, maka langkah pencapaian target TTI lebih mudah, diikuti pengembangan KRPL ke seluruh Indonesia sebagai mitra kerja TTI, karena setelah mampu memenuhi kebutuhan pangan keluarga maka keluarga yang mengembangkan KRPL dapat menambah pendapatan dengan menjual hasil pertanian di pekarangan rumah kepada TTI.

Tantangan lain adalah mengatasi daerah rawan pangan seperti Ternate di Maluku Utara, karena keterbatasan akses transportasi ke/dari Ternate, sehingga ke depan dapat menyediakan kebutuhan pangan secara mandiri.

"Kementan memiliki data food security index per kabupaten sehingga dapat menjadi tolok ukur menggerakkan masyarakat mengatasi kebutuhan pangan melalui TTI, dan KRPL dan kawasan mandiri pangan," kata Agung.

Toko Tani Indonesia
Harga komoditas pangan yang berfluktuasi dapat merugikan petani sebagai produsen, pengolah pangan, pedagang hingga konsumen, dan hal itu mendorong Kementerian Pertanian RI sejak 2015 melakukan terobosan sebagai solusi permanen mengatasi gejolak harga dengan mengembangkan kegiatan pengembangan usaha pangan masyarakat (PUPM) melalui Toko Tani Indonesia (TTI).

"Fluktuasi pasokan dan harga pangan yang tidak menentu, harus dapat diatasi dan dikendalikan agar ketersediaan pangan mencukupi dan harganya stabil. Hal ini sangat penting, karena jika dibiarkan dikhawatirkan dapat menimbulkan masalah pangan yang dapat mengganggu sendi-sendi pembangunan lainnya seperti ekonomi, sosial, hukum, keamanan dan bahkan ketahanan negara," kata Agung.

Dia menambahkan, kenaikan harga bahan pangan digolongkan sebagai komponen inflasi bergejolak atau volatile foods, karena sifatnya yang mudah dipengaruhi oleh masa panen, gangguan alam, harga komoditas bahan pangan domestik dan internasional. Dari sisi ekonomi, naiknya harga pangan jelas akan berpengaruh terhadap pengendalian inflasi.

Menurutnya, peningkatan harga komoditas pangan memang dapat berasal dari produsen, namun sumber peningkatan harga tersebut biasanya lebih bersifat fundamental karena didorong oleh faktor distribusi bersifat variabel, seperti panjangnya rantai jalur distribusi, hambatan transportasi dan perilaku pedagang dalam menetapkan marjin keuntungan, aksi spekulasi maupun kompetisi antarpedagang.

"Tingginya volatilitas harga komodita pangan yang terjadi selama ini mengindikasikan bahwa faktor distribusi sangat berpengaruh," kata Agung.

Kegiatan perdagangan TTI secara tidak langsung berperan dalam mengatasi anjloknya harga pangan pada masa panen raya, dan tingginya harga pangan pada saat paceklik dan menjadi instrumen yang dibuat pemerintah untuk mengendalikan gejolak harga dalam situasi tertentu.
Jakarta (B2B) - Indonesian senior official, Agung Hendriadi as the Director General of Food Security Agency (BKP) affirmed the performance target by increasing the work ethic of human resources of the BKP support distribution and food availability in food crisis area, reach the target of 3,000 kiosks farmers called the TTI, and urban farming usually called the KRPL as instructed by Agriculture Minister Andi Amran Sulaiman after inaugurated him as the boss of the BKP, here on Tuesday (July 18).

"My first step in the BKP to improve the work ethic of human resources, there must be acceleration as instructed by the agriculture minister," Mr Hendriadi said after inaugurated replace Gardjita Budi.

In his direction after the inauguration, Minister Sulaiman appreciated commitment and performance of Mr Hendriadi to his previous position, Head of Public Relations and Public Information Bureau, and expected to be better after in the BKP.

"Mr Hendriadi is resilient, always ready to carry out the work I provide even in the middle of the night," Mr Sulaiman said.

Mr Hendriadi appreciated the minister for his performance in his previous post as a challenge to improve performance in his new position.

According to him, after increasing the work ethic of human resources, the achievement of the TTI target will be easier, followed by development of the KRPL across the country as the TTI partners, because after the family can meet the food needs of urban farming, agricultural produce from the yard can increase family income by selling it to TTI.

Another challenge is to address food insecurity areas such as Ternate in North Maluku, due to limited transportation access to and from Ternate, so that in the future it can provide food needs independently.

"The ministry has food security index data per district so it can be a benchmark to mobilize the community to overcome food needs through the TTI and urban farming," Mr Hendriadi said.

Kiosk Farmers
The price of food commodities fluctuate can be detrimental to the farmers as producers, food processors, traders and consumers, it encourages the ministry since 2015 to make a breakthrough as a permanent solution to overcome price volatility through the business development community food through the TTI.

"Fluctuations in supply and food prices is uncertain, should be addressed and controlled so that food supplies enough and the price is stable. This is very important, because if not addressed could pose problems that would interfere with the economic, social, legal, security and resilience of the country," Mr Hendriadi said.

He added that the rise in food prices relatively volatile component of inflation or volatile foods, because it is easily influenced by the harvest, natural disturbances, the price of food commodities domestically and international. From the economic side, higher food prices will clearly affect the inflation control.

According to him, the increase in food commodity prices may indeed come from producers, but the source of the increase in these prices are usually more fundamentally driven by distribution factors are variable, such as chain length distribution lines, barriers to transport, and the behavior of traders in setting the profit margin, speculation and competition between traders.

"The high volatility in food commodity prices that occurred during this indicates that the distribution factor is very influential," he said.

The TTI trading activities indirectly contribute to overcome the decline of food prices during the harvest, and the high price of food in the dry season, and becomes an instrument made by the government to control price volatility in certain situations.