BBPP Kupang Gelar Pelatihan Tematik Peternakan di Bone Dukung Upsus Siwab
Indonesian`s Agriculture Training Center Conducts Farmer Thematic Training
Editor : M. Achsan Atjo
Translator : Dhelia Gani

PUBLISHED: Selasa, 17 Oktober 2017 , 01:33:00 WIB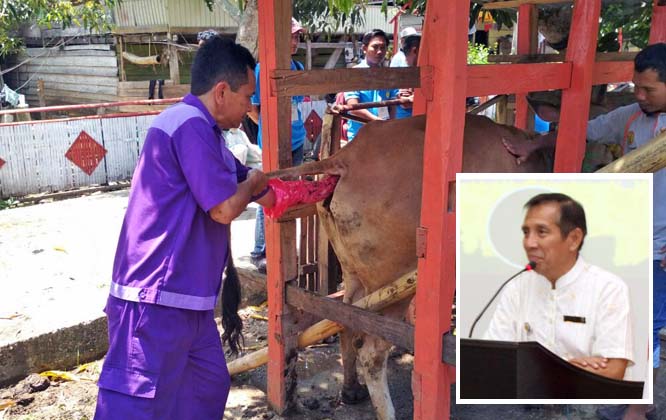 PELATIHAN TEMATIK BONE: Peserta pelatihan tematik peternakan di Kabupaten Bone melakukan inseminasi buatan; Kepala BBPP Kupang, Adang Warya (inset)
PELATIHAN tematik dipilih oleh Balai Besar Pelatihan Peternakan Kupang (BBPP Kupang) pada kegiatan bimbingan teknis (Bimtek) peternakan pada lima kecamatan di Kabupaten Bone, Provinsi Sulawesi Selatan yang diikuti 150 peserta selama tiga hari, akhir September 2017. Tujuan pelatihan mendukung program 'upaya khusus sapi indukan wajib bunting' disingkat Upsus Siwab yang menargetkan swasembada sapi 2026.

Kepala BBPP Kupang - Nusa Tenggara Timur (NTT) Adang Warya mengatakan 'pelatihan tematik' sebagai pola baru yang diterapkan oleh Kementerian Pertanian RI sejak 2016 yang dilakukan serentak di seluruh Indonesia.

Dalam pelatihan di Bone, materi tematik yang disampaikan adalah Upsus Siwab meliputi standar pelayanan inseminasi buatan (IB), gangguan reproduksi, sinkronisasi birahi, kelayakan akseptor IB, pakan ternak, pencatatan reproduksi, teknik pendampingan, dan rencana implementasi.

Model pembelajaran berorientasi pada pemecahan masalah, dan pengambilan keputusan berdasarkan kesesuaian materi yang dibutuhkan peserta dan bersifat tematik.

"Target dari pelatihan tematik peternakan Bone adalah terlatihnya inseminator, penyuluh pertanian, dan para peternak sehingga dapat meningkatkan pengetahuan, keterampilan dan mental SDM pertanian untuk mendukung swasembada daging 2026," kata Adang Warya, yang sebelumnya memimpin BBP Pertanian Ketindan.

Dia menambahkan pelatihan tematik yang digelar BBPP Kupang merupakan bagian dari Bimtek peternakan dan perkebunan bagi aparatur sipil negara (ASN) dan pelatihan tematik bagi non ASN dalam mendukung program Upsus Siwab yang dibiayai dari APBN-P 2017.

BPP Kecamatan
Pelatihan tematik dilakukan di lokasi target pelatihan berbeda dengan pelatihan reguler yang dilaksanakan di balai pelatihan, dengan materi dan kurikulum yang telah ditetapkan oleh balai pelatihan. Sementara tema, materi, dan kurikulum pelatihan tematik disusun berdasarkan potensi pertanian di wilayah target pelatihan yang dilaksanakan di tingkat balai penyuluhan pertanian (BPP) tingkat kecamatan di masing-masing kabupaten/kota.

"BPP di tingkat kecamatan menjadi tempat kegiatan pelatihan tematik, karena BPP kecamatan merupakan kelembagaan penyuluhan pertanian yang langsung bersentuhan dengan masyarakat tani, sehingga dampak dari pelatihan dapat langsung diketahui oleh petani dan peternak," kata Adang Warya.

Materi dan kurikulum pelatihan tematik juga disusun bersama oleh BBPP Kupang di Kabupaten Bone dengan melibatkan BPP di lima kecamatan yakni Tellusiattinge, Libureng, Mare, Taneteriattang Timur, Bengo sehingga lebih efektif karena sesuai dengan kebutuhan di masing-masing kecamatan.

"Model pelatihan menerapkan pembelajaran yang berorientasi pada pemecahan masalah dan pengambilan keputusan berdasarkan kesesuaian materi yang dibutuhkan peserta pelatihan," kata Adang Warya.
THE THEMATIC training was chosen by Indonesia's Kupang Livestock Training Center (BBPP Kupang) on the technical guidance of farms in five subdistricts in Bone district of South Sulawesi Province, followed by 150 participants for three days, end of September 2017. The purpose of the training is support 'artificial insemination program for cattle' called the Upsus Siwab.

Director of the BBPP Kupang, Adang Warya said thematic training as a new pattern of training of Indonesian Agriculture Ministry since 2016 conducted simultaneously across the country.

In the training in Bone, the thematic material presented on Upsus Siwab includes artificial insemination service standards, reproductive disorders, female cow's synchronization, acceptors' feasibility, animal feed, reproduction records, mentoring techniques, and implementation plans.

The learning model is oriented to problem solving, and decision-making based on the conformity of thematic materials required by the trainees.

"The target of Bone's thematic training is to train inseminators, agricultural extensionists and farmers so as to increase knowledge, skills and mental human resources of agriculture to support beef self-sufficiency in 2026," Mr Warya said.

He added that the thematic training held by BBPP Kupang is part of the technical guidance of farms and plantations for civil servants, and thematic training for non civil servants to support the Upsus Siwab program funded by 2017 revised state budget.

Subdistrict Training Center
The thematic training is conducted at the target location of the training differs from regular training, with the materials and curriculum set by the training center. Meanwhile theme, materials, and thematic curriculum are organized based on agricultural potentials in the target areas of training at subdistrict education extension centers in each district/city.

"The subdistrict training center is a place for thematic training activities, because it is an agricultural extension institution that is in contact with the farming community," Mr Warya said.

Thematic training materials and curriculum are also co-organized by BBPP Kupang in Bone District involving training centers in five sub-districts, namely Tellusiattinge, Libureng, Mare, Taneteriattang Timur, Bengo, so it is more effective because it follows the needs of each subdistrict.

"The training model applies problem-oriented learning, and decision-making based on the material fit required by the trainees," he said.