"Jangan Tiru Pahat dan Bola," Pesan Momon Rusmono pada Insan BPPSDMP Kementan
Indonesian Govt Seeks to Improve Competence of Agricultural Human Resources
Reporter : Gusmiati Waris
Editor : Cahyani Harzi
Translator : Dhelia Gani

PUBLISHED: Jum'at, 08 September 2017 , 01:43:00 WIB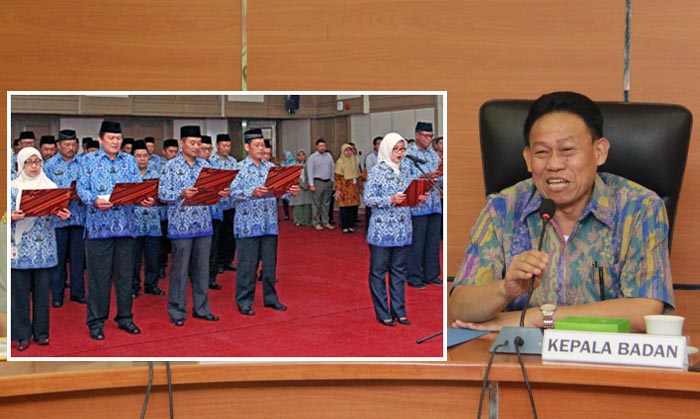 Kepala BPPSDMP Kementan Momon Rusmono dan sebagian dari 24 pejabat eselon tiga dan empat yang dilantik (inset) Foto2: Humas BPPSDMP Kementan
"BEKERJALAH dengan inisiatif, kreatif, dan inovatif. Jangan bertindak seperti pahat, dipukul baru bisa bekerja. Jangan tiru bola, harus ditendang untuk masuk gawang. Tegakkan disiplin, jadi teladan, dan tekun bekerja sebagai jembatan emas untuk menggapai sukses."

Demikian benang merah dari pidato arahan Kepala Badan Penyuluhan dan Pengembangan SDM Pertanian (BPPSDMP) Kementerian Pertanian, Momon Rusmono saat melantik 24 pejabat eselon tiga dan empat di lingkungan BPPSDMP Kementan di Jakarta pada

Momon Rusmono menganalogikan organisasi kerja yang dipimpinnya - sejak dilantik Mentan Andi Amran Sulaiman pada 18 Juli lalu menjadi bos BPPSDMP - sebagai permainan sepak bola.

"Tidak tertutup kemungkinan, sebelum pertandingan selesai, ada pemain yang bakal ditarik ke luar lapangan, bila kinerjanya tak seperti diharapkan. Tidak mendukung tim untuk mencapai tujuan, misi dan visi organisasi. Terlebih lagi, jika eksistensinya justru membuat kinerja tim semakin tidak baik," kata mantan Sekretaris BPPSDM Kementan.

Dia pun mengingatkan tentang evaluasi dalam tiga hingga enam bulan ke depan terhadap 24 pejabat yang baru dia lantik. Pasalnya, dari hasil evaluasi tersebut akan diketahui dan menjadi pertimbangan bagi pimpinan untuk peluang karier sang pejabat pada jabatan berikutnya.

"Selamat bekerja dan berkarya. Berikanlah teladan di lingkungan kerja saudara semua. Kesangsian dan keraguan terhadap kita harap dijawab dengan kerja keras, kerja cerdas, dan karya nyata untuk menjawab tantangan ke depan," harapnya.

Momon Rusmono sebagai bos BPPSDMP Kementan mengemban tugas melakukan revolusi mental di bidang pendidikan, penyuluhan dan pelatihan sesuai arahan Menteri Pertanian RI Andi Amran Sulaiman untuk mendukung percepatan pencapaian kedaulatan pangan nasional.
"LET'S WORK with initiative, creative, and innovative. Do not be like a chisel, can work after being hit. Do not imitate the ball, must be kicked to get into the goal. Discipline work to be the best employee as a golden bridge to succeed."

That's the red thread of speech of the Director General of Agricultural Human Resources in the Indonesia's agriculture ministry (BPPSDMP) Momon Rusmono after after inaugurating 24 echelon three and four officials in his office recently.

Mr Rusmono analogized the work organization he leads - since inaugurated by Agriculture Minister Andi Amran Sulaiman on July 18 - as a football game.

"It is not possible, before the game is over, there are players who are replaced, if the performance is not as expected, does not support the team to achieve organization's goals, mission and vision, and more if its existence makes the team performance worse," said former Secretary of BPPSDM.

He also reminded about evaluation in three to six months to 24 officials. Because the evaluation results into consideration for career opportunities of the official in the next position.

"Good luck. Be a role model for bosses and subordinates.
Answer their doubts about our organization with hard work, smart work to answer the challenges ahead," Mr Rusmono said.

Mr Rusmono as the Director General of the BPPSDMP carrying out the vision and mission for mental revolution in education, counseling and training as instructed by Agriculture Minister Andi Amran Sulaiman supports the achievement of national food sovereignty.