Penyuluh Pertanian Diminta Mentan Manfaatkan Media Sosial dan Tingkatkan Kemampuan
Indonesian Agricultural Extension Workers should Take Advantage of Social Media
Reporter : Gusmiati Waris
Editor : Cahyani Harzi
Translator : Dhelia Gani

PUBLISHED: Rabu, 13 September 2017 , 02:16:00 WIB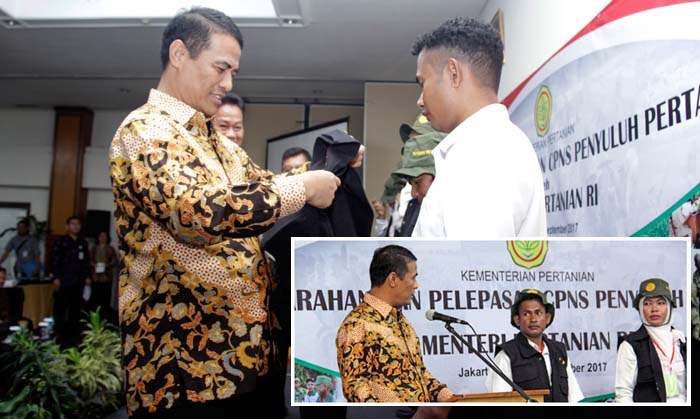 Mentan Andi Amran Sulaiman didampingi Kepala BPPSDMP Kementan Momon Rusmono secara simbolis memakaikan rompi penyuluh pertanian kepada CPNS penyuluh pertanian ex THL-TBPP (Foto2: Humas BPPSDMP)
Jakarta (B2B) - Pemerintah RI meminta para penyuluh pertanian di seluruh Indonesia, khususnya ex tenaga harian lepas - tenaga bantu penyuluh pertanian (THL-TBPP) yang diangkat menjadi calon pegawai negeri sipil (CPNS) di tengah kemajuan teknologi digital, dan luasnya cakupan layanan internet untuk menyebarkan informasi pertanian seperti sistem informasi penyuluh pertanian (Simluhtan), sistem informasi monitoring pertanaman padi (Simotandi).

"Penyuluh pertanian jangan gagap teknologi dan harus memahami media sosial sehingga dapat menyebarkan berbagai informasi pertanian kepada petani, dan kemajuan pembangunan pertanian nasional," kata Menteri Pertanian Andi Amran Sulaiman di Jakarta pada Selasa (12/9).

Harapan tersebut dikemukakan Mentan saat memberi pengarahan dan pelepasan saat memberi pengarahan kepada 6.058 CPNS ex THL-TBPP dari 143 kabupaten di 34 provinsi yang diwakili oleh 300 CPNS, yang dikoordinir oleh Badan Penyuluhan dan Pengembangan SDM Pertanian (BPPSDMP) Kementan.

Menurut Mentan, capaian sektor pertanian harus disebarluaskan kepada petani, karena dari pengalamannya kunjungan kerja di seluruh Indonesia belum banyak petani dan masyarakat mengetahui kemajuan sektor pertanian nasional.

Dia juga mengingatkan tentang pengubahan konsep pengembangan penyuluhan pertanian di tengah keterbatasan anggaran maupun jumlah dan kapasitas sumber daya manusia (SDM), dengan menetapkan target yang jelas karena petani memiliki hak untuk mendapatkan pelayanan penyuluhan pertanian sesuai ketentuan undang-undang.

"Penyuluhan pertanian harus hadir dan tetap berjalan walaupun dalam kondisi terbatasnya jumlah dan kapasitas SDM penyuluh pertanian," kata Amran Sulaiman.
Jakarta (B2B) - The Indonesian government has requested agricultural extension workers across the country, especially ex non-permanent employees are appointed as civil servants candidate in the midst of digital technology advances, and internet services to disseminate agricultural information such as agricultural extension information systems and monitoring information systems rice cultivation.

"Agricultural extension workers must understand digital technology, and must utilize social media to disseminate agricultural information to farmers, and national agricultural development progress," said Agriculture Minister Andi Amran Sulaiman here on Tuesday (September 12).

It was stated by Minister Sulaiman to 300 agricultural extension workers of 6,058 agricultural extension officers who were appointed as candidates for civil servants.

According to him, the achievement of agricultural sector should be disseminated to the farmers, because of his experience working visit across the country has not many farmers and the public know the progress of national agricultural sector.

He also cautioned the changing concept of agricultural extension development amid limited budget and human resource capacity, by setting clear targets as farmers have the right to obtain agricultural extension services in accordance with the provisions of the law.

"Agricultural extension should continue despite the limited number and capacity of agricultural extension workers," Mr Sulaiman said.