Momon Rusmono Targetkan Kalbar Capai LTT 29.680 Ha Hingga September 2017
Indonesian Govt Push the Expansion of Rice Planting in West Borneo
Reporter : Gusmiati Waris
Editor : Cahyani Harzi
Translator : Dhelia Gani

PUBLISHED: Senin, 24 Juli 2017 , 02:35:00 WIB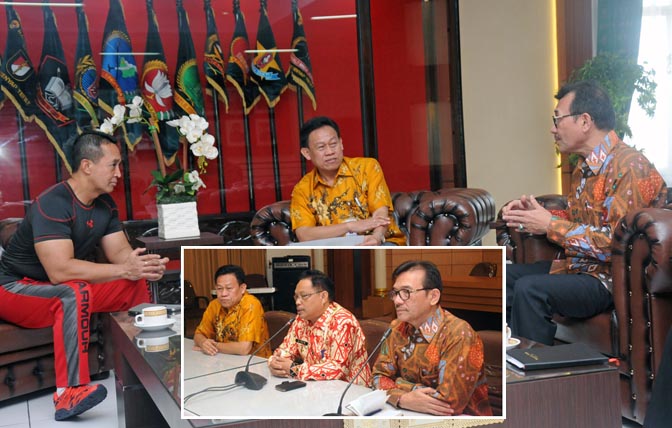 Kepala Upsus Pajale Kalbar, Momon Rusmono (tengah) koordinasi dengan Pangdam XII Tanjung Pura Mayjen TNI Andika Perkasa (kanan) didampingi Direktur PPHTP Kementan, Yanuardi MM di Pontianak (Foto: Humas BPPSDMP)
Jakarta (B2B) - Kementerian Pertanian menargetkan luas tambah tanam di Provinsi Kalimantan Barat (Kalbar) hingga September 2017 mencapai 29.680 hektar, untuk mendukung pencapaian target upaya khusus tanaman padi, jagung dan kedelai (Upsus Pajale).

"Kalbar diharapkan dapat mencapai target Upsus Pajale, khususnya luas tambah tanam 29.680 hektar hingga September 2017," kata Ketua Upsus Pajale Kalbar, Momon Rusmono di Pontianak pada Jumat (21/7) dalam rapat koordinasi di markas Kodam XII Tanjung Pura yang dihadiri Pangdam Mayjen TNI Andika Perkasa.

Menurutnya, Kalbar berperan menjadi penyanggah kebutuhan pangan di seluruh provinsi sebagai bagian dari upaya Kementan mencapai target luas panen padi 2017 seluas 16 juta hektar, produktivitas 53,46 kuintal per hektar (Ku/Ha), dengan target produksi 85,5 juta ton gabah kering giling (GKG), sementara luas panen jagung dipatok 5,7 juta hektar dengan produktivitas 53,18 Ku/Ha dan target produksi 30,5 juta ton di seluruh Indonesia.

Momon Rusmono menambahkan, target Upsus Pajale tersebut mengemuka pada rapat kerja nasional (Rakernas) Pembangunan Pertanian 2017 di Jakarta pada awal Januari lalu, dan Kalbar menjadi tolok ukur keberhasilan provinsi di seluruh Kalimantan.

"Kami tidak mau saat dilakukan evaluasi hingga September ada kabupaten dan kota di Kalbar yang capaian produksinya di bawah target," katanya pada rakor yang dihadiri kepala dinas provinsi/kabupaten/kota, komandan Korem/Kodim/Koramil, dan para penyuluh pertanian
di seluruh Kalbar.

Dia mengingatkan bahwa Gubernur Kalbar Cornelis MH pada akhir Desember 2014 meraih penghargaan dari Presiden RI Joko Widodo sebagai salah satu dari delapan gubernur yang dinilai sukses sebagai pembina ketahanan pangan, yang diserahkan Presiden Jokowi di Kabupaten Subang, Jabar.

"Keberhasilan luas tambah tanam di Kalbar turut menentukan kemampuan Indonesia mencegah impor beras dan mencapai swasembada pangan," kata Momon Rusmono yang juga menjabat Kepala Badan Penyuluhan dan Pengembangan Sumber Daya Manusia Pertanian (BPPSDMP) setelah dilantik Mentan Andi Amran Sulaiman di Jakarta pada Selasa (18/7).
Jakarta (B2B) - Indonesian Agriculture Ministry targets an increase of rice cultivation area in West Borneo province to reach 29,680 hectares by September 2017 support the achievement of food self-sufficiency target at provincial level proclaimed by Indonesian government, according to the senior official.

"West Borneo is expected an increase of rice cultivation area of 29,680 hectares until September 2017," said Director of Program Food Self-sufficiency, Momon Rusmono in Pontianak, the provincial capital, Friday (July 21) and was attended by Commander of Tanjung Pura Military Command, Major General Andika Perkasa.

According to him, the ministry set targets the paddy harvest in 2017 reached 16 million hectares, with productivity 53.46 quintals per hectare to produce 85.5 million tons of dry milled grain, while the target of corn harvested area 5.7 million hectares with productivity 53.18 quintal per hectare to produce 30.5 million tons across the country.

Mr Rusmono said the target was declared in the 2017 National Working Meeting of of Agriculture Development in Jakarta in early January, and West Borneo became a benchmark for success of province across the island.

"I do not want to hear on the evaluation of September, it turns out there are still districts and cities that failed to achieve the target," he said in coordination meeting who was attended by leaders of relevant agencies.

He reminded that the West Borneo Governor Cornelis MH, late 2014, received an award from President Joko Widodo as one of eight governors who are considered success increase food production.

"Success in West Borneo contributed to Indonesia's ability to prevent rice imports," Mr Rusmono said who also served as the Director General of Agency for Agricultural Extension and Human Resources Development (BPPSDMP) who was inaugurated by Agriculture Minister Andi Amran Sulaiman in Jakarta on Monday (July 18).