Mentan Senang Harga Gabah Tinggi tapi Jangan Bebani Konsumen
Indonesian Govt Seeks to Overcome the Rice Price Disparity of Farmers and Consumers
Reporter : Gusmiati Waris
Editor : Cahyani Harzi
Translator : Dhelia Gani

PUBLISHED: Rabu, 26 Juli 2017 , 03:01:00 WIB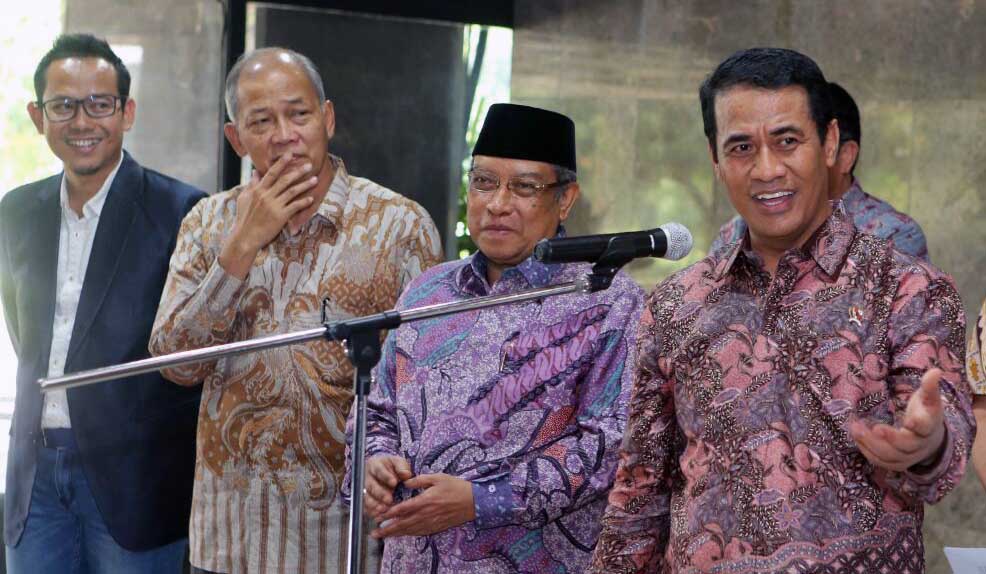 Mentan Andi Amran Sulaiman (kanan) menjawab pers didampingi Ketua PBNU KH Said Aqil Siradj (tengah) dan Sekjen Kementan Hari Priono (ke-2 kanan) Foto: B2B/Gusmiati Waris
Jakarta (B2B) - Pemerintah RI mendukung langkah perusahaan beras membeli gabah dengan harga tinggi, karena menguntungkan petani untuk meningkatkan kesejahteraan mereka, namun jangan membebani konsumen dengan harga tinggi sehingga disparitas harga petani dan konsumen menembus 300% seperti temuan Satgas Pangan pada penggerebekan gudang PT Indo Beras Unggul (IBU) di Bekas, Jabar pekan lalu.

Menteri Pertanian Andi Amran Sulaiman mengaku mendukung kebijakan perusahaan beras untuk membeli gabah petani di atas harga pembelian pemerintah (HPP) yang ditetapkan Rp3,700 per kg kepada Badan Urusan Logistik (Bulog), dan Satgas Pangan melakukan penggerebekan sebagai upaya pengendalian harga beras agar harga di tingkat petani dan konsumen tidak terlalu timpang hingga 300%.

"Satgas Pangan berupaya mengendalikan harga pangan khususnya beras seperti pada Ramadan dan Lebaran, salah satunya dengan memperpendek rantai pasok," kata Mentan Amran Sulaiman usai bertemu Ketua Umum PB Nahdlatul Ulama (PBNU) di kantornya pada Selasa pagi (26/7).

Menurutnya, pemerintah telah mengatasi disparitas harga komoditas cabai rawit merah, bawang merah, dan bawang putih dan kini berupaya mengatasi disparitas harga beras.

Dia pun menguraikan tentang dugaan PT IBU membeli gabah varietas VUB dari petani, penggilingan, dan pengepul yang kemudian diolah menjadi beras premium dalam kemasan 5 kg dan 10 kg, yang dijual seharga Rp23.000 hingga Rp26.000 per kg, sehingga kementerian memperkirakan terjadi disparitas harga hingga 300%.

Pernyataan tertulis Kementan menyebutkan, dari hasil temuan di pasar swalayan bahwa beras pulen wangi super dan pulen wangi untuk cap Ayam Jago di Giant Cilandak, Jakarta Selatan masing-masing Rp25.380 dan Rp21.678 per kg. Sementara di pasar swalayan di kawasan Kemayoran, Jakarta Utara harganya Rp23.180 per kg, dan cap Ayam Jago jenis beras pulen wangi super mencapai Rp26.305 per kg.

"Sementara kompetitor PT IBU membeli gabah dengan harga relatif sama kemudian diproses menjadi beras medium, dan dijual rerata Rp10.519 per kg, dengan perkiraan disparitas harga 44 persen, karena harga beras medium di tingkat petani sekitar Rp3.219 per kg," kata Mentan.
Jakarta (B2B) - The Indonesian government supports large companies buying high-priced farmers' grain, as it benefits farmers to improve their welfare, but do not burden consumers so that trigger a farmer and consumer price disparity by 300% by Indo Beras Unggul Corp. (PT IBU), from raids by Food Tasks Unit (Satgas Pangan) in rice warehouse of PT IBU in Bekasi of West Java province.

Agriculture Minister Andi Amran Sulaiman claimed to support the purchase of grain farmers at high prices or above the purchase price of the government, 3,700 rupiah per kg, applied by the Logistics Agency.

"The Satgas Pangan seeks to control the food price, especially rice, such as in Ramadan and Eid," Minister Sulaiman told the press in his office after meeting with Chairman of Indonesia's biggest Islamic group, the moderate Nahdlatul Ulama (PBNU) KH Said Aqil Siradj on Tuesday morning (July 26).

According to him, the government has overcome the disparity of commodity prices of red chili, red onion, and garlic and is now trying overcome disparity of rice prices.

He also described the alleged PT IBU to buy grain varieties of VUB from farmers, mills, and collectors which are then processed into premium rice in packs of 5 kg and 10 kg, which are sold for 23,000 rupiahs to 26,000 rupiahs per kg, so the ministry estimates a price disparity up to 300%.

According to the ministry's written statement, from the price survey in supermarkets in Jakarta, it was found for Ayam Jago brand in Giant Cilandak, South Jakarta was were 25,380 and 21,678 rupiah per kg respectively. While in Kemayoran of North Jakarta, the price is 23,180 rupiah per kg, and the price of Ayam Jago super brand reaches 26,305 rupiah per kg.

"Meanwhile, PT IBU's competitors buy grain farmers with the same relative price then processed into medium rice, and sold an average of 10,519 rupiah per kg, with an estimated price disparity of 44 percent, because the price of farmers around 3,219 per kg," Minister Sulaiman said.