Toko Tani Jangkau 32 Provinsi, Dukung `Kendali Inflasi` melalui 2.839 Gerai
Indonesian Farmer`s Store Reaches 32 Provinces Across the Country
Reporter : Gusmiati Waris
Editor : Cahyani Harzi
Translator : Dhelia Gani

PUBLISHED: Senin, 16 Oktober 2017 , 03:59:00 WIB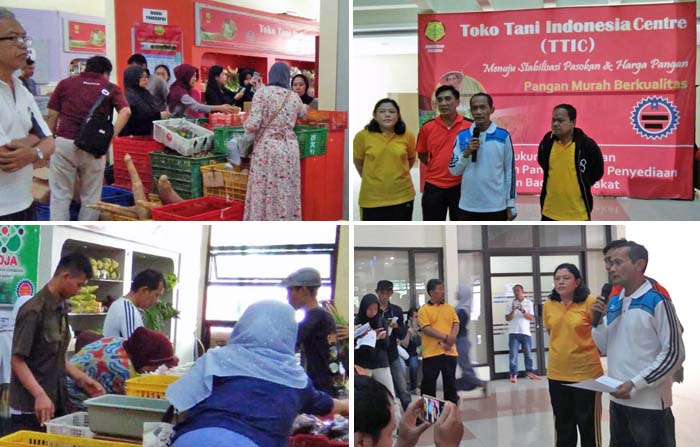 Arah jarum jam: Warga berbelanja di Toko Tani Pasar Minggu, Kepala BKP Kementan Agung Hendriadi (kaos putih) menjawab pers (Foto2: B2B/Gusmiati Waris)
Jakarta (B2B) - Toko Tani Indonesia (TTI) yang dikembangkan oleh Kementerian Pertanian RI sejak 2016, sampai saat ini menjangkau 32 provinsi - minus Kalimantan Utara dan Kepulauan Riau - didukung 2.839 gerai, untuk menunjang penyediaan pangan berkualitas dan harga terjangkau bagi masyarakat dan berperan mendukung pengendalian inflasi.

"Ekspansi 2.839 gerai Toko Tani ke 32 provinsi kecuali Kaltara dan Kepri, dan 1.131 di antaranya berada di Jakarta makin dikenal masyarakat, dan mendorong warga Jabodetabek meminta Toko Tani menggelar pangan murah berkualitas di wilayah mereka," kata Kepala Badan Ketahanan Pangan Kementerian Pertanian (BKP) Agung Hendriadi kepada pers di Jakarta pada Minggu (15/10).

Menurut pantauan B2B, harga komoditas pangan yang ditawarkan di Toko Tani Center di depan SMAN 28 Pasar Minggu, Jakarta Selatan sebagai gerai utama di Jakarta tergolong murah dan berkualitas.

Komoditas pangan dijual dalam satuan kilogram seperti beras Rp7.900, cabai merah keriting Rp27.000, bawang merah Rp18.000, bawang Putih 16.000, gula pasir Rp12.000, faging sapi Rp75.000, daging kerbau Rp70.000, daging ayam Rp30.000, telur ayam Rp19.500, dan minyak goreng Rp11.000 per liter.

Menurut Agung, beberapa kementerian/lembaga seperti kementerian koordinator bidang perekonomian, sekretariat negara, kementerian hukum dan HAM, kementerian dalam negeri, kementerian koordinator pembangunan manusia dan kebudayaan, pusat penelitian kehutanan, dan Pemerintah Kota Depok meminta dilakukan pasar pangan murah.

"Kemudahan masyarakat untuk memperoleh pangan murah berkualitas tersebut tidak hanya dengan datang ke gerai Toko Tani untuk pembelian langsung, juga bisa dengan memanfaatkan penjualan secara online melalui Gojek," katanya lagi.

Ke depan, kata Agung, Toko Tani secara konseptual akan dirancang sebagai pusat distribusi dinamai Toko Tani Indonesia Center (TTIC) yang menghubungkan gerai dengan petani yang bergabung di kelompok tani (Poktan) dan gabungan kelompok tani (Gapoktan) binaan dalam volume besar, Toko Tani berperan sebagai hub.

"Secara bertahap pada 2018, TTIC sudah dikembangkan di Medan, Palembang, Lampung, Banten hingga Makassar akan mengikuti pola distribution center, maka wilayah penyangga sebagai pusat produksi pangan dapat memasok pangan ke wilayah konsumen," kata Agung.
Jakarta (B2B) - The Indonesian Farmer`s Store locally known as the Toko Tani Indonesia (TTI) developed by agriculture ministry since 2016, has now reached 32 provinces - minus North Borneo and Riau Islands - supported by 2,839 outlets to support the availability of quality food and affordable prices for the people and reduce inflation.

"Expansion of 2,839 outlets to 32 provinces, 1,131 of which in Jakarta make farmers' stores more popular, and encourage residents in Jakarta and surrounding areas to hold bazaars in their areas," Director General of agriculture ministry's Food Security Agency (BKP) Agung Hendriadi told the press here on Sunday (October 15).

According to B2B monitoring, the price of food commodities offered by the TTI in Pasar Minggu of South Jakarta as the main outlet in Jakarta is cheap and quality.

Food commodities are sold in rupiah exchange rate and kilogram units such as rice 7,900, curly peppers 27,000, shallots 18,000, garlic 16,000, sugar 12,000, beef 75,000, buffalo 70,000, chicken 30,000, chicken eggs 19,500 and cooking oil 11,000 per liter.

According to Mr Hendriadi, several ministries such as the economic coordinating ministry, the state secretariat, the ministries of law and human rights, the ministries of the interior, the ministry of human and cultural development coordinators, forestry research centers and the Depok city government requested bazaars in their respective offices.

"The convenience for people to get quality cheap food to the farm shop to buy directly, can also buy online through the Gojek," he said.

In the future, Mr Hendriadi said, the TTI will be developed into a distribution center under the name of the TTI Center, connecting outlets with farmers from farmer groups and farmer group associations, TTI acts as a hub.

"Gradually in 2018, the TTI Center already developed in Medan, Palembang, Lampung, Banten to Makassar will follow the pattern of distribution center, then the buffer zone as a food production center can supply food to the consumer area," he said.