Jose Mourinho Pilih Pemain Jangkung di Atas 1,85 kecuali ... ?
Jose Mourinho`s Land of the Giants! giants! Only One of His Seven Signings is Under 6ft 1in
Editor : Ismail Gani
Translator : Novita Cahyadi

PUBLISHED: Rabu, 02 Agustus 2017 , 00:59:00 WIB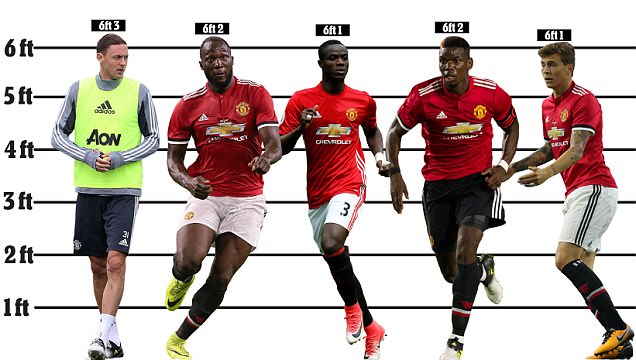 Matic tingginya hampir 1,93 m, sedangkan Lindelof 1,85 m dan Lukaku 1,87 m yang menjulang tinggi (Foto: MailOnline)
JOSE MOURINHO mengatakan di awal musim panas ini bahwa dia sedang mencari tiga atau empat pemain baru untuk mendukung kekuatan Manchester United (MU).

Kehadiran Nemanja Matic bergabung dengan bek Victor Lindelof dan striker Romelu Lukaku sebagai bagian dari pengeluaran Rp3 triliun (160 juta poundsterling), dinyatakan aman untuk mengasumsikan bahwa pelatih asal Portugis yakin bahwa dia mendambakan The Red Devils kompetitif lagi.

Namun apa yang dia kejar dengan membawa juara bertahan sebelumnya menjadi juara Liga Premier Inggris (EPL)? Ada fakta menarik tentang para pemain baru Mourinho yang dapat memberi petunjuk bagus.

Dari tujuh pemain yang dia kontrak untuk MU, Henrikh Mkhitaryan adalah satu-satunya pesepakbola yang tingginya di bawah 1,85 meter.

Kontrak pemain, Matic tingginya hampir 1,93 m, sedangkan Lindelof 1,85 m dan Lukaku 1,87 m yang menjulang tinggi.

"Jika saya ada di sini, bermain di sayap kiri, Mourinho mengambil keputusan untuk mengajak Matic hengkang dari Chelsea untuk bergabung dengan Benfica pada awalnya. Tinggi 1,95 m; Posisi: lini tengah - tidak akan pernah, tidak pernah, tidak pernah pergi. Tak pernah.' Kekagumannya jelas untuk sekian lama, baik untuk pemain maupun atributnya.

Itu berarti kemungkinan 11 pemain Mourinho untuk laga pembuka melawan West Ham akan memiliki tinggi rata-rata 1,85 meter. Buang pemain seperti Chris Smalling dan Marouane Fellaini, keduanya pemain jangkung di atas 1,90 m, dari bangku cadangan kemudian rata-rata pemain dipasang lagi.

Sebagai perbandingan, pelatih Louis van Gaal di MU di final Piala FA 2016 melawan Crystal Palace, memiliki tinggi rata-rata 1,82 m. Jadi Mourinho telah menambahkan tinggi per pemain dalam waktu lebih dari setahun.

Juara EPL Leicester yang memenangkan kejuaraan, rata-rata, rata-rata tinggi pemainnya 1,80 m. Antonio Conte di Chelsea rata-rata tinggi pemain di kisaran berada di sekitar angka 1,82 m.

Jadi, jika United menjadi juara, mereka akan menjadi klub dengan rata-rata pemain tertinggi setidaknya dalam tiga tahun terakhir.

Ini, tentu saja, tidak ada yang baru bagi Mourinho. Dia menempa sisi Chelsea pertamanya yang dengan deretan pemain jangkung seperti raksasa Michael Essien, Didier Drogba dan kawan-kawan.

Perlu dicatat juga bahwa meskipun Mourinho memiliki sejarah menundukkan pemain tinggi, di United setidaknya ini tidak semata-mata tentang pemain jangkung seperti dilansir MailOnline.
JOSE MOURINHO said earlier this summer that he was seeking three or four new signings to improve his Manchester United squad.

With Nemanja Matic joining defender Victor Lindelof and striker Romelu Lukaku as part of £160m spending spree, it's safe to assume that the Portuguese boss has almost every piece of the puzzle he was seeking to make the Red Devils competitive again.

But what sort of side is he looking to build to take the previously perennial champions back to the pinnacle of the Premier League? There's an interesting fact about Mourinho's signings that may give us a good clue.

Of the seven signings that he has made at United, Henrikh Mkhitaryan is the only one under 6ft 1in.

The latest arrival, Matic, stands at almost 6ft 4in, while Lindelof is 6ft 1in and Lukaku is a towering 6ft 2in.

'If I was here, a left footed player, Mourinho said of the decision to let Matic leave Chelsea to join Benfica originally. '1.95 metres; position: midfield - would never, never, never leave. Never.' His admiration has been clear for some time, both in the player and his attributes.

That means Mourinho's likely XI for the opening game against West Ham will have an average height of 6ft 1in. Throw in the likes of Chris Smalling and Marouane Fellaini, both over 6ft 3in, from the bench then the average shoots up again.

For comparison, Louis van Gaal's last ever United XI in the 2016 FA Cup final win against Crystal Palace, had an average height of 6ft. So Mourinho has added an extra inch per player in little over a year.

Leicester's championship-winning side were, on average, 5ft 11in across the board. Antonio Conte's Chelsea were around the 6ft mark.

So, if United are to be champions, they will be the tallest in at least three years to do so.

This is, of course, nothing new for Mourinho. He forged his first great Chelsea side around the hulking frames of Michael Essien, Didier Drogba and Co.

It is also worth noting that although Mourinho has a history of signing tall players, at United at least it isn't all about strength.

In his fearsome midfield duo of Matic and Paul Pogba he has two serious work horses (which is interesting, as United were rock bottom in distance covered as a team) - both of whom were covering around 11km per game on average last season.