MU Genjot `Merchandise` dari Setengah Miliar `Followers` Ronaldo di Medsos
Manchester United will Recover the Costs of the Sensational Signing of Cristiano Ronaldo
Editor : Kemal A Praghotsa
Translator : Novita Cahyadi

PUBLISHED: Rabu, 01 September 2021 , 03:00:00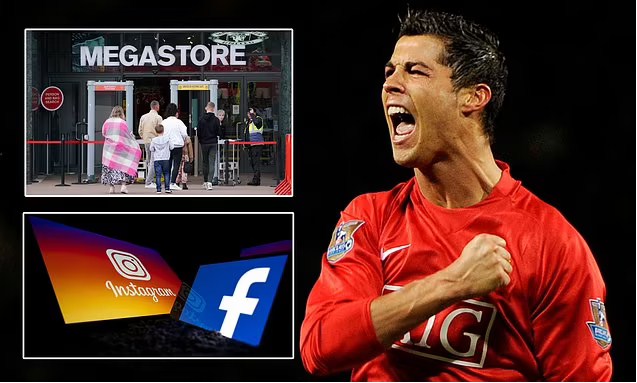 JAGAT MAYA: Kunci kesuksesan komersial transfer Ronaldo adalah kekuatan pribadinya, secara instan memperluas jangkauan dan daya tarik klub. Pada Februari, followers-nya di medsos mencapai setengah miliar [Foto2: MailOnline]
MANCHESTER United akan menanggung biaya transfer Cristiano Ronaldo dalam kesepakatan komersial baru senilai sekitar 34 juta euro selama 12 bulan ke depan, yang akan dikompensasi melalui daya tarik global sang megabintang, menurut pakar keuangan sepakbola Inggris.
Para pakar mengepresiasi pada strategi jitu bisnis Manchester United [MU], yang dilaporkan harus merogoh kocek klub hingga 23 juta euro dari kesepakatan transfer - termasuk biaya tambahan - selama lima tahun ke depan.
Pada saat yang sama, kedatangan Ronaldo akan segera memperkuat aliran pendapatan dan asalkan manajer, Ole Gunnar Solskjaer, dapat menemukan formula kemenangan, sang pemain juga akan meningkatkan peluang klub di lapangan.
Dr Rob Wilson, pakar keuangan sepak bola di Universitas Sheffield Hallam, menyarankan penandatanganan Ronaldo dan manfaat yang mengalir dari itu bahkan dapat mengantarkan era baru dominasi dalam sepak bola domestik.
Kunci kesuksesan komersial transfer Ronaldo adalah kekuatan merek pribadinya, yang secara instan memperluas jangkauan dan daya tarik klub. Pada bulan Februari, followers-nya di media sosial mencapai setengah miliar.
Dia memiliki 261 juta pengikut di Instagram, di mana Ronaldo adalah salah satu orang yang paling banyak followers di dunia. Di Facebook, halamannya memiliki hampir 125 juta Like dan sekitar 147 juta pengikut, sementara di Twitter, 91 juta followers.
Sebaliknya, pengikut media sosial Manchester United sendiri mencapai sekitar 140 juta, menurut Deloitte Football Money League 2021. Tetapi berita tentang penandatanganan Ronaldo segera meningkatkan akun Instagram klub dengan satu juta pengikut dari 43,1 juta menjadi 44,3 juta followers.
"Di sini Anda memiliki pertandingan yang dibuat di surga," kata Dr Wilson kepada Sportsmail.
"Secara komersial, Manchester United melakukan kesepakatan besar 10 hingga 12 tahun yang lalu dan mereka mulai kedaluwarsa. Tentu saja, mereka tidak ingin kehilangan sponsor penting saat ini."
"Pandangan saya adalah bahwa kinerja klub cukup buruk sehingga mereka belum mampu menghasilkan kesepakatan yang mewakili apa yang mereka rasa layak untuk meraih kemenangan. Jadi, mereka mendapatkan momentum ini.'
"Saya benar-benar tidak berpikir ada mitra yang siap membayar uang yang diinginkan United. Jadi, daripada meremehkan, mereka membiarkannya tanpa sponsor."
United tidak memiliki sponsor tempat pelatihan sejak kesepakatan perusahaan asuransi AON senilai 180 juta poundsterling, yang ditandatangani pada 2013, berakhir pada 1 Juli.
Klub itu diyakini sedang dalam pembicaraan dengan perusahaan e-niaga, The Hut Group, lebih dari £200 juta, kontrak 10 tahun, tetapi itu dilaporkan kandas di tengah kekhawatiran perusahaan tentang protes penggemar terhadap keluarga Glazer, yang memiliki klub.
Dengan keluarga Glazer yang sekarang berusaha untuk mengatasi kekhawatiran penggemar, yang hanya akan ditingkatkan oleh penandatanganan Ronaldo, Dr Wilson yakin nama-nama besar akan sekali lagi mengantri di luar Old Trafford untuk digandeng klub, seperti dilansir MailOnline.
"Apa yang akan kita lihat [sekarang] adalah mitra tempat pelatihan akan mendaftar dan mereka akan menandatangani beberapa kesepakatan lainnya. Saya pikir mereka akan mempercepat percakapan itu karena daya tarik yang dibawa Ronaldo."
"Jika Anda ingin terlibat dengan United, sekaranglah saatnya."
"Dan jika mereka mengangkat trofi, ada semua bahan untuk periode dominasi lainnya. Biaya transfer, tambahan dan upahnya harus lebih dari yang dicakup oleh beberapa aktivitas komersial yang dapat mereka hasilkan selama 12 bulan ke depan.
"Anda bisa melihat United menghasilkan 34 juta euro plus musim ini melalui pengaturan komersial tambahan."
MANCHESTER United will cover the costs of Cristiano Ronaldo's transfer in new commercial deals worth around £30 million during the next 12 months, which will be stimulated by the megastar's global appeal, according to a leading analyst.
Experts have heaped praise on another sharp piece of business by United, which reportedly spreads the £19.8 million cost of the deal – including add-ons - over five years.
At the same time Ronaldo's arrival will almost immediately strengthen income streams and provided manager, Ole Gunnar Solskjaer, can find the winning formula, the player will enhance the club's chances on the pitch, too.
Dr Rob Wilson, an expert in football finance at Sheffield Hallam University, suggests the signing of Ronaldo and the benefits that flow from that could even usher in a new era of domination in domestic football.
Key to the commercial success of Ronaldo's transfer is the power of his personal brand, which instantly extends the club's reach and appeal. In February, he reached half a billion followers across social media.
He had 261 million followers on Instagram, where he is one of the most followed people in the world. On Facebook, his page had almost 125 million likes and about 147 million followers while on Twitter, there were 91 million people following him.
In contrast, Manchester United's own social media following stands at around 140 million, according to the Deloitte Football Money League 2021. But news of Ronaldo's signing immediately boosted the clubs Instagram account by one million followers from 43.1 million to 44.3 million.
'You have here a match made in heaven,' Dr Wilson told Sportsmail.
'Commercially, Manchester United did big deals 10 to 12 years ago and they are beginning to expire. Of course, they don't have a training ground sponsor currently.
'My view is that their sporting performance has been sufficiently poor that they have not been able to generate a deal that represents what they feel their training ground is worth. So, they have not signed one.
'I genuinely do not think there was a partner that was prepared to pay the money that United wanted. So rather than undervalue they have left it without a sponsor.'
United have been without a training ground sponsor since insurance firm AON's £180m deal, which was signed in 2013, came to an end of July 1.
The club was believed to be in talks with the ecommerce company, The Hut Group, over a £200 million, 10-year deal, but that reportedly foundered amid the firm's concerns about fan protests against the Glazer family, who own the club.
With the Glazers now making attempts to address fan concerns, which the Ronaldo signing will only enhance, Dr Wilson believes big names will once again be queuing up outside Old Trafford to bask in some reflected glory.
'What we will see [now] is a training ground partner will be signed up and they will sign a couple of other deals. I think they will accelerate those conversations because of the appeal that Ronaldo brings.
'If you were going to get involved with United, now is the time.
'And if they lift a trophy there are all the ingredients for another period of domination. The transfer fee, the add on and his wages should be more than covered by some of the commercial activity they will be able to generate over the next 12 months.
'You could see United earning £30m plus this season through additional commercial arrangements.'