"Dia Akhirnya Pulang": Manchester United Tuntaskan Transfer Cristiano Ronaldo
`He´s Coming Home!`: Ronaldo Completes His £19.8m Return to Manchester United
Editor : Kemal A Praghotsa
Translator : Dhelia Gani

PUBLISHED: Rabu, 01 September 2021 , 02:03:00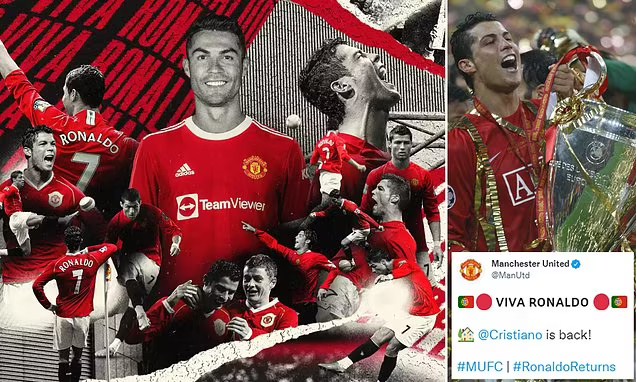 KEMBALI KE INGGRIS: Kontrak Ronaldo bernilai sekitar Rp11 miliar per pekan, menjadikannya salah satu pemain dengan bayaran tertinggi di liga, yang nilainya lebih besar dari yang didapatnya di Juventus [Foto2: MailOnline]
INILAH kepulangan yang telah lama ditunggu para penggemar Manchester United [MU] selama 12 tahun.
Kembalinya Cristiano Ronaldo ke Old Trafford akhirnya telah dikonfirmasi, setelah bintang timnas Portugal itu menyelesaikan kepindahannya yang dramatis dari Juventus dan menjadi pemain MU untuk kedua kalinya dalam karirnya.
MU telah mengeluarkan 15 juta euro untuk pemain berusia 36 tahun dengan tambahan maksimal 8 juta euro bergantung pada pencapaian performa tertentu selama durasi kontrak. Ronaldo telah meneken kontrak dua tahun dengan opsi untuk satu tahun lagi setelah melewati tes medis di Lisbon pada akhir pekan. Hal itu membuatnya bermain untuk MU hingga berusia 39 tahun.
Ronaldo mengatakan: 'Manchester United adalah klub yang selalu memiliki tempat khusus di hati saya, dan saya telah kewalahan dengan semua pesan yang saya terima sejak pengumuman pada hari Jumat.'
"Saya tidak sabar untuk bermain di Old Trafford di stadion yang penuh dan melihat semua penggemar lagi. Saya tak sabar untuk bergabung dengan tim setelah pertandingan internasional, dan saya berharap kami memiliki musim yang sangat sukses di depan.'
Ronaldo juga mengunggah ke Instagram pada Selasa pagi, menulis: 'Semua orang yang mengenal saya, tahu tentang cinta saya yang tidak pernah berakhir untuk Manchester United. Tahun-tahun yang saya habiskan di klub ini di mana (sic) benar-benar luar biasa dan jalan yang telah kita buat bersama tertulis dalam huruf emas dalam sejarah klub yang hebat dan menakjubkan ini.
"Saya bahkan tidak bisa mulai menjelaskan perasaan saya sekarang, karena saya melihat kembalinya saya ke Old Trafford diumumkan di seluruh dunia. Ini seperti mimpi yang menjadi kenyataan, setelah sekian lama saya kembali bermain melawan Man. United, dan bahkan sebagai lawan, selalu merasakan cinta dan rasa hormat dari para pendukung di tribun. Ini benar-benar 100% wujud dari mimpi!
'MU adalah liga domestik pertama saya, Piala pertama saya, panggilan pertama saya ke tim Nasional Portugal, Liga Champions pertama saya, Sepatu Emas pertama saya dan Ballon d'Or pertama saya, mereka semua lahir dari hubungan khusus antara saya dan Setan Merah. Sejarah telah ditulis di masa lalu dan sejarah akan ditulis sekali lagi! Pegang janji saya ini!
'Saya disini! Saya kembali ke tempat saya seharusnya! Mari kita mewujudkannya sekali lagi! PS - Sir Alex, ini untukmu…'
Manajer United Ole Gunnar Solskjaer menambahkan: "Anda akan kehabisan kata-kata untuk menggambarkan Cristiano. Dia bukan hanya pemain yang luar biasa, tetapi juga manusia yang hebat."
"Untuk memiliki keinginan dan kemampuan untuk bermain di level atas untuk waktu yang lama membutuhkan orang yang sangat spesial. Saya tidak ragu bahwa dia akan terus membuat kami semua terkesan dan pengalamannya akan sangat penting bagi para pemain muda di skuad."
'Kembalinya Ronaldo menunjukkan daya tarik yang unik dari klub ini dan saya benar-benar senang dia pulang ke rumah di mana semuanya dimulai.'
Kontrak Ronaldo bernilai sekitar Rp11 miliar per pekan, menjadikannya salah satu pemain dengan bayaran tertinggi di liga, yang nilainya lebih besar dari yang didapatnya di Juventus, seperti dilansir MailOnline.
Tidak ada kabar dari United tentang nomor baju yang akan digunakan Ronaldo, tetapi ada kabar bahwa begitu Daniel James menyelesaikan kepindahannya ke Leeds, Edinson Cavani akan mengosongkan nomor punggung 7 untuk Ronaldo dan pindah ke nomor 21 yang saat ini ditempati James.
Sudah beberapa hari MU menghadapi ketidakpastian untuk mendapatkan Ronaldo, Jumat pekan lalu tampaknya menjadi takdir setelah didapat kabar Manchester City pun terpikat untuk bergabung di bawah asuhan Pep Guardiola.
Namun United melakukan intervensi terakhir dengan Juventus dan agen Ronaldo, Jorge Mendes, sementara legenda klub Sir Alex Ferguson dan Rio Ferdinand menghubungi Ronaldo untuk mencegahnya bergabung dengan City, tetangga sekaligus musuh bebuyutan MU.
IT'S THE homecoming Manchester United fans have been waiting, dreaming, 12 years for.
Cristiano Ronaldo's Old Trafford return has finally been confirmed, with the Portugal star completing his dramatic move from Juventus and becoming a United player for the second time in his career.
United have splashed out £12.9million on the 36-year-old with £6.9m to follow in add-ons. Ronaldo has put pen to paper on a two-year deal with an option for a further year after passing a medical in Lisbon at the weekend. It could see him playing for United until he is 39.
Ronaldo said: 'Manchester United is a club that has always had a special place in my heart, and I have been overwhelmed by all the messages I have received since the announcement on Friday.
'I cannot wait to play at Old Trafford in front of a full stadium and see all the fans again. I'm looking forward to joining up with the team after the international games, and I hope we have a very successful season ahead.'
Ronaldo also took to Instagram on Tuesday morning, writing: 'Everyone who knows me, knows about my never ending love for Manchester United. The years I spent in this club where (sic) absolutely amazing and the path we've made together is written in gold letters in the history of this great and amazing institution.
'I can't even start to explain my feelings right now, as I see my return to Old Trafford announced worldwide. It's like a dream come true, after all the times that I went back to play against Man. United, and even as an opponent, to have always felt such love and respect from the supporters in the stands. This is absolutely 100% the stuff that dreams are made of!
'My first domestic League, my first Cup, my first call to the Portuguese National team, my first Champions League, my first Golden Boot and my first Ballon d'Or, they were all born from this special connection between me and the Red Devils. History has been written in the past and history will be written once again! You have my word!
'I'm right here! I'm back where I belong! Let's make it happen once again! PS - Sir Alex, this one is for you…'
United manager Ole Gunnar Solskjaer added: 'You run out of words to describe Cristiano. He is not only a marvellous player, but also a great human being.
'To have the desire and the ability to play at the top level for such a long period requires a very special person. I have no doubt that he will continue to impress us all and his experience will be so vital for the younger players in the squad.
'Ronaldo's return demonstrates the unique appeal of this club and I am absolutely delighted he is coming home to where it all started.'
Ronaldo's contract is worth around £385,000 per week, making him one of the highest paid players in the league. That is still a cut on the £500,000-a-week salary he was earning at Juventus.
There was no word from United on what shirt number Ronaldo will take but there have been suggestions that once Daniel James completes his move to Leeds, Edinson Cavani will vacate the No 7 shirt for Ronaldo and move to the No 21 that James currently occupies.
It has been a whirlwind few days for United and Ronaldo, who only last Friday looked destined to arrive on the blue half of Manchester and sign for Pep Guardiola's City.
But United made a last-ditch intervention with Juventus and Ronaldo's agent Jorge Mendes, while club legends Sir Alex Ferguson and Rio Ferdinand contacted Ronaldo to dissuade him from joining City.