50 Tahun The Beatles Bubar, Ini Komentar Tokoh Dunia tentang the Fab Four
The Greatest Beatles Album You have ever Read! Craig Brown`s Fresh Take on the Fab Four
Editor : Ismail Gani
Translator : Novita Cahyadi

PUBLISHED: Sabtu, 21 Maret 2020 , 22:14:00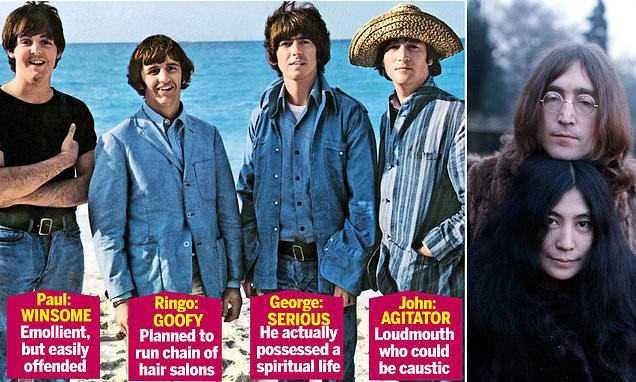 Ratu Elizabeth II: ´Betapa luar biasa 50 tahun mereka bagi dunia ... Pikirkan apa yang akan kita lewatkan jika kita tidak pernah mendengar The Beatles.´ [Foto & Ilustrasi: MailOnline]
SULIT DIPERCAYA, tanpa terasa sudah 50 tahun band legendaris asal Inggris, The Beatles bubar.
Mereka berempat menjalani hari bersama-sama selama delapan tahun, setelah Ringo Starr bergabung dengan John Lennon, Paul McCartney dan George Harrison pada musim panas 1962.
Namun seperti yang dicatat oleh Presiden Obama ketika memberikan penghargaan kepada Sir Paul McCartney di Gedung Putih, dalam waktu singkat mereka telah 'mengubah cara kita mendengarkan musik, memikirkan musik, dan menampilkan musik, selamanya'.
Bahkan Ratu Elizabeth II - mengatakan dalam sebuah pidato pada peringatan ulang tahun pernikahan emasnya: 'Betapa luar biasa 50 tahun mereka bagi dunia ... Pikirkan apa yang akan kita lewatkan jika kita tidak pernah mendengar The Beatles.'
Dari saat mereka menjadi terkenal, mereka dikejar oleh wartawan bertanya kepada mereka apa yang akan mereka lakukan setelah meraih popularitas. Ringo Starr, dalam banyak hal tergolong anggota band yang paling pragmatis dari ketiga rekannya, mengira dia akan mengoperasikan jaringan salon rambut di Timur Utara.
Namun popularitas The Beatles tidak pernah redup hingga hari ini: bahkan setelah mereka bubar, malah menjadi lebih populer. Banyak penulis dan kritikus yang mengupas The Beatles, di antaranya filsuf dan politisi Bryan Magee, pada 1967.
"Apakah ada yang benar-benar percaya bahwa musik Beatles akan menjadi bagian yang tidak terpikirkan dari kehidupan sehari-hari di seluruh dunia pada tahun 2000-an?" tanya Bryan Magee.
Sulit memikirkan prediksi yang lebih tepat sasaran. Pada tahun 2020, nyaris tidak ada orang di planet ini yang tidak mengenal lagu Beatles.
Ada lebih dari 1.000 band yang berdedikasi pada The Beatles, dan banyak dari mereka - seperti The Tefeatles dari Guatemala, Rubber Soul dari Brazil, Abbey Road dari Spanyol - telah bersama lebih lama daripada The Beatles seperti dilansir MailOnline.
Bootleg Beatles dari Inggris dan Beatnix dari Australia telah berjalan selama 40 tahun, atau lima kali lebih lama dari The Beatles. Dan pengaruh mereka jauh melampaui musik. Apakah pakaian kita, rambut kita, cara hidup kita akan sama jika mereka tidak ada?
Presiden Putin mengatakan kepada Paul McCartney bahwa mendengar The Beatles ketika masih kecil di Uni Soviet seperti 'tegukan kebebasan'.
Pendahulunya, Mikhail Gorbachev, bahkan melangkah lebih jauh: "Saya percaya musik The Beatles mengajarkan kepada anak-anak muda Uni Soviet bahwa ada kehidupan lain."
HARD TO BELIEVE, but next month sees the 50th anniversary of the day The Beatles broke up.
The four of them had been together for under eight years, Ringo having joined John, Paul and George in the summer of 1962.
Yet as President Obama noted when presenting Sir Paul McCartney with an award at the White House, in that short time they had 'changed the way that we listened to music, thought about music, and performed music, forever'.
Even Her Majesty the Queen — hardly your typical fan — said in a speech on the occasion of her golden wedding anniversary: 'What a remarkable 50 years they have been for the world... Think what we would have missed if we had never heard The Beatles.'
From the moment they became famous, they were pursued by reporters asking them what they were going to do when the bubble burst. Ringo Starr, in many ways the most pragmatic of the four, thought he would operate a chain of hair salons in the North East.
Yet the Beatle bubble never burst; even after they broke up, it just kept getting bigger and bigger. I close my new book about The Beatles with a prediction made by the philosopher and politician Bryan Magee, back in 1967.
'Does anyone seriously believe that Beatles music will be an unthinkingly accepted part of daily life all over the world in the 2000s?' he asked.
It's hard to think of a more off-target prediction. In 2020, there can scarcely be a person on the planet who would not have a Beatles song in their head.
There are more than 1,000 Beatles tribute bands in the world today, and many of them — The Tefeatles from Guatemala, Rubber Soul from Brazil, Abbey Road from Spain — have been together longer than The Beatles.
Britain's Bootleg Beatles and Australia's Beatnix have both been going for 40 years, or five times as long as The Beatles. And their influence extends well beyond music. Would our clothes, our hair, our way of life be the same had they not existed?
President Putin told Paul McCartney that hearing The Beatles as a boy growing up in the Soviet Union was like 'a gulp of freedom'.
His predecessor, Mikhail Gorbachev, went even further: 'I believe the music of The Beatles taught the young people of the Soviet Union that there is another life.'