Empat Jam Naiki 8.800 Anak Tangga, Capai Kuil Kembar di China
The Incredible Twin Temples Perched Atop a Breathtaking Rocky Spire
Editor : Kemal A Praghotsa
Translator : Novita Cahyadi

PUBLISHED: Jum'at, 08 Januari 2021 , 20:37:00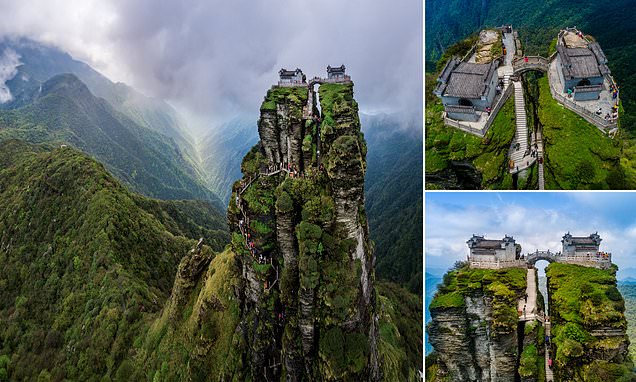 MENDAKI GUNUNG: Untuk mencapai kuil, pengunjung harus menaiki lebih dari 8.800 anak tangga, yang memakan waktu sekitar empat jam, meskipun ada pilihan untuk naik kereta gantung di bagian sisi punggung bukit [Foto2: MailOnline]
FAKTA tentang kuil kembar ini dibangun bukanlah suatu keajaiban.
Kedua kuil bertengger di atas pondasi batu setinggi 100 meter pada ketinggian lebih dari 2.336 m di atas permukaan laut, dipisahkan oleh ceruk yang terhubung oleh jembatan.
Puncak menara yang mencengangkan ini disebut Puncak Emas Awan Merah [Red Clouds Golden Summit] yang terletak di punggung bukit di Gunung Fanjing, atau Fanjingshan - Situs Warisan Dunia Unesco - di pegunungan Wuling di China.
Kuil Buddha dibangun lebih dari 500 tahun lalu pada era Dinasti Ming, menurut Oddity Central, meskipun sejak itu telah dibangun kembali menggunakan bahan yang lebih kuat - di atasnya menjadi cukup berangin.
Untuk mencapai kuil, pengunjung harus menaiki lebih dari 8.800 anak tangga, yang memakan waktu sekitar empat jam, meskipun ada pilihan untuk naik kereta gantung di bagian sisi punggung bukit.
Saat mencapai puncak, pengunjung pertama kali disambut oleh Kuil Budha di sisi selatan kompleks, yang konon mewakili masa kini.
Setelah melintasi celah - ´Ngarai Pedang Emas´ - kedua kuil kemudian dapat dilihat dari Kuil Maitreya, yang dimaksudkan untuk mewakili masa depan.
Beberapa, kami curiga, setengah berharap menemukan Jedi yang bersembunyi di atas.
Menurut My Modern Met, Gunung Fanjing, di provinsi Guizhou, Tiongkok barat daya, adalah tempat penting bagi umat Buddha karena mereka percaya itu adalah tempat Buddha Maitreya menemukan ´pencerahan´.
Akibatnya, banyak kuil dibangun di sepanjang gunung, beberapa berasal dari abad ke-7.
Meski banyak yang telah hancur, sekitar 50 masih tersisa.
Tidak mengherankan, kuil-kuil yang luar biasa ini dan pemandangan yang menakjubkan di sekitarnya memikat turis dari seluruh dunia, seperti dilansir MailOnline.
Pada 2019, National Geographic Traveler memasukkan Gunung Fanjing dalam daftar Perjalanan Terbaik 2019 dan menggambarkan pendakian di situ sebagai ´mendaki melalui lautan awan´.
Sementara itu, di Tripadvisor, salah satu pengunjung Gunung Fanjing, Pavel Erokhin, menulis: ´Ini adalah salah satu tempat paling berkesan yang pernah saya kunjungi. Sebagian besar karena bentuk gunung itu sendiri dan kuil yang berada tepat di puncaknya. ´
Dan yipjcs88 berkata: ´Ini adalah tempat wisata bintang lima, menawarkan pemandangan pegunungan yang spektakuler.´
THE FACT that these twin temples were built was nothing short of a miracle.
They are perched atop a 330ft (100m) tall column of rock over 7,600ft (2,336m) above sea level, separated by a crevice that´s spanned by a bridge.
This jaw-dropping spire is called Red Clouds Golden Summit and sits on a ridge on Mount Fanjing, or Fanjingshan - an other-worldly Unesco World Heritage Site - in China´s Wuling mountain range.
The Buddhist temples date back over 500 years to the Ming Dynasty, according to Oddity Central, although they have since been rebuilt using sturdier materials - it gets quite windy at the top.
To reach the temples, visitors must climb over 8,800 steps, which takes around four hours, though there is the option to ride a cable car part way up the side of the ridge.
On reaching the top, visitors are first greeted by the Temple of the Buddha on the south side of the complex, which is said to represent the present.
Upon crossing the crevice - the ´Gold Sword Gorge´ - they can then view the Maitreya Temple, which is meant to represent the future.
Some, we suspect, half expect to find a Jedi-in-hiding at the top.
According to My Modern Met, Mount Fanjing, in southwest China´s Guizhou province, is an important landmark for Buddhists as they believe it is the place where the Maitreya Buddha found ´enlightenment´.
As a result, many temples were built along the mountain, some dating back to the 7th century.
Although many have been destroyed, around 50 remain.
Unsurprisingly, these incredible temples and the breathtaking landscape around them lure tourists in from all over the world.
In 2019, National Geographic Traveler put Mount Fanjing on its Best Trips of 2019 list and described hiking up the mountain as ´climbing through a sea of clouds´.
Meanwhile, on Tripadvisor, one visitor to Mount Fanjing, Pavel Erokhin, wrote: ´This was one of the most memorable places I've ever visited. Mostly because of the shape of the mount itself and the temples right on the summit of it.´
And yipjcs88 said: ´This is a five-star tourist venue, offering spectacular mountain views.´