Penata Rambut Renovasi Boeing 727 jadi Rumah Mewah
Inside the Boeing Airliner that has been Converted into a Plush Home
Editor : Ismail Gani
Translator : Novita Cahyadi

PUBLISHED: Rabu, 29 April 2020 , 00:01:00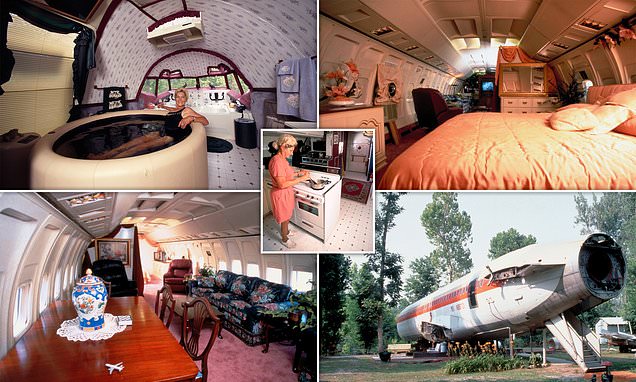 Jo Ann menghabiskan sekitar US$24.000 [Rp360 jutaan] untuk biaya renovasi, mengembangkan tiga kamar tidur dengan ruang tamu dan ruang makan, ruang binatu dan kamar mandi utama di kokpit [Foto2: MailOnline]
TEMPAT TINGGAL yang tidak biasa adalah Continental Airlines Boeing 727, pesawat tua yang tidak lagi terbang sejak 1993.

Jo Ann Ussery, dari Benoit, Mississippi, membelinya pada 1994 dan menghabiskan puluhan ribu dolar untuk renovasi.

Dia menempatkan sebagian pesawat di atas danau untuk memberi kesan pesawat itu lepas landas.

Rumah unik tersebut dilengkapi dapur lengkap, kamar tidur utama, ruang binatu, dan kamar mandi orisinil.

Bak mandi air panas di kokpit, dapur lengkap, dan tiga kamar tidur - selamat datang di pesawat Boeing 727 yang luar biasa yang telah diubah menjadi rumah mewah.

Foto-foto luar biasa ini menunjukkan tempat tinggal unik yang dimiliki oleh Jo Ann Ussery, dinamai ´Little Trump´ setelah pesawat jet milik maskapai Donald Trump seharga US$16 juta [Rp240 miliar]. Pesawat bekas itu ditaruh di Mississippi dan ditempatkan di atas danau untuk memberi kesan pesawat itu lepas landas.

Namun pesawat itu tidak sepenuhnya berubah, masih memiliki toilet pesawat asli dan tempat sampah dibiarkan di tempat penyimpanan.

Jo Ann pernah mengatakan kepada program Today: "Sangat nyaman, sangat rapi, sangat terisolasi dan nyaman, tidak ada keluhan tentang pesawat tersebut."

Pesawat, nomor seri 19510, telah menjadi Boeing 727 pertama di maskapai Continental Airlines dan melayani penerbangan komersial sejak Mei 1968 hingga September 1993.

Setelah ditaruh di Texas kemudian dipindahkan ke Greenwood, Mississippi, pada 1994, untuk direnovasi menjadi rumah tinggal.

Pada saat yang sama di Benoit, Mississippi, Jo Ann, yang saat itu adalah seorang penata rambut berusia 52 tahun, sedang mencari rumah mobil baru setelah rumah miliknya hancur akibat badai es.

Adik iparnya, seorang pengontrol lalu lintas udara, tahu ada pesawat bekas dan mengatakan kepadanya bahwa ia harus mencari pesawat bekas untuk direnovasi menjadi rumah.

Menurut Airport Journals, Jo Ann membayar U$2.000 [Rp30 jutaan] untuk membeli pesawat dan US$4.000 [Rp60 jutaan] untuk membayar perusahaan pengangkut yang memindahkan pesawat ke lokasi baru di sebelah danau di Benoit.

Dia kemudian merombak sebagian besar bagian dalam pesawat, termasuk memasang lantai, menyambungkan listrik dan saluran air, dan bahkan mengatur saluran telepon.

Kursi dilepas untuk menciptakan ruang seluas 1.000 m2 [11 kaki], dengan 76 jendela samping dan 10 jendela kokpit membanjiri badan pesawat dengan cahaya.

Dia juga mempertahankan bagian interior dari Boeing 727 sebagai bagian dari interior rumah.

Jo Ann menghabiskan sekitar US$24.000 [Rp360 jutaan] untuk biaya renovasi, mengembangkan tiga kamar tidur dengan ruang tamu dan ruang makan, ruang binatu dan kamar mandi utama di kokpit.

Fitur asli yang disimpan di pesawat yang dikonversi menjadi rumah termasuk roda kontrol kokpit, untuk mempertahankan tampilan pesawat, dan tangga udara belakang, yang dapat dibuka menggunakan pembuka pintu garasi.

Jo Ann pindah ke rumah uniknya pada April 1995 dan tinggal di sana sampai Mei 1999.

Kemudian, sebuah truk disewa untuk mengangkut pesawat ke lokasi yang berbeda seperti dilansir MailOnline.

Rencananya adalah agar pesawat dibuka untuk umum, tetapi jatuh dari truk dan mengalami ´kerusakan signifikan´.

Dan di sana, jejak tentang nasibnya menjadi dingin ...
THE UNUSUAL residence was a Continental Airlines Boeing 727, but was retired from the fleet in 1993

Jo Ann Ussery, from Benoit, Mississippi, bought it in 1994 and spent tens of thousands of dollars revamping it

She positioned the aircraft partially over a lake to give the impression it was taking off

The home had a fully equipped kitchen, a master bedroom, a laundry room and the original overhead bins

A hot tub in the cockpit, a fully equipped kitchen and three bedrooms - welcome on board the incredible Boeing 727 that was refurbished into a luxury home.

These extraordinary pictures show the unique residence owned by Jo Ann Ussery, named ´Little Trump´ after Donald Trump´s $16million 727 corporate jet. It was located in Mississippi and was positioned partially over a lake to give the impression it was taking off.

But the plane wasn´t completely transformed, it still had an original working aircraft toilet and the overhead bins were left in place for storage.

Jo Ann once told the Today programme: ´It is so comfortable, it´s so neat, it´s well insulated and convenient, there is nothing bad about it.´

The plane, serial number 19510, had been the first Boeing 727 in Continental Airlines´ fleet and was in service for the carrier from May 1968 until September 1993.

After being stored in Texas it was moved to Greenwood, Mississippi, in 1994, where it was to be ´parted out´.

At the same time Benoit, Mississippi, resident Jo Ann, then a 52-year-old hairdresser, was looking for a new mobile home after her previous one was destroyed in an ice storm.

Her brother-in-law, an air traffic controller, knew about the 127ft-scrapped plane and told her she should look into getting a retired airliner as a home.

According to Airport Journals, Jo Ann paid $2,000 for the plane and another $4,000 to a removal company to have it moved to her spot next to a lake in Benoit.

She then remodelled most of the home herself, which included installing floors, connecting electricity and plumbing and even setting up a phone line.

The seats were removed to create an 11ft-wide space, with 76 side windows and 10 cockpit windows flooding the fuselage with light.

She also managed to salvage interior parts from other retired 727s to add to her new plane.

Jo Ann spent around $24,000 (£19,235) on the renovations, creating a three-bedroom home with a living room and dining room, a laundry room and a master bathroom in the cockpit.

Original features that were kept in the converted airliner included the cockpit control wheels, to maintain an aircraft look, and the rear air stairs, which could be opened using a garage door opener.

Jo Ann moved into the converted home in April 1995 and stayed there until May 1999.

Eventually, a truck was hired to transport the plane to a different location.

The plan was for the aircraft to be opened to the public, but it fell off the truck and sustained ´significant damage´.

And there, the trail regarding its fate goes cold...