Bom Ninja, CIA Kembangkan `Senjata Drone` Mematikan Tanpa Ledakan
CIA Develops `Ninja` Drone Weapon to Reduce Unintended Casualties Caused
Editor : Ismail Gani
Translator : Novita Cahyadi

PUBLISHED: Sabtu, 11 Mei 2019 , 00:39:00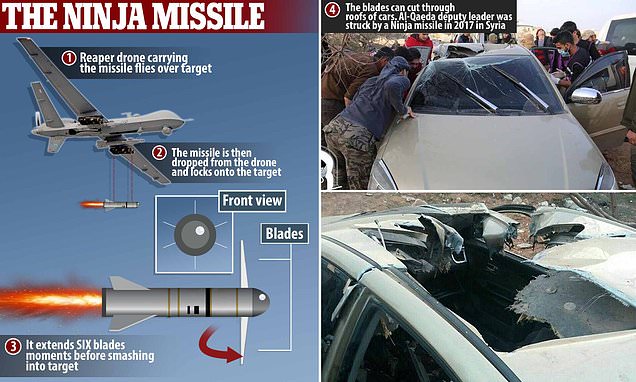 Abu Khayr al-Masri, wakil pemimpin Al-Qaeda dilaporkan tewas oleh salah satu bom drone ini pada Februari 2017 (kanan atas dan bawah) Foto2: MailOnline
R9X DIRANCANG untuk menghancurkan target dengan menerobos gedung dan mobil dengan bantuan enam baling-baling yang terbuka beberapa detik sebelum menghantam target.
Dijuluki sebagai ´rudal Ninja´, R9X membunuh target tanpa meledak. Versi modifikasi dari rudal Hellfire (foto) dilaporkan dikembangkan secara rahasia oleh CIA dengan pedang menggantikan hulu ledak yang meledak.
Abu Khayr al-Masri, wakil pemimpin Al-Qaeda dilaporkan tewas oleh salah satu bom drone ini pada Februari 2017 (kanan atas dan bawah).
Mobilnya tercabik-cabik oleh ´bom Ninja´ saat ia melaju melewati Idlib di Suriah utara.
Jamal al-Badawi, seorang teroris yang didakwa mendalangi pemboman USS Cole pada 2000, juga dilaporkan tewas dalam serangan serupa.
Tujuan dari senjata non-ledakan adalah untuk mengurangi korban yang tidak diinginkan yang disebabkan oleh rudal standar lainnya yang biasanya meledak dan menelan target dan sekitarnya seperti dilansir MailOnline.
THE R9X, or the ´flying Ginsu´, is designed to crush targets by dropping through buildings and cars with the help of a six large blades that deploy seconds before impact.
Nicknamed the ´Ninja missile, it kills targets without exploding. The modified version of a Hellfire missile (pictured) was reportedly developed in secret by the CIA with swords replacing the exploding warhead.
Abu Khayr al-Masri, the deputy leader of Al-Qaeda was reported killed by one of the devices in February 2017 (top and bottom right).
His car was shredded by the ´Ninja bomb´ as he drove through Idlib in northern Syria.
Jamal al-Badawi, a terrorist convicted of masterminding the bombing of the USS Cole in 2000, was also reportedly killed in a similar strike.
The goal of the non-explosive weapon is to reduce unintended casualties caused by other more standard missiles that typically detonate and engulf both targets and their surroundings.