Sesumbar Sukses AS, Presiden Trump Ditertawakan Pemimpin Dunia di PBB
World Laders Laugh at President Trump Starting His Address to the UN General Assembly
Editor : Ismail Gani
Translator : Novita Cahyadi

PUBLISHED: Rabu, 26 September 2018 , 00:09:00 WIB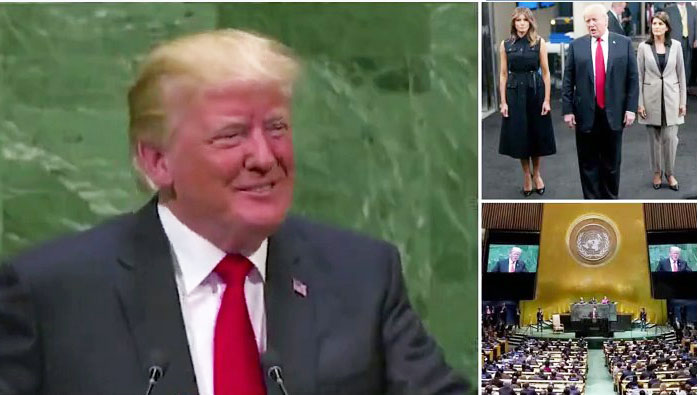 Presiden dan Melania masuk ke ruang sidang PBB didampingi oleh Duta Besar AS untuk PBB, Nikki Haley (kanan atas) Foto2: MailOnline
PRESIDEN AS Donald Trump ditertawakan oleh para pemimpin dunia yang hadir di Sidang Umum PBB, beberapa saat setelah dia memulai pidatonya, tidak sadar bahwa dia ditertawakan, ketika Trump bersiap memulai pidato yang disebut media asing sebagai ´braggadocios´ alias ´pembual yang sombong´.
Bukannya sadar menjadi bahan tertawaan di PBB, dalam pidatonya Trump malah sesumbar "dalam waktu kurang dari dua tahun dia memimpin AS telah mencapai kemajuan lebih banyak dari para presiden pendahulunya."
Seolah-olah membaca pidato sebagai presiden untuk pertama kalinya, dia malah menimpali tertawaan tersebut dengan, mengatakan ´sangat benar´, yang menyebabkan para pemimpin internasional semakin tertawa. Trump malah tersenyum, dengan gaya khasnya, dan menyatakan, ´tidak mengharapkan reaksi itu tetapi, oke,´ kemudian melanjutkan pidatonya.
Trump mengecam Iran sebagai sponsor negara teror dan mencaci China karena dugaan manipulasi mata uang dan pencurian kekayaan intelektual.
"Hari-hari itu sudah berakhir. Kami tidak akan lagi mentoleransi tindakan seperti itu," kata Trump, seraya berjanji bahwa dia tidak akan lagi mengizinkan Amerika untuk´ "ditipu dan kekayaan kami akan dijarah dan dipindahkan."
"Amerika Serikat tidak akan pernah meminta maaf karena melindungi warganya". Di antara mereka yang hadir adalah First Lady Melania (kiri atas) dan dua putri Trump, Ivanka dan Tiffany (kiri bawah).
Presiden dan Melania masuk ke ruang sidang PBB didampingi oleh Duta Besar AS untuk PBB, Nikki Haley (kanan atas) seperti dilansir MailOnline.
DONALD TRUMP´S opening remarks at the United Nations today drew laughter from world leaders bracing for a braggadocios address.
Trump claimed that in remarks that were written for him that ´in less than two years my administration has accomplished more´ than any of the others.
As if reading the speech for the first time, he chimed in with a, ´so true,´ leading to laughter from international leaders. He smiled, taking in stride, and proclaimed, ´didn´t expect that reaction but, OK,´ before moving on the extraordinary progress he says he´s overseen in the U.S.
Trump hammered Iran as a state sponsor of terror and chided China for alleged currency manipulation and intellectual property theft.
´Those days are over. We will no longer tolerate such abuse,´ Trump said, pledging that he would no longer allow American to be ´cheated and our wealth to be plundered and transferred.
The United States will never apologise for protecting its citizens.´ Among those watching were First Lady Melania (top left) and Trump´s two daughters Ivanka and Tiffany (bottom left).
The President and his wife were accompanied into the assembly hall by US Ambassador to the UN, Nikki Haley (top right).