Militer China `Intai Taiwan` setelah Kapal Induk USS Roosevelt Terpaksa Berlabuh karena Corona
China Takes Advantage of USS Roosevelt being Crippled by the Coronavirus and Sends Fighter Jets close to Taiwan
Editor : Ismail Gani
Translator : Novita Cahyadi

PUBLISHED: Selasa, 14 April 2020 , 15:54:00 WIB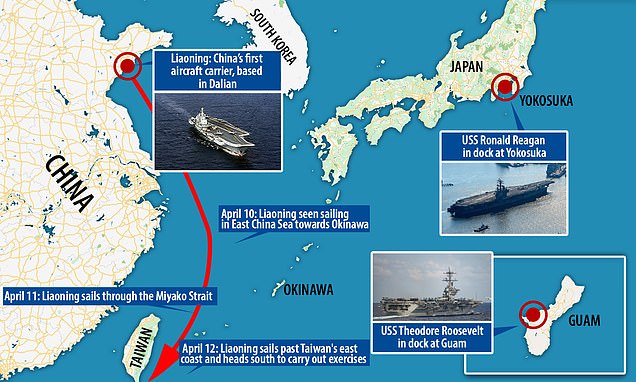 Kementerian Pertahanan Taiwan mengatakan Liaoning, kapal induk operasional pertama China, dan lima kapal perang yang menyertainya pertama-tama melewati Selat Miyako [Infografis: MailOnline]
MILITER CHINA tampaknya mengambil peluang dari AS setelah kapal induknya, USS Theodore Roosevelt terpaksa berlabuh lantaran virus Corona, China mengirimkan jet tempur mendekati perairan Taiwan selama akhir pekan.
Kementerian Pertahanan Taiwan mengatakan Liaoning, kapal induk operasional pertama China, dan lima kapal perang yang menyertainya pertama-tama melewati Selat Miyako, yang terletak di antara pulau-pulau Jepang Miyako dan Okinawa, di timur laut Taiwan, pada Sabtu.
Pada Minggu, kapal militer pengangkut, termasuk dua kapal perusak berkekuatan rudal - Xining dan Guiyang - dua fregat rudal 054A - Zaozhuang dan Rizhao - dan kapal logistik, Hulunhu, berlayar di perairan di pantai timur Taiwan dan kemudian ke laut ke selatan Taiwan, untuk melakukan latihan, kata Kemenhan Taiwan.
Angkatan bersenjata Taiwan memantau pergerakan sekelompok kapal pengangkut pasukan dan 'menyelesaikan tindakan yang relevan sebagai tanggapan untuk memastikan keamanan nasional dan melindungi perdamaian dan stabilitas kawasan'.
Kapal induk USS Roosevelt dan USS Ronald Reagan beroperasi di kawasan di Pasifik, tetapi keduanya terpaksa merapat karena kasus virus Corona yang dikonfirmasi menimpa awak kapal, yang dimanfaatkan oleh militer China untuk memata-matai Taiwan.
Liaoning saat ini adalah satu-satunya kapal induk yang aktif di barat Pasifik seperti dilansir MailOnline.
CHINA appears to be taking advantage of the USS Theodore Roosevelt (pictured) being crippled by the coronavirus by sending fighter jets close to Taiwan over the weekend.
Taiwan's Defense Ministry said the Liaoning, China's first operational aircraft carrier, and five accompanying warships passed first through the Miyako Strait, located between Japan's islands of Miyako and Okinawa, to the northeast of Taiwan, on Saturday.
On Sunday, the carrier group, which included two 052D guided-missile destroyers - the Xining and Guiyang - two 054A guided-missile frigates - the Zaozhuang and Rizhao - and supply ship, the Hulunhu, sailed in waters on Taiwan's east coast and then into seas to the south of Taiwan, carrying out exercises, the ministry said.
Taiwan's armed forces monitored the carrier group's progress throughout and 'completed relevant actions in response to ensure national security and protect regional peace and stability'.
The USS Roosevelt and USS Ronald Reagan are the only two US carriers in the Pacific, but both have been forced to dock due to confirmed coronavirus cases onboard, which effectively gives China free range in the region.
The Liaoning is currently the only aircraft carrier active in the western Pacific.