Foto BW Pendaratan Normandia Kini Berwarna dengan PhotoShop
Black and White Photographs of Allied Troops Wading Ashore in France on D-Day are Transformed with Colour
Editor : Ismail Gani
Translator : Novita Cahyadi

PUBLISHED: Rabu, 07 Juni 2017 , 00:51:01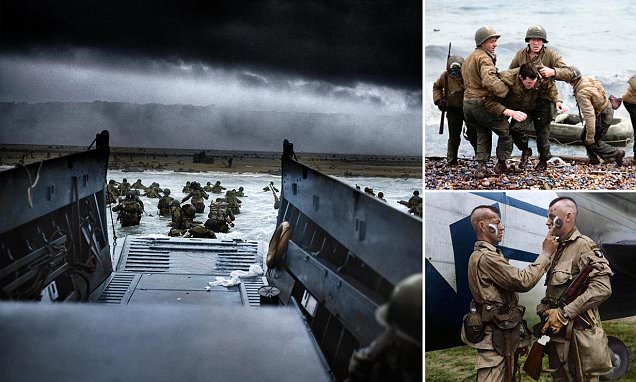 Pendaratan terjadi di sepanjang garis pantai sepanjang 50 mil (80 km) terbagi dalam lima sektor: Utah, Omaha, Gold, Juno and Sword (Foto2: MailOnline)
FOTO-FOTO sejarah luar biasa mengenang Pendaratan Normandia (D-Day) 73 tahun lalu yang tampil penuh warna memperlihatkan pada hari pasukan Sekutu menembus Eropa melalui pantai utara Prancis.

Foto hitam putih dari para prajurit yang siap tempur menyerbu ke pantai Omaha di Normandia untuk merangsek Nazi tersebut kini diberi warna dengan aplikasi PhotoShop.

Foto-foto lain memperlihatkan tentara yang kelelahan diseret ke darat oleh petugas medis dan tentara Inggris, AS dan Kanada dan anggota resimen parasut AS yang bersiap untuk pendaratan.

Foto-foto berwarna ini terungkap dalam rangkaian peringatan 73 tahun Operasi Overlord, yang didukung sekitar 156.000 tentara Sekutu yang mendarat di Normandia. Diperkirakan sebanyak 4.400 orang tewas dalam sebuah operasi yang diputuskan oleh Perdana Menteri Perang Dunia Kedua Winston Churchill sebagai 'yang paling rumit dan sulit yang pernah terjadi'.

'Generasi Perang Dunia II hampir semuanya telah meninggal dunia, jadi saya pikir sangat penting untuk menyelamatkan foto-foto ini melalui proses yang menarik minat generasi muda - jadi mungkin orang akan dapat lebih memahami apa yang terjadi. Inilah yang telah saya coba lakukan sejak saya mulai mewarnai foto-foto ini dua tahun yang lalu.'

"Saya ingin mengingat bahwa saya bekerja dengan fakta sejarah, dan bukan tugas saya untuk mengubah cerita itu dan membuatnya terlihat seperti yang saya inginkan.'

'Saya harus menghormati, dan karena itu, sayakumpulkan semua informasi sejarah untuk membuat foto-foto tersebut sedekat mungkin dengan kenyataan pemandangan yang digambarkan. Jadi saya selalu berhubungan dengan sejarawan dan mereka banyak membantu saya untuk melaksanakan tugas ini.'

'Semuanya dilakukan secara manual di Photoshop. Saya perlu menutupi setiap benda yang dapat Anda lihat secara potensial di gambar dan memberi warna dasar pada foto-foto tersebut.'

"Lalu, saya perlahan membangun atmosfir yang ingin saya hasilkan ulang, selalu mengingat pencahayaan aslinya, melalui berbagai lapisan, mengeksplorasi dan menggunakan sebanyak mungkin warna."

Sekitar 156.000 tentara Sekutu mendarat di Normandia pada 6 Juni 1944.

Serangan tersebut dilakukan dalam dua tahap: pendaratan udara 24.000 tentara Inggris, Amerika, Kanada dan Perlawanan Perancis setelah tengah malam, dan pendaratan amfibi divisi infanteri dan lapis baja Sekutu di pantai Prancis yang dimulai pada pukul 06:30 waktu setempat.

Operasi tersebut merupakan invasi amfibi terbesar dalam sejarah dunia, dengan lebih dari 160.000 tentara mendarat. Sekitar 195.700 personil angkatan laut dan personil sipil tentara Sekutu dengan melibatkan lebih dari 5.000 kapal.

Pendaratan terjadi di sepanjang garis pantai sepanjang 50 mil (80 km) terbagi dalam lima sektor: Utah, Omaha, Gold, Juno and Sword.

Serangan sempat terhambat setelah kapal mendarat pada titik yang salah dan yang lainnya mengalami kesulitan di dalam air.

Pasukan hanya berhasil mendapatkan pijakan kecil di pantai - tapi mereka membangun terobosan awal mereka dalam beberapa hari kemudian dan sebuah pelabuhan dibuka di Omaha.

Mereka menghadapi perlawanan sengit dari pasukan Jerman yang ditempatkan di basis pertahanan terkuat di sepanjang garis pantai.

Sekitar 10.000 prajurit Sekutu terluka atau terbunuh - di antaranya 6.603 orang Amerika, di mana 2.499 orang berakibat fatal, 2.700 tentara Inggris dan 1.074 orang Kanada, dan 359 orang berakibat fatal.

Diperkirakan 4.000 hingga 9.000 tentara Jerman terbunuh - dan ini merupakan momen perang yang sangat penting, dalam dukungan pasukan Sekutu.

Invasi tersebut mengharuskan pengangkutan tentara dan material dari Inggris oleh pesawat dan kapal pendarat yang sarat dengan kapal, pendaratan untuk penyerangan, dukungan udara, hambatan yang dihadapi armada laut dan dukungan persenjataan angkatan laut seperti dilansir MailOnline.
A REMARKABLE set of colourised photos has emerged on the 73rd anniversary of the D-Day landings shedding new light on the day Allied troops fought their way on to the beaches of northern France.

Black and white images of brave soldiers wading onto Omaha beach on the Normandy coast and advancing on Nazi positions have been transformed using Photoshop.

Separate pictures show exhausted servicemen being dragged ashore by medics and British, US and Canadian troops and members of a US parachute regiment preparing for the landings.

The colourised images emerged on the 73rd anniversary of Operation Overlord, which saw some 156,000 Allied troops landing in Normandy. It is thought as many as 4,400 were killed in an operation the Second World War Prime Minister Winston Churchill described as 'undoubtedly the most complicated and difficult that has ever taken place'.

'The generation of World War II are almost all gone, so I think it is extremely important to rescue these photos through a process that interests the new generation - so maybe people will be able to better understand what happened. This is what I've been trying to do since I began colourising photos two years ago.

'I like to keep in mind that I'm working with historical facts, and it's not my job to change that story and make it look the way I want it to look.

'I have to be respectful, and therefore, gather all the historical information possible in order to create images as close as possible to the reality of the scene portrayed. So I am always in touch with historians and they help me a lot to achieve this goal.

'Everything is done manually in Photoshop. I need to mask every object you can potentially see in the picture and assign to them a base colour.

'Then I go slowly building up the atmosphere I want to reproduce, always keeping the original lighting in mind, through many different layers, exploring and using as many colors as I can.'

Some 156,000 Allied troops landed in Normandy on June 6, 1944.

The assault was conducted in two phases: an airborne landing of 24,000 British, American, Canadian and Free French airborne troops shortly after midnight, and an amphibious landing of Allied infantry and armoured divisions on the coast of France commencing at 6.30am.

The operation was the largest amphibious invasion in world history, with over 160,000 troops landing. Some 195,700 Allied naval and merchant navy personnel in over 5,000 ships were involved.

The landings took place along a 50-mile (80 km) stretch of the Normandy coast divided into five sectors: Utah, Omaha, Gold, Juno and Sword.

The assault was chaotic with boats arriving at the wrong point and others getting into difficulties in the water.

Troops managed only to gain a small foothold on the beach - but they built on their initial breakthrough in the coming days and a harbour was opened at Omaha.

They met strong resistance from the German forces who were stationed at strongpoints along the coastline.

Approximately 10,000 allies were injured or killed - 6,603 American, of which 2,499 were fatal, 2,700 UK soldiers and 1,074 Canadians, of which 359 fatal.

Between 4,000 and 9,000 German troops were killed - and it proved the pivotal moment of the war, in the allied forces' favour.

The invasion had required the transport of soldiers and material from the United Kingdom by troop-laden aircraft and ships, the assault landings, air support, naval interdiction of the English Channel and naval fire-support.