Museum Bahari Terbakar, Dunia Prihatin pada Nasib Koleksi Bersejarah
Fire Rips through Maritime Museum in Indonesian Capital
Editor : Ismail Gani
Translator : Novita Cahyadi

PUBLISHED: Selasa, 16 Januari 2018 , 20:30:00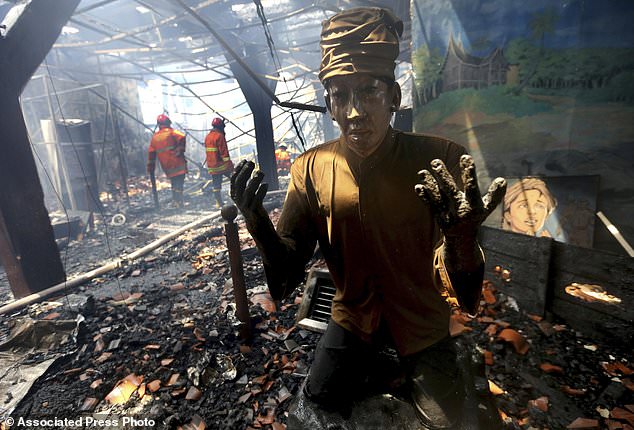 Foto: Associated Press/MailOnline
KOBARAN api membakar gedung tua peninggalan masa kolonial Belanda abad ke-17 yang dikembangkan menjadi Museum Bahari di Jakarta, Selasa, mengakibatkan kerusakan serius pada koleksi museum bernilai sejarah.

Kepala museum Husnizon Nizar mengatakan bahwa tidak ada korban jiwa dari kebakaran yang membakar salah satu dari tiga bangunan bersejarah di museum tersebut. Dibutuhkan waktu sekitar empat jam bagi petugas pemadam kebakaran untuk memadamkan kobaran api.

Husnizon mengatakan bahwa api tersebut menghancurkan model kapal Hindia Belanda, kapal tradisional Indonesia dan diorama yang menampilkan sejarah Perang Dunia II di Laut Jawa.

"Kami telah kehilangan banyak koleksi sejarah penting akibat terbakar," katanya.

Itu adalah bencana bangunan kedua yang melanda Jakarta dalam dua hari terakhir. Pada Senin, lantai mezzanine di gedung Bursa Efek Indonesia (BEI) ambruk, melukai hampir 80 orang.

Undang-undang keselamatan seringkali tidak konsisten ditegakkan atau bahkan sama sekali diabaikan di Indonesia, negara kepulauan yang miskin dan luas. Pada Oktober, sebuah kobaran api di sebuah pabrik kembang api di Tangerang membunuh lebih dari 50 orang, kebanyakan adalah pekerja wanita muda. Penyelidikan polisi menemukan banyak penyimpangan keamanan.

Penyebab kebakaran museum sedang diselidiki.

Tiga bangunan yang menjadi museum di kawasan pelabuhan Sunda Kelapa tua di utara Jakarta dibangun sebagai gudang pada abad ke-17 oleh Perusahaan Hindia Timur Belanda dikenal sebagai VOC. Gedung tua tersebut kemudian menjalani restorasi dan renovasi tahun lalu seperti dikutip Associated Press yang dilansir MailOnline.
A FIRE RIPPED through a 17th century Dutch colonial building that houses a maritime museum in the Indonesian capital on Tuesday, causing extensive damage to its historical collections.

Museum head Husnizon Nizar said there were no casualties from the fire that swept through one of the museum´s three historic buildings. It took about four hours for fire fighters to extinguish it.

Nizar said the blaze destroyed models of Dutch East India Company ships, traditional Indonesian vessels and a newly installed diorama showing the history of World War II in the Java Sea.

"We have lost so many significant historical collections in the fire," he said.

It was the second building calamity to hit Jakarta in two days. On Monday, a mezzanine floor in the Indonesian stock exchange tower collapsed, injuring nearly 80 people.

Safety laws are often inconsistently enforced or even completely ignored in Indonesia, a poor and sprawling archipelago nation. In October, a blaze at a fireworks factory near Jakarta killed more than 50 people, mostly young female workers. A police investigation found numerous safety lapses.

The cause of the museum fire is being investigated.

The three buildings that house the museum in the old Sunda Kelapa harbor area in north Jakarta were built as warehouses in the 17th century by the Dutch East India Company. They underwent restoration and renovation last year.