Politisi Malaysia Sebut Gempa Palu `Hukuman Allah untuk Kaum LGBT`
Indonesia Disaster `Punishment for Gay Activities`: Malaysia Politician
Editor : Ismail Gani
Translator : Novita Cahyadi

PUBLISHED: Selasa, 23 Oktober 2018 , 17:46:00 WIB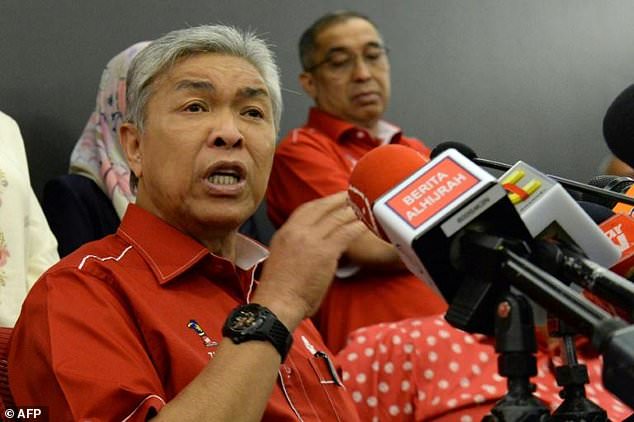 Politisi Malaysia Ahmad Zahid Hamidi dari kelompok oposisi (Foto: AFP/MailOnline)
PEMIMPIN oposisi Malaysia mengatakan pada Selasa bahwa gempa dan tsunami yang menewaskan ribuan orang di Palu, Sulawesi Tengah adalah ´hukuman dari Allah´ untuk perilaku seksual sesama jenis, memicu kritik.
Ahmad Zahid Hamidi, yang memimpin sebuah partai politik yang kehilangan kekuasaan di Malaysia yang berpenduduk mayoritas Muslim pada pemilihan umum Mei, mengatakan di parlemen dengan mengingatkan tentang dampak buruk dari meningkatnya komunitas gay di Malaysia.
Ini adalah kecaman terbaru terhadap kaum homoseksual di Malaysia. Dalam beberapa bulan terakhir para pejabat - termasuk perdana menteri - telah berbicara menentang hak-hak gay dan dua lesbian dicambuk karena melanggar hukum Islam yang melarang hubungan sesama jenis.
Ahmad Zahid, mantan deputi perdana menteri yang kini menghadapi ancaman penjara setelah ditangkap karena korupsi, mengatakan bahwa "di Palu, di mana ada gempa dan tsunami baru-baru ini, disebutkan bahwa ada lebih dari 1.000 (orang) yang terlibat aktivitas (LGBT)."
"Akibatnya, seluruh daerah hancur. Ini hukuman dari Allah."
Gempa berkekuatan 7,5 dan tsunami berikutnya menghantam kota pesisir Palu, Sulawesi Tengah, pada 28 September.
Lebih dari 2.000 jenazah telah ditemukan dan 5.000 korban hilang diperkirakan terkubur di bawah puing dan reruntuhan di berbagai lokasi yang sulit dijangkau.
Pernyataan Ahmad Zahid memicu kritik luas, dan dia dituduh membuat komentar populis untuk menyelamatkan karier politiknya.
Pang Khee Teik, seorang aktivis hak gay, mengatakan kepada AFP bahwa komentar itu adalah "bukti bahwa setiap kali seorang politisi dalam kesulitan, kalangan LGBT yang disalahkan."
"Lain kali Anda mendengar seorang politikus mengatakan bahwa orang LGBT menyebabkan bencana alam, harap ingat bahwa itu karena karirnya akan ditelan oleh bumi."
Ada banjir kemarahan di media sosial, dengan satu pengguna Facebook membanting Ahmad Zahid karena "pernyataan bodoh dan tidak bertanggung jawab" nya.
Minggu lalu, pria berusia 65 tahun itu disangkakan dengan 45 dakwaan dalam kasus korupsi senilai U$26 juta. Dia dituduh melakukan kejahatan termasuk menerima suap untuk memberikan kontrak pemerintah dan pencucian uang seperti dikutip AFP yang dilansir MailOnline.
MALAYSIA´S opposition leader said Tuesday a quake-tsunami that killed thousands in neighbouring Indonesia was "punishment from Allah" for the activities of gay people, sparking a storm of criticism.
Ahmad Zahid Hamidi, who heads a party which lost power in Muslim-majority Malaysia at historic elections in May, made the remarks in parliament as he warned about the growing influence of the country´s gay community.
It was the latest sign of a backlash against homosexuals in Malaysia. In recent months officials -- including the prime minister -- have spoken out against gay rights and two lesbians were caned for breaking Islamic laws that forbid same-sex relations.
Ahmad Zahid, a former deputy former premier who is now facing jail after being arrested for corruption, said that "in Palu, where there was recently an earthquake and tsunami, it was said that there were more than 1,000 (people) involved in such (LGBT) activities.
"As a result, the whole area was crushed. This is punishment from Allah."
The 7.5-magnitude quake and subsequent tsunami smashed into the coastal city of Palu, on Sulawesi island, on September 28.
More than 2,000 bodies have since been recovered and there are fears that 5,000 more could be buried beneath the ruins in several hit-hard neighbourhoods.
Ahmad Zahid´s remarks sparked widespread criticism, and he was accused of making populist comments to save his own skin.
Pang Khee Teik, a leading gay rights activist, told AFP that the comments were "proof that every time a politician is in trouble, LGBT people get blamed.
"Next time you hear a politician say that LGBT people are causing natural disaster, please remember that it´s because his career is about to be swallowed up by the earth."
There was a flood of anger on social media, with one Facebook user slamming Ahmad Zahid for his "stupid and irresponsible statement".
Last week the 65-year-old was hit with 45 charges in a $26 million corruption case. He is accused of crimes that include accepting bribes to award government contracts and money-laundering.