Polisi Gay Dipecat, Adukan Kasusnya ke Komnas HAM
Indonesian ex-Police Brigadier Says He was Fired for being Gay
Editor : Ismail Gani
Translator : Novita Cahyadi

PUBLISHED: Senin, 20 Mei 2019 , 22:31:00 WIB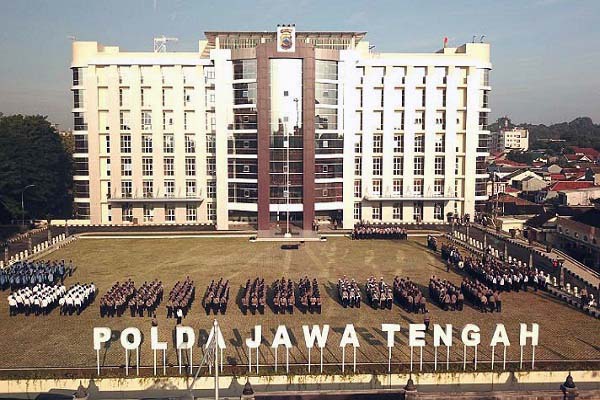 Markas Polda Jateng [Foto: istimewa]
SEORANG mantan brigadir polisi Indonesia mengajukan pengaduan kepada Komisi Hak Asasi Manusia [HAM] yang mengklaim bahwa dia dipecat karena gay, kata pengacaranya pada Senin, yang diperkirakan menjadi ujian bagi perlakuan diskriminasi di Indonesia.
Warga kota Semarang di Jawa Tengah, yang menolak disebutkan namanya, secara terpisah juga menggugat Kepolisian Daerah [Polda] Jawa Tengah pada Maret dengan tuduhan pelanggaran undang-undang tentang diskriminasi.
Tantangan hukumnya datang di tengah meningkatnya permusuhan pemerintah dan publik terhadap komunitas lesbian, gay, biseksual, trans dan berperilaku aneh (LGBTQ) di negara mayoritas Muslim terbesar di dunia.
Homoseksualitas bukanlah kejahatan di Indonesia, kecuali di Provinsi Aceh yang menerapkan hukum Syariah Islam, tapi bebeberapa organisasi massa [Ormas] Islam menyerukan untuk melarang LGBTQ.
Mantan brigadir polisi tersebut mengatakan dia diberhentikan dengan tidak hormat karena alasan diskriminatif setelah rekan-rekannya secara paksa memecatnya dan rekannya pada Hari Valentine 2017.
Polda Jateng mengatakan telah melakukan penyelidikan internal yang menemukan bahwa petugas tersebut telah melanggar etika dan menodai reputasi lembaga dengan melakukan "perilaku seksual yang menyimpang".
Kepala Biro Penerangan Masyarakat Divisi Humas Polri Brigjen Dedi Prasetyo juga mengatakan bahwa petugas itu telah "melecehkan" seorang korban, menurut media, tetapi pengacaranya mengatakan dia dan rekannya berada dalam hubungan suka sama suka.
"Kami percaya polisi provinsi memecatnya karena orientasi seksualnya ... dan itu merupakan pelanggaran terhadap haknya yang dijamin oleh konstitusi untuk hidup dan bekerja bebas dari diskriminasi," kata Maaruf Bajamal, seorang pengacara Yayasan Lembaga Bantuan Hukum [YLBH] yang mewakili sang mantan polisi.
Aktivis HAM optimistis bahwa kasus ini dapat meningkatkan perlindungan bagi anggota kelompok minoritas, beberapa di antaranya telah menghadapi penganiayaan dan penghinaan di tangan para wali dalam beberapa tahun terakhir dan dalam beberapa kasus penganiayaan hukum.
"Para aktivis menantikan efek riak dari kasus ini bagi gerakan LGBT dan pada gilirannya masyarakat di masa depan," kata Dede Oetomo, seorang aktivis gay terkemuka yang bekerja dengan kelompok HAM Gaya Nusantara seperti dikutip Reuters yang dilansir MailOnline.
A FORMER INDONESIAN police brigadier has filed a complaint to the human rights commission claiming he was fired for being gay, his lawyers said on Monday, in what could be a test case on discrimination in the Southeast Asian country.
The resident of Semarang city in Central Java, who declined to be identified, also separately sued the provincial police in March alleging a violation of the law on discrimination.
His legal challenges come amid rising government and public hostility towards the lesbian, gay, bisexual, trans and queer community (LGBTQ) community in the world's largest Muslim-majority country.
Homosexuality is not a crime in Indonesia, except in the ultra-conservative Islamic province of Aceh, but some religious groups have called for it to be banned. Many members of the LGBTQ community are not open about their sexual orientation.
The former brigadier says he was dishonourably discharged on discriminatory grounds after colleagues forcefully outed him and his partner on Valentine's Day in 2017.
The Central Java provincial police has said it conducted an internal investigation which found the officer had violated ethics and tarnished the reputation of the institution by engaging in "deviant sexual behaviour".
National police spokesman Dedi Prasetyo also said the officer had "abused" a victim, according to media, but his lawyers say he and his partner were in a consensual relationship.
"We believe the provincial police fired him because of his sexual orientation...and it is a violation of his rights as guaranteed by the constitution to live and work free of discrimination," said Maaruf Bajamal, a Legal Aid Foundation lawyer representing the former police officer.
Rights activists are optimistic the case could improve protection for members of minority groups, some of whom have faced persecution and humiliation at the hands of vigilantes in recent years and in some cases legal persecution.
"Activists are looking forward to ripple effects this case could have for the LGBT movement and in turn the community in the future," said Dede Oetomo, a prominent gay activist who works with rights group Gaya Nusantara.