PBB Kecam UU Hukum Rajam Sampai Mati Brunei pada LGBT dan Perzinahan
UN Slams `Inhuman` Brunei Law on Stoning for Adultery, Gay Sex
Editor : Ismail Gani
Translator : Novita Cahyadi

PUBLISHED: Senin, 01 April 2019 , 22:43:00 WIB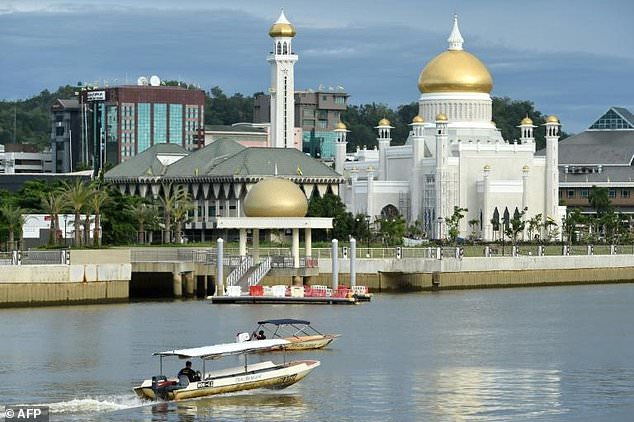 Foto: AFP/MailOnline
PBB MENGECAM undang-undang baru yang dinilai 'kejam dan tidak manusiawi' Senin yang mulai berlaku di Brunei pekan ini yang menjatuhkan hukuman mati dengan rajam untuk penyuka sesama jenis dan perzinaan, dan potong tangan amputasi untuk pelaku pencurian.

"Saya mengimbau pemerintah untuk menghentikan berlakunya undang-undang pidana baru yang kejam ini, yang akan menandai kemunduran serius bagi perlindungan hak asasi manusia bagi rakyat Brunei jika diterapkan," kata kepala hak asasi PBB Michelle Bachelet melalui pernyataan resmi.

Brunei, monarki absolut yang diperintah selama 51 tahun oleh Sultan Hassanal Bolkiah, mengatakan akan menerapkan hukum pidana baru mulai lusa, Rabu [3/4].

Brunei pertama kali mengumumkan langkah-langkah ini pada 2013, tetapi pelaksanaannya ditunda, menyikapi penolakan pihak oposissi dan kelompok-kelompok hak asasi manusia, sehingga mendorong para pejabat pemerintah menyusun rincian praktisnya.

Undang-undang yang baru menetapkan hukuman mati untuk sejumlah pelanggaran, termasuk pemerkosaan, perzinahan, sodomi, perampokan dan penghinaan atau pencemaran nama baik Nabi Muhammad.

UU ini juga memperkenalkan sanksi cambuk di muka umum sebagai hukuman untuk aborsi serta potong tangan untuk pelaku pencurian, dan kriminalisasi yang mengekspos anak-anak Muslim pada kepercayaan dan praktik agama apa pun selain Islam.

Bachelet menunjukkan bahwa sejumlah besar pakar hak asasi manusia "menyatakan keprihatinan mereka tentang hukuman kejam, tidak manusiawi dan merendahkan yang terkandung dalam perintah KUHP".

Komentarnya muncul setelah barisan panjang politisi dan selebriti, termasuk George Clooney dan Elton John, mengutuk undang-undang baru dan menyerukan pemboikotan hotel yang dimiliki oleh kesultanan.

Homoseksualitas atau hubungan sesama jenis telah lama dinyatakan ilegal di Brunei, yang mempraktikkan aturan Islam yang lebih ketat daripada negeri jiran, Malaysia dan Indonesia, tetapi sekarang akan menjadi pelanggaran pidana utama.

UU hukuman mati ini hanya berlaku untuk Muslim.

Eksekusi terakhir 1957
Bachelet mendesak Brunei untuk menegakkan tradisi lama tanpa harus menerapkan undang-undang hukuman matibukunya. Negara ini terakhir melakukan eksekusi pada tahun 1957.

Dia menekankan bahwa hukum internasional memberlakukan pembatasan yang sangat ketat pada penggunaan hukuman mati, yang hanya dapat diterapkan untuk kejahatan pembunuhan dan pembunuhan yang disengaja, dan hanya setelah semua persyaratan proses yang wajar telah dipenuhi.

"Pada kenyataannya, tidak ada pengadilan di dunia yang dapat mengklaim bebas dari kesalahan, dan bukti menunjukkan bahwa hukuman mati diterapkan secara tidak proporsional terhadap orang-orang yang sudah rentan, dengan risiko tinggi keguguran keadilan," kata Bachelet.

"Saya mendesak Brunei untuk mempertahankan moratorium de facto atas penggunaan hukuman mati."

Komisaris Tinggi PBB untuk Hak Asasi Manusia juga memperingatkan bahwa undang-undang yang baru dapat mendorong kekerasan dan diskriminasi berdasarkan gender, orientasi seksual dan afiliasi agama.

"Setiap undang-undang berbasis agama tidak boleh melanggar hak asasi manusia, termasuk hak-hak mereka yang termasuk dalam agama mayoritas serta minoritas agama dan non-Muslim," katanya seperti dikutip AFP yang dilansir MailOnline.
THE UNITED Nations decried Monday new "cruel and inhuman" laws set to take effect in Brunei this week which impose death by stoning for gay sex and adultery, and amputations for theft.

"I appeal to the government to stop the entry into force of this draconian new penal code, which would mark a serious setback for human rights protections for the people of Brunei if implemented," UN rights chief Michelle Bachelet said in a statement.

Brunei, an absolute monarchy ruled for 51 years by Sultan Hassanal Bolkiah, has said it will implement the new penal code starting Wednesday.

Brunei first announced the measures in 2013, but implementation has been delayed, in the face of opposition by rights groups, and as officials worked out the practical details.

The new law stipulates the death penalty for a number of offences, including rape, adultery, sodomy, robbery and insulting or defaming the Prophet Mohammad.

It also introduces public flogging as punishment for abortion as well as amputation for theft, and criminalises exposing Muslim children to the beliefs and practices of any religion besides Islam.

Bachelet pointed out that a wide range of UN rights experts had "expressed their concerns about the cruel, inhuman and degrading punishments contained in the Penal Code order".

Her comments came after a long line of politicians and celebrities, including George Clooney and Elton John, condemned the new laws and called for a boycott of hotels owned by the sultanate.

Homosexuality has long been illegal in Brunei, which practises a stricter brand of Islam than neighbours Malaysia and Indonesia, but it will now become a capital offence.

The law applies only to Muslims.

- Last execution in 1957 -

Bachelet urged Brunei to uphold a long tradition of not applying the death penalty laws that have remained on its books. The country last carried out an execution in 1957.

She stressed that international law imposes very stringent restrictions on the use of the death penalty, which can only be applied for the crimes of murder and intentional killing, and only after all due process requirements have been met.

"In reality, no judiciary in the world can claim to be mistake-free, and evidence shows that the death penalty is disproportionately applied against people who are already vulnerable, with a high risk of miscarriages of justice," Bachelet said.

"I urge Brunei to maintain its de facto moratorium on the use of capital punishment."

The UN High Commissioner for Human Rights also warned that the new laws could encourage violence and discrimination on the basis of gender, sexual orientation and religious affiliation.

"Any religion-based legislation must not violate human rights, including the rights of those belonging to the majority religion as well as of religious minorities and non-believers," she said.